Raybon: Only 11 NFL Teams Are Worth a Super Bowl 54 Futures Bet
Credit:
USA Today Sports. Pictured: DeAndre Hopkins, Lamar Jackson, Von Miller
Where a team ranks in DVOA at the end of the season is a strong predictor of its Super Bowl chances for the following season.
Chris Raybon uses DVOA to identify which teams are worth a Super Bowl 54 futures bet as well as to project the odds to win for each contender.
Super Bowl 54 odds have been released for all 32 NFL teams, but history tells us that bookmakers might as well have not even bothered posting them for roughly two-thirds of them.
With all due respect to the unbridled optimism that permeates every NFL fanbase at this time of year, most teams' Super Bowl chances are already closer to zero than the number of factual statements at a Roger Goodell press conference.
Why?
A team's end-of-season ranking in Football Outsiders' DVOA provides an overwhelmingly strong indication of whether it will win a Super Bowl the following season.
Since the DVOA database dates back to 1986, there are 32 Super Bowl champions we have prior season data for.
30-of-32 (93.8%) finished the season before winning the Super Bowl ranked 13th or better in overall DVOA
30-of-32 (93.8%) also finished the previous season ranked seventh or better in at least one phase (offense, defense or special teams)
The outliers in cases in which teams finished worse than 13th in overall DVOA and didn't rank better than eighth in any one phase were the 1999 Rams and 2001 Patriots. And there are reasonable explanations for both.
The Rams were 4-12 in 1998, but acquired future Hall of Fame running back Marshall Faulk and handed the reigns over to a little-known former Arena Football quarterback named Kurt Warner ahead of the 1999 season.
The Patriots went 5-11 in 2000, but that was also the year drafted a seventh-round passer who still refuses to stop winning championships.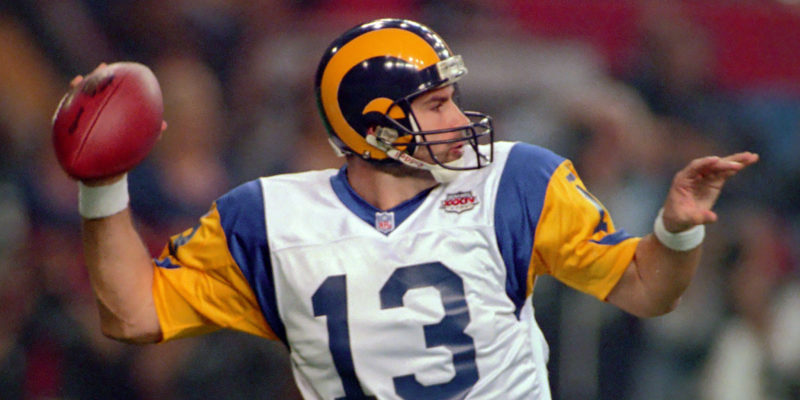 No matter where you stand in regard to the odds of a similar recurrence, the bottom line is that there's better than a 90% chance that we already know exactly which teams won't win the Super Bowl in 2019.
Here are the 11 teams that do make the cut:
AFC: Patriots, Chiefs, Chargers, Texans, Ravens, Steelers, Broncos
NFC: Rams, Saints, Bears, Vikings
Of course, it's not enough to know which teams have a chance in order to wager on futures; we also need to know how much of a chance each team has.
To do this, I adjusted each team's DVOA rankings by their relative weight of importance, which I derived from the average rankings of the 30 Super Bowl winners that fit our theory.
Overall DVOA: 37.9% weight (4.9 average rank)
Offensive DVOA: 27.4% weight (6.8 average rank)
Defensive DVOA: 20.5% weight (9.1 average rank)
Special Teams DVOA: 14.2% weight (13.1 average rank)
I then normalized the weighted figures and adjusted for the possibility of an outlier to get each team's projected odds of winning Super Bowl 54:
Finally, I compared the projected odds to current odds to see which teams offer the most betting value:
The Patriots currently sit atop the NFL throne, but they haven't won back-to-back titles since the 2003 and 2004 seasons. Nevertheless, it seems as though books have priced-in somewhat of a handicap for New England's conference rivals, as the four most undervalued teams all reside in the AFC.
Baltimore Ravens
The Ravens should be able to again field a strong defense even if there's ultimately some turnover.
So this all comes down to whether Lamar Jackson can make a Year 2 leap, or continues to be the guy who was on the verge of getting benched for an ice-cold Joe Flacco in the most important game of the season.
Los Angeles Chargers
You could argue that the Chargers are the most complete team in the AFC talent-wise. And with a healthier Melvin Gordon and a better game plan, maybe they're able to knock off the Patriots and set up a rematch with the Chiefs in Arrowhead Stadium, where they won 29-28 in Week 15.
But in a conference in which Bill Belichick and Andy Reid are likely to stand between the Chargers and a title, coaching will remain a concern.
Denver Broncos
Save for their abysmal 31st-ranked special teams, the Broncos played surprisingly well last season, finishing fourth in defensive DVOA and 13th in offensive DVOA only to end up 6-10 — roughly 1.4 wins below their Pythagorean expectation.
Replacing former head coach Vance Joseph should go down as addition by subtraction, and his replacement, Vic Fangio, puts the defense in good hands. But other than Phillip Lindsay, the offense has a bunch of solid pieces but no true game-changers.
There's some value here at +6000, but a so-so offense and two matchups against both the Chargers and Chiefs could cap Denver's ceiling.
Houston Texans
Elite talents like Deshaun Watson, DeAndre Hopkins and Jadeveon Clowney make the Texans a much higher-ceiling team, and a healthy Will Fuller gives this team the upside to outscore anyone.
Action Network NFL Podcast listeners will know the Texans are one of the fringe contenders I personally believe in the most, and they're definitely my favorite bet here.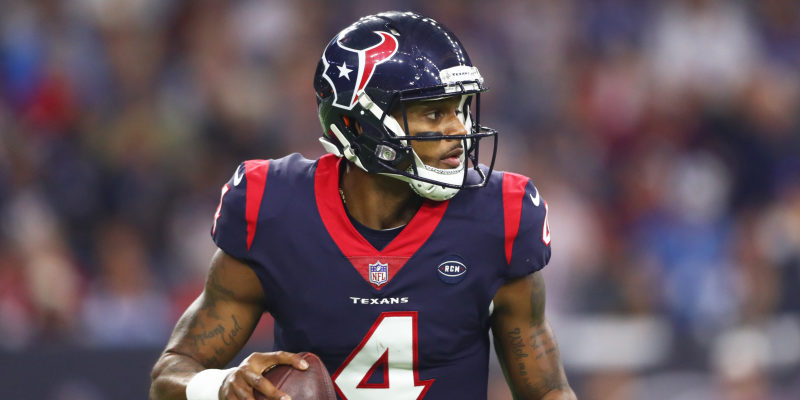 But after they rang up 11 wins against a last-place schedule in 2018, they'll need a reboot in the secondary and sharper coaching to approach the same level of success against a slate that includes dates with the Patriots, Chiefs, Chargers, Ravens and Saints.
---
Could This Be the Year We Finally Get Another Outlier?
Although this exercise provides some intriguing wagers to consider, it's probably even more instructive in terms of which teams not to bet on.
Especially when it's early in the offseason and Super Bowl futures are quite possibly the only NFL action offered by your sportsbook of choice, it's easy to be enticed by many of the teams who don't profile as true contenders.
After all, you have teams such as the Colts, Seahawks, Cowboys and Eagles — all of which made the playoffs last season and could conceivably take a step forward. Then you have squads like the Packers, Falcons and Panthers with veteran passers who have either won it all or carried their team to the brink before.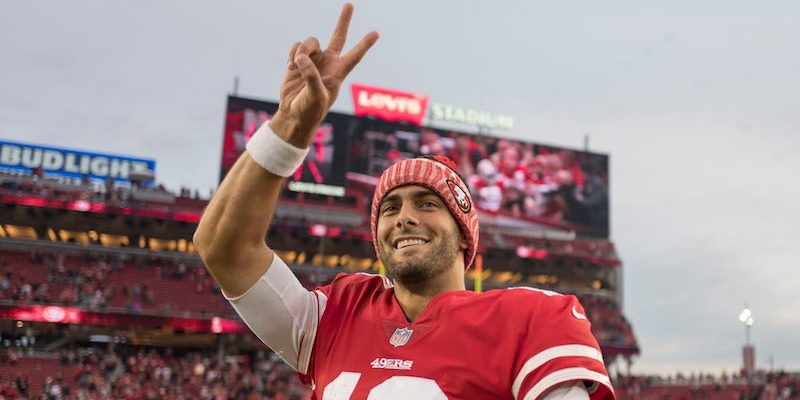 And of course, there's franchises like the Browns and 49ers that have young, high-upside QBs who could turn a franchise around in less time than it takes Vontaze Burfict to earn a four-game suspension.
But while all of those franchise are undoubtedly candidates to step it up in 2019, history warns us that they're still all but certain to fall short of a Lombardi Trophy unless the Greatest Show on Turf or the GOAT ends up walking through their practice-facility door.
And in the off chance that we do get our first outlier in 18 seasons, history also tells us we probably won't see it coming.
Maybe new Cards head coach Kliff Kingsbury will make us all bypass the Sean McVay comparisons and go straight for the Belichick ones by drafting Kyler Murray first overall and turning in him into a cross between Year 1 Deshaun Watson and Year 2 Patrick Mahomes, while recruiting Antonio Brown to pair with David Johnson and Larry Fitzgerald to create the Greatest Show on Hybrid Bermuda Grass.
Or maybe Brown and Le'Veon Bell will both end up in Buffalo with Josh Allen, who will continue his Weeks 13-17 trend of being the only fantasy quarterback better than Mahomes and lead the Bills to a championship after becoming the first QB under new offensive coordinator Ken Dorsey to actually attempt to recover his own fumble in the Super Bowl (looking at you, Cam) — all while Sean McDermott has us kicking ourselves for not realizing he was a coaching prodigy the moment he dragged the god-awful 2017 Bills to a wild-card berth.
Or, instead of shooting blanks at -EV Super Bowl futures, we could hold off on investing in these types of teams until the win total and playoff futures markets have opened.
---
Chris Raybon is a Senior Editor at the Action Network and a co-host of "I'll Take That Bet" on ESPN+. He has watched every snap of every NFL game since 2010 — even the kneel downs. Follow him on Twitter @ChrisRaybon and read about how he quit his accounting job and got paid to watch sports.
How would you rate this article?