Reliving My Worst Super Bowl Bad Beat: James White to Win MVP
Credit:
Mark J. Rebilas, USA Today Sports. Pictured: James White
The Falcons blowing a 28-3 lead against the Patriots will go down as one of the worst beats in Super Bowl gambling history.
But there was actually a loss that was just as horrible in that game, and it flew under the radar.
Rule No. 1 of being a successful gambler is to never get too high after the wins or too low after the losses. Unfortunately, I'm not a professional bettor, I haven't reached full gambling enlightenment yet. I still take losses, especially brutal ones, hard. That's why I still remember Super Bowl 51 vividly.
Bad beats are a shared experience among bettors. We all love to show off our battle scars to one another at the bar or on Twitter. But in reality, bad beats are so cruel because they are also unavoidably solitary moments.
You'll never feel more alone than you do when you watch a team blow a 28-3 lead in the bloody Super Bowl. Sure, there were literally millions of other people on that same side as you, but you are alone in your misery.
My card for XLI was pretty heavily slanted toward Atlanta. I had it +3 and on the moneyline (around +160). Not only did I think the Falcons were the better team in the game, but I also knew that bookmakers would inflate the price on the New England Patriots.
I also grabbed a piece of the Under 57 because this was the Super Bowl and everybody was going to bet the Over, schmucks.
At the time I was betting on a few local sites with my cousin, Heff, and my friend, Joe, who is a Patriots fan from Long Island.
It should be noted that Heff and Joe don't know one another. So when they both, separately, suggested a punt on an MVP longshot, I was all ears.
First it was my cousin who told me he had a couple of people talk up James White to win MVP. We played it at a few different places at 100-1. A few days later Joe asked if we could go in on a bid for White at 80-1.
I wouldn't say any of these were gigantic bets, but if James White found a way to win MVP, none of us would have to worry about money for a while.
I also knew that White was the exact type of player that the Patriots spawn out regularly, as if they had a factory in Dorchester that just churned out players who are good, overlooked because of their size, have never muffed a punt in their life and will have huge games in big moments.
The game started brilliantly for anybody with a Falcons and/or Under ticket. We were up big, our defense was making stops and our offense was doing its part.
Of course it all crumbled. Dan Quinn's clock management was borderline criminal, Kyle Shanahan was having his quarterback throw the ball for some unknown reason and James White was running roughshod through the Falcons defense.
White's performance should go down as one of the most impressive displays in NFL history. The little guy hauled in a Super Bowl-record 14 catches, he scored three touchdowns (tying a Super Bowl record) and amassed 139 total yards. He was sensational and I was, all of a sudden, his biggest fan.
James White: 14 receptions (Super Bowl record)

White is first player with 3 TD in a Super Bowl since Terrell Davis in Super Bowl XXXII. pic.twitter.com/TUrLmkoCwa

— ESPN Stats & Info (@ESPNStatsInfo) February 6, 2017
When Atlanta's capitulation was complete — thanks to a James White touchdown scamper — I committed a Cardinal Sin of gambling, I got my hopes up.
This was a different kind of sweat. Considering that I had already just lost my Falcons and Under bets in brutal fashion, I thought the gambling gods owed me this one and were just making me wait a little bit.
I remember thinking to myself (I watched the game alone in my apartment because I had to work), "There's no way I can lose this many bets in such horrific fashion in such a short amount of time. I've already been through enough."
Even as the celebrations dragged on without so much of a mention of who would be named Most Valuable Player, I was certain that not even the NFL could mess up a fairy tale story like this one.
I mean a previously anonymous player just came out of nowhere to rewrite the record book of the world's most-watched sporting event.
It turns out that nobody kills a feel-good story like the National Football League.
A few more minutes went by and still no mention of White nor who won the MVP.  Silly me for thinking that the NFL and the broadcast team would make it clear who won the most important individual award for the biggest game of the NFL season.
Finally the postgame ceremonies were about to get underway.
Here's a list of people standing on the "People Who Will Be Giving Out or Handed A Trophy" Podium at the end of Super Bowl 51: NFL Commissioner Roger Goodell, New England Patriots owner Bob Kraft, head coach Bill Belichick, quarterback Tom Brady, two of Brady's kids and running back James White.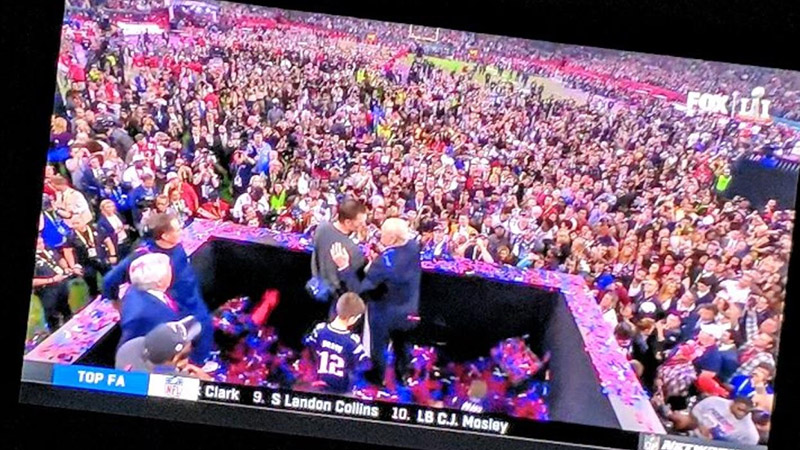 Even the most casual sports fan would tell you that White's name is the one that sticks out. And that gave me false hope amidst a sea of bad beats.
I waited for White to be handed something and for Joe Buck to grab him for an interview. They never even mentioned his name. White, the humble soldier that he is, stood at the back of the stage, as Brady, Kraft, Goodell and Belichick did their whole song-and-dance.
I half-expected a security guard to ask White for his credential.
Not one member of the Patriots brass gave White any props. None of these "champions of sport" thought it would be a good idea to say to the billions of people watching, "Hey how about we give it up for James White! What a story he is!" Nope.
By the time "60 Minutes" began, I knew it was over. I saw my bets graded as losses, thought about the amount of money that just evaporated. Not all great bets win.
They say time heals all wounds, but that's not true. There are other James White for Super Bowl 51 MVP bettors out there. A simple "James White Super Bowl MVP" Twitter search reveals us band of brothers and sisters.
A few days later I was still upset and happened to open up Newsday, my local paper, and saw a headline that read: "Super Bowl LI: Patriots' Tom Brady giving James White MVP car." When I saw that headline I did the natural thing.
I swore off betting forever.