Super Bowl Futures We're Betting Before NFL Free Agency Begins
Credit:
AAron Ontiveroz/MediaNews Group/The Denver Post via Getty Images. Pictured: Noah Fant
The Tampa Bay Buccaneers opened the 2020 offseason with 50-1 odds to win the Super Bowl. Then they signed Tom Brady. (And you know the rest.)
Are there any teams that could follow in the Bucs' footsteps to drastically change their 2021 outlook through free agency (or other offseason moves)? And if so, would any of those potential changes be significant enough to warrant investing in those teams now vs. later?
Our analysts walk you through Super Bowl futures they're locking in before the flurry of offseason movement begins when free agency kicks off the week of March 15.
Washington Football Team +6600
Simon Hunter: When sifting through NFL futures in March, you should always be looking at teams from the perspective of what moves they could make in the coming months, how to get ahead of those moves, and whether the potential of those moves offers enough value to bet on them now.
Just like buying stocks, we're trying to beat the market before free agency and the draft.
Say what you want about Dan Snyder, but I love what they're building down in DC. Last year was Riverboat Ron's first season with the team, and while kicking cancer's ass, he was able to take a team with no identity and a quarterback who hadn't started a game since 2018 to the playoffs.
The big reason was that defensive line, as evidenced by them being the only team to apply any kind of pressure on Brady in the postseason.
---
» Listen to Simon Hunter break down more NFL futures on The Favorites Podcast
---
With the rumor mill buzzing about Washington being a potential destination for Deshaun Watson and JuJu Smith-Schuster potentially signing there in free agency, the Football Team could easily go from a 7-9 to 12-4 team in the weak NFC East.
With everyone back on Dallas after the Dak Prescott signing, we're getting great value on a team that's in win-now mood and has the sixth-best salary cap available.
Risk is worth the upside on this team, even if they miss out on a top level quarterback. In many ways, they're just like 2016 Super Bowl champion Denver Broncos — Chase Young could be the WFT's Von Miller. And if they do land Watson for draft picks, I could see this line dropping to +2500.
BetMGM is offering the WFT at +6600, but be sure to shop around for the best number available at sportsbooks in your state.
Denver Broncos +6600
Brandon Anderson: If I'm going to invest my money for the next 11 months, I'm looking for a big enough payday to make this worth my while. I'll have my eye on teams like the Rams or 49ers in-season, but this is a spot for a longshot.
When Tom Brady joined the Bucs last year, I wondered immediately whether Tampa Bay had a Super Bowl ceiling. The Bucs had a great defense, good coaching and elite weapons, and suddenly they swapped out one of the league's worst quarterbacks for one of its best.
The Denver Broncos could fit that formula this offseason.
The defense is already very good. Franchised safety Justin Simmons is a stud, and Bradley Chubb and Von Miller (if he's back) are as good a pass rushing duo as any. There are holes to fill, but you better believe Vic Fangio will fill them and coach that defense up. Denver quietly ranked No. 13 in Football Outsiders' defensive DVOA in 2020, and that was against one of the toughest schedules.
The pieces are there on offense, too. Left tackle Garett Bolles is one of the league's best, and the line is one or two upgrades away from being very good. Melvin Gordon leads a good power run game, then the real excitement comes in the passing game: Courtland Sutton, Jerry Jeudy and Noah Fant are one of the league's most exciting groups of young pass-catchers. They'll be led by offensive coordinator Pat Shurmur, who has spearheaded a top-five offense for three different teams over the past decade.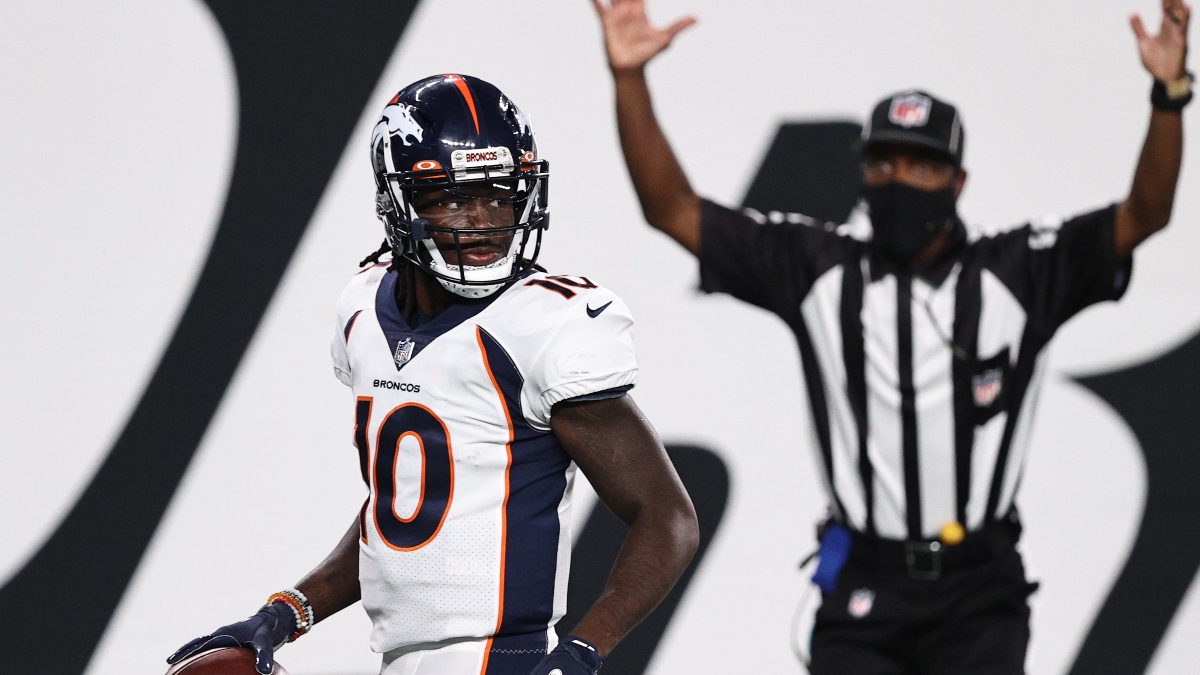 All that's missing is that most important piece: The quarterback.
The Broncos are going nowhere with Drew Lock, and they surely know it by now. But like we saw with Brady and the Bucs, the right quarterback changes everything. The Broncos have the eighth-most cap space if they choose the free agency route, but they also own the No. 9 pick in April's draft for a class deep at QB.
Or there's the nuclear option: Outside of Houston, Broncos are still in a three-way tie with the Bears and Panthers for the best odds to acquire Deshaun Watson (+400 at DraftKings). Imagine Watson in orange and blue, and everything changes. Picture Watson with blocking, real receivers, good coaching and a strong defense. Does that sound like a Super Bowl threat to you? It does to me.
If Denver doesn't go out and replace Lock, this money is good as gone. But that's why we're getting +6600 at BetMGM — it's a risk we'll have to take.
How would you rate this article?
This site contains commercial content. We may be compensated for the links provided on this page. The content on this page is for informational purposes only. Action Network makes no representation or warranty as to the accuracy of the information given or the outcome of any game or event.