Super Bowl 53 Prop Betting Strategy: 5 Tips for Patriots-Rams
Credit:
Greg M. Cooper-USA TODAY Sports. Pictured: New England Patriots wide receiver Julian Edelman (11).
The Super Bowl is the largest single sporting event of the year and there will be hundred of different props you can bet on.
Matthew Freedman breaks down the five things you need to know when looking for props to bet for the big game.
Super Bowl 53 is almost here, which means it's time to make some prop bets.
In case you don't know what a prop bet is, let's consult The Action Network glossary of sports betting terms.
Prop Bet – A bet on something other than the outcome of a game. Common prop bets include an over/under on points scored, passing yards or strikeouts by an individual player.
Basically, a prop is a game-specific bet on anything other than the spread, moneyline or total.
Props for Regular Season Games
For the typical regular season game, most sportsbooks release lots of props related to individual player performance.
Tom Brady over/under 285.5 passing yards
James Harden over/under 29.5 points scored
Clayton Kershaw over/under 7.5 strikeouts
Alex Ovechkin over/under 3.5 shots on goal
You get the idea. The most common prop is just an over/under for a specific player and an everyday statistic you can find in the box score.
There are also props for games and teams.
Patriots-Rams over/under 4.0 sacks combined
Rams over/under 1.5 field goals made
Will there be a safety? Yes/no
At FantasyLabs (part of The Action Network), we provide tools that can help you see which player props offer the most value.
Super Bowl Prop Bets
For the Super Bowl, bookmakers get creative and release many more props. For instance, the Westgate Las Vegas Sportsbook has released hundreds of player props for Super Bowl 53.
Many sportsbooks also post hundreds of game and team props unlike those usually posted during the regular season.
First play of game: Pass play vs. run play
Patriots first score: Touchdown vs. field goal/safety
Rams players with receptions: Over/under 7.5
And on top of all of this, there are hundreds of exotic Super Bowl props that have nothing to do with the game itself.
National anthem: over/under 1:43
Will a performer fall down during the halftime show? Yes/no
Will Tony Romo's tie be one solid color? Yes/no
I love to bet props: I bet on props every day.
To me, as a prop bettor, the Super Bowl might as well be my birthday. As the saying goes, it's my Super Bowl.
Here are five general guidelines to betting on Super Bowl props successfully.
1. Focus on Props That Align With Your Goals
If your goal is to build your bankroll, then you'll want to invest with discipline and focus on the props with the most expected value. For you, the Super Bowl is just another game, except there are more props to sort through. You are focused less on prop type and more on prop valuation.
But if your goal is to have fun, then you'll probably want to invest a small amount in lots of longshots across a variety of bets.  For instance …
If you think Rams kicker Greg Zuerlein is going to boot at least a few long, clutch field goals in a close, low-scoring game, then you could bet on him to win the Super Bowl MVP award at +8000.
If you think the color of the liquid poured on the game-winning coach might be purple, you can bet that at +1000.
If you think it's likely that Christina Aguilera will sing on "Moves Like Jagger" with Maroon 5, then you can bet +225 that she'll make an appearance during the halftime show.
If you think Patriots running back Sony Michel could have a big game, you can bet on him at +194 odds to get at least 120 yards rushing.
With lots of bets, you'll be invested in the entire spectacle, and if a few of the longshots hit then you could end the evening with a nice profit.
2. Don't Overextend Your Bankroll
It's easy to think of this one game as an entire weekend of football, and it's tempting to bet larger sums than you normally would because the Super Bowl is your last opportunity for months to bet on the sport, but keep in mind that this is just one game.
Whatever percentage of your bankroll you'd be comfortable investing on props for one game during the regular season is probably the percentage you should use for the Super Bowl. Plus maybe a little more. Because it's the Super Bowl and because there are more props available.
But don't overextend yourself on Super Bowl props. It's just one game. Anything can happen.
3. Be Aware of Correlation
During the regular season, you can play lots of player props throughout a typical week, because you're investing across 13-16 games. Most of your props will be uncorrelated. If you're on the wrong side of one of them, that doesn't mean you'll be wrong on the others.
But, again, the Super Bowl is just one game. So many of the player, team and game props are correlated, even if they don't seem correlated.
Let's say that you bet the over on a whole bunch of Pats passing and receiving player props because you think that quarterback Tom Brady is going to have a massive performance. You might be right, but you also might be wrong, and if Brady has a bad game, the under will hit on not only many of his props but also on those for his receivers.
I'm not saying that you shouldn't invest in player props because of correlation concerns. I'm saying that you should be aware of correlation and either maneuver around it or leverage it in a way that aligns with your goals.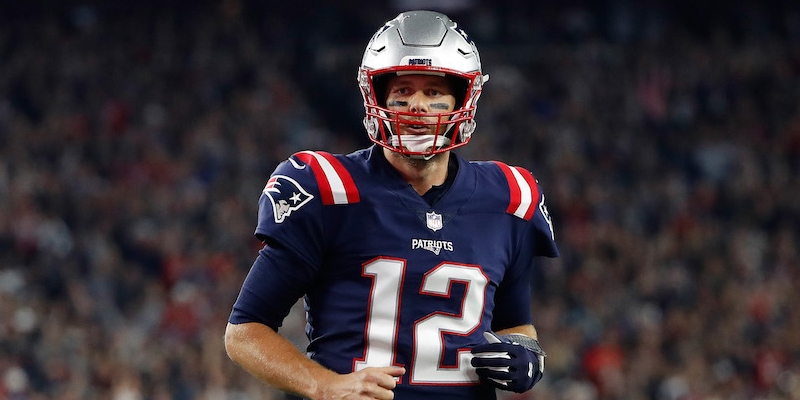 If you're trying to build your bankroll, you'll be cautious when it comes to correlation. You'll look to diversify your action across all different types of props that offer an edge, especially the exotic props that have nothing to do with the action on the field.
If you're looking to have some fun with the props, maybe you'll actually want to make correlated bets so that you can have a bigger payoff if you're right about how the game will unfold.
4. Shop Around at Various Sportsbooks
Even if you're betting on props just for fun, you still want to get the best line possible. Why limit your winning upside by betting a prop at +130 on one book when it's +150 elsewhere?
You can use the FantasyLabs Props Tool to help you find the books that offer the most value on player props. In case you don't know, our Props Tool is powered by the projections created by Sean Koerner, the Director of Predictive Analytics for The Action Network. He's been one of the best creators of projections in the industry for the past half decade.
In the Props Tool, we grade each prop on a 1-10 scale. Since Week 1, the props with a bet quality of at least eight have a 57.9% win rate.
With Koerner's projections and the FantasyLabs Props Tool, you've got a good chance to make sharp bets at market-best odds.
5. Think Probabilistically & Pay Attention to Juice
Think about every prop in terms of probability. Once you have a sense of how likely something is to occur, you can compare those odds to the implied odds of the prop.
To discover the implied probability of a prop is simple.
For negative odds, remove the minus sign and then divide the number by itself plus 100 in the denominator.
Example: -149 –> 149/(149+100) –> 149/249 –> 59.8%
For positive odds, divide 100 by the number plus 100 in the denominator.
Example: +114 –> 100/(114+100) –> 100/224 –> 44.6%
At one book, Tom Brady has a passing yardage prop of 301.5, with -149 odds for the over and +114 for the under.
To bet the over, you should think that Brady will have more than 301.5 yards more than 59.8% of the time. To bet the under, you should think that he will have fewer than 301.5 yards more than 44.6% of the time.
If you think a prop has implied odds that are too low, you can use The Action Network Expected Value Calculator to see how beneficial the bet is. The EV Calculator can help you prioritize the bets to make if you have a number of props you're choosing between.
In the Brady passing yardage example, you'll notice that 59.8% and 44.6% don't add up to 100%. Those percentage points above 100% — that's where the books make their money. Use our Betting Margin Calculator to see how juiced a prop is and what the fair odds on the bet are.
Bonus Guideline: Have Fun & Subscribe to EDGE
It's just one game, but it's not just any random game.
It's the Super Bowl.
Have fun. Bet smart. Probably win.
Subscribe to The Action Network: 40% off our EDGE product. A bonus party pack. What's not to like?
---
Matthew Freedman is the Editor-in-Chief of FantasyLabs. He has a dog and sometimes a British accent. In Cedar Rapids, Iowa, he's known only as The Labyrinthian.
How would you rate this article?