Koerner's Fantasy Football Tiers: TE Rankings and Draft Strategy
Credit:
USA Today Sports. Pictured: Zach Ertz, Travis Kelce, George Kittle
Welcome to Sean Koerner's 2019 fantasy football tiers, where he ranks tight ends into groups based on their value.
See his overall draft strategy at the position as well as when to target certain TEs in season-long re-draft leagues.
Much like last season, there's a steep drop-off at tight end after the top three players. However, the remaining TE1 Tier features more talent than 2018.
Let's run through my strategy then break down how I've ranked the top 21 TEs into tiers.
---
>> Create custom cheat sheets using Sean Koerner's fantasy football rankings with our Draft Kit.
---
My 2019 TE Draft Strategy
This time last year, we were targeting aging veterans like Delanie Walker, Jimmy Graham and Greg Olsen in the mid-TE1 range. Now we have a handful of pass-catching TEs entering the prime of their careers to target this season.
It's also important to remember that George Kittle was available extremely late in 2018 drafts. Finding a TE that late who put up elite TE1 numbers was a league-winning pick. So if you miss out on TE early, you can still try to strike gold on a high-upside option late in the draft. And while I wouldn't recommend it, you can always lean on the waiver wire to stream TEs if you strike out in the draft.
Overall, I let the flow of a draft dictate how I approach this position. The current Average Draft Positions (ADP) at TE are almost exactly in line with my rankings, which makes it tricky to project any potential steals. That's why it's critical to use tiers and to understand when the position is offering the most value — i.e. when the final TE in a tier has been available for awhile, it usually means it's time to snag him.
Now let's dig into my tiers (note that these are based on half-PPR scoring).
IMPORTANT NOTE: This article is meant to give my general drafting strategy for the TE position. To get my up-to-date rankings, check out our draft kit, where you can download my projections/Tiers for your exact league settings.
---
More Tiers: QB | RB | WR
---
Tier 1
Travis Kelce, Kansas City Chiefs
There's a 35- to 40-point drop from Kelce to Tier 2, then a 30-point drop from Tier 2 to Tier 3. The position evens out after that, then there's a more gradual decline from tier to tier.
No other position sees such a sharp drop-off among such a small group of players. It's why Kelce is one of the most valuable picks of 2019.
If your league isn't sharp enough to take him in the first round, you could gamble on him being there for you in Round 2, where he's an absolute steal.
In a sense, Kelce is almost too valuable, and the fate of your team could depend on his health. The only real downside to spending high draft capital for him is it's hard to have a backup plan at the position: If he ever misses time, you'll have to tap into the waiver wire for a fill-in, and your team will see a massive drop in win expectancy.
Tier 2
George Kittle, San Francisco 49ers
Zach Ertz, Philadelphia Eagles
Tier 2 is just as valuable as Tier 1.
It's common to see both Kittle and Ertz go in Round 3, and once one is off the board, it immediately makes the other the most valuable player available thanks to that 30-point drop from this tier to the next. You'll typically see these two drafted in near succession as a result.
Ertz has sneaky value and could make your team a bit less fragile. It's not often that I recommend taking two TEs, but if you select Ertz, you can add Dallas Goedert as a late-round handcuff. And in the event Ertz misses any time, Goedert would become a borderline top-five TE.
Meanwhile, if Kelce or Kittle go down, you'd be screwed. Not only are they so valuable that it would be hard to recover if you lose them, but if either go down, it doesn't vault their backup to top fantasy relevance.
Tier 3
Evan Engram, New York Giants
Hunter Henry, Los Angeles Chargers
O.J. Howard, Tampa Bay Buccaneers
This tier almost feels like a mid-round consolation prize for those who miss out on the Big 3. This entire tier, however, has a ton of upside as all three are pass-catching TEs entering their prime. (We didn't have this luxury in 2018.)
Engram jumped to the top of this tier after the Giants' WR depth chart was struck with injuries/suspensions before their preseason even started as he's always taken advantage of situations like this.
I was hoping the market would sleep on Henry this season, but he's priced about right as the TE6.
Howard, meanwhile, has enormous potential this season. Despite the lack of stud TEs under Bruce Arians' reign since Heath Miller over a decade ago, I'm not too worried. Arians really hasn't had a TE like Howard before, so I think he'll set up the offense with Howard as the No. 3 target behind Mike Evans and Chris Godwin.
Tier 4
Vance McDonald, Pittsburgh Steelers
I've labeled McDonald as the TE most likely to be this season's version of 2018 Eric Ebron.
While we all try to figure out which WRs will be able to fill the void left by Antonio Brown, there's a chance a huge chunk of that is claimed by McDonald, who will no longer have to compete with Jesse James.
McDonald's ability to run would-be tacklers over helps elevate his week-to-week floor as he should be able to put up steady yardage production. Brown's departure will also open up a ton of red-zone targets. Ben Roethlisberger has proved how he loves to target trustworthy TEs in the red zone, so McDonald could erupt for a 10-plus touchdown season if it all lines up for him.
Tier 5
Austin Hooper, Atlanta Falcons
Eric Ebron, Indianapolis Colts
David Njoku, Cleveland Browns
Jared Cook, New Orleans Saints
I've been in drafts where, for whatever reason, I've had to pass at TE until I reached this tier. Luckily, this is the last tier to draft a TE without having to worry about streaming the position in-season.
Hooper stands out as the value play here as he's typically going 114th overall. He's such an overlooked sleeper as the Falcons bring Dirk Koetter back as their offensive coordinator, who dating all the way back to his days in Jacksonville, has always gotten the most from his TE.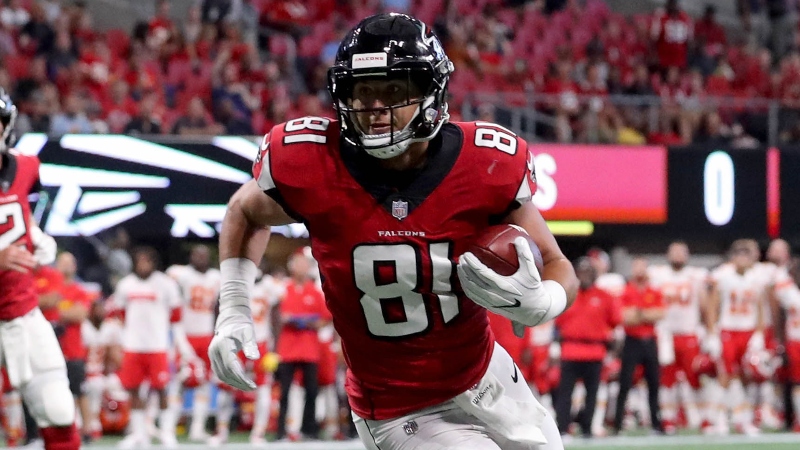 Hooper is entering his fourth season and could break out in a big way.
His career touchdown rate is only 7.2%, which is fairly low for his caliber of player, especially on a high-scoring offense like the Falcons. But his breakout could happen if he starts dominating the red zone like I think he can. Additionally, Julio Jones, Calvin Ridley, Mohammad Sanu and Hooper played all 16 games a season ago, and it's highly unlikely they're that fortunate again. If any one of them misses time this season, it would give a spike to the others.
Hooper could become Matt Ryan's No. 2 option at various points, setting him up to crush his current ADP.
Tier 6
Jimmy Graham, Green Bay Packers
Trey Burton, Chicago Bears
Kyle Rudolph, Minnesota Vikings
Delanie Walker, Tennessee Titans
Jack Doyle, Indianapolis Colts
Mark Andrews, Baltimore Ravens
The position seems much deeper this season, so if you completely punt at TE, you should be able to snag one of these guys in the final rounds to start the season as your TE1.
At this point, you might as well take a flier on a high-upside player like Andrews. If Lamar Jackson grows as a passer, it'll likely result in Andrews becoming an every-week TE1. This makes him a potential 2018 Kittle-type pick: Andrews flashed in his rookie season, but could become a stud in Year 2.
Tier 7
Jordan Reed, Washington Redskins
T.J. Hockenson, Detroit Lions
Dallas Goedert, Philadephia Eagles
Noah Fant, Denver Broncos
Once the top 18 TEs are off the board, you're left to either stream the position or to take high-upside fliers.
Reed would be my initial Week 1 streamer. He'll put up borderline TE1 numbers when healthy, so you might as well take him late with the intention of starting him until he either shows up on the injury report or you find a better replacement.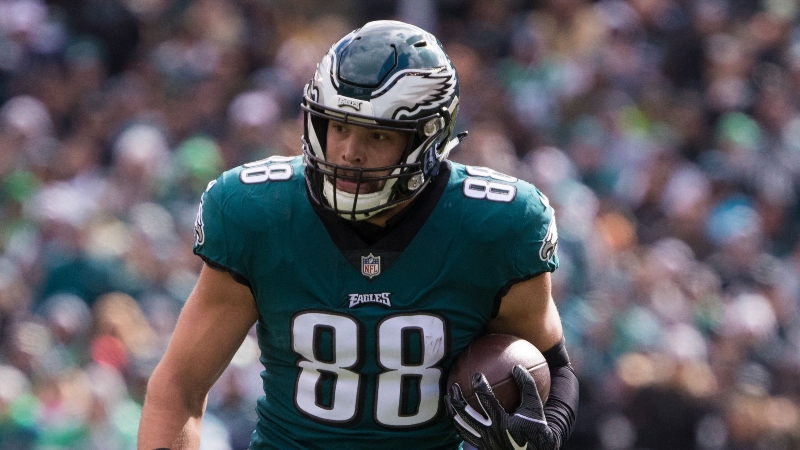 As I mentioned earlier, drafting Goedert is a sneaky way to add insurance for Ertz. There's also a chance Goedert's role expands enough to make him a low-end TE1 play in a pinch, even when Ertz is healthy.
Even if you don't own Ertz but are in a league with a big enough bench, you could scoop Goedert in the later rounds as a potential league-winner — if Ertz were to ever miss extended time, Goedert would be a borderline top-five TE. He's this season's closest thing to a 2018 Kittle late-round pick.
I'll be watching Hockenson and Fant closely during the preseason to get a better handle on their projections for 2019. They both have top-five TE upside over the next several years, but it's important to note that rookie TEs typically see a slower start than the other skill positions. It can take two to three years for a player to really start to break out.
How would you rate this article?