Freedman: Why I'm Betting on Iowa TE T.J. Hockenson to Be Drafted Ahead of Noah Fant
Credit:
Jeffrey Becker-USA TODAY Sports. Pictured: Iowa tight ends T.J. Hockenson and Noah Fant
Iowa Hawkeyes tight ends T.J. Hockenson and Noah Fant tore up the 2019 NFL Combine.
Matthew Freedman still expects Hockenson to be drafted ahead of Fant. Here's why he's betting on it.
Two Iowa tight ends were big winners at the 2019 NFL Combine: The 6-foot-5, 251-pound T.J. Hockenson and 6-foot-4, 249-pound Noah Fant.
In my pre-combine mock draft, I had Hockenson going to the Lions at No. 8 overall and Fant to the Packers at No. 30.
Hockenson exhibited enough all-around athleticism at the combine — a 4.70-second 40, 123-inch broad jump and 4.18-second 20-yard short shuttle — to lock himself in as a top-15 pick.
Fant won't be selected much later. He dominated the combine with elite speed (4.5-second 40), explosiveness (39.5-inch vertical) and agility (6.81-second three-cone).
When I release a new mock draft later this week, Fant will definitely still be in Round 1, and he could be slotted significantly higher than No. 30.
Hock, however, is still my No. 1 player at the position: He won the Mackey Award last year as the nation's top tight end, and in his breakout campaign he displayed Rob Gronkowski-esque potential as a mismatch weapon in the blocking and receiving game.
He led the Hawkeyes with 760 yards receiving last year and regularly pancaked defenders.
Fant was also a strong player for the Hawkeyes: He led the team over the past two years with 18 touchdowns receiving and was a willing blocker.
But of the two teammates, my money is on Hockenson. Literally.
2019 NFL Draft Position: T.J. Hockenson vs. Noah Fant
T.J. Hockenson: +100
Noah Fant: +100
Davis Mattek is a daily fantasy writer and sports analyst for whom I have great respect. He wrote a recurring piece for FantasyLabs last season, and we broke into the industry together at RotoViz.
But sometimes, on occasion, only slightly, he can be a wonderfully good-natured donkey. And I think now is one of those times.
When a friend of yours is wrong, you have to let him know, right?
But to Davis' credit, he's firm in his position.
And when that friend of yours persists in his erroneousness, what do you do? You offer to make a bet. You give him the opportunity to put skin in the game.
That's what friends do.
Of course, there's always a little bit of a negotiation.
And then inevitably people want to drag Sean Koerner into the discussion, as if two grown and degenerate men aren't capable of coming to terms on a bet without getting the opinion of an expert.
But fortunately I have ample powers of persuasion when the stakes are low, the participants are friendly and the promises are empty.
I get deals done.
Did Davis get horrible odds on this bet?
Probably.
Am I already thinking of his $25 as mine?
Absolutely.
T.J. Hockenson Over Noah Fant
Why am I so convinced of Hockenson's superiority that I'm willing to bet literally 2,500 pennies on him and risk ruining a decent Twitter friendship?
Because Hock is a full on in-line two-way tight end capable of contributing as a receiver and blocker right away, whereas Fant is more of a big-bodied slot receiver. And historically, the NFL has valued the complete tight ends above the pass-catching options.
Just last year, Hayden Hurst was drafted No. 25 overall to the Ravens, while Mike Gesicki was the second tight end off the board at No. 42. Hurst wasn't all that productive in college, whereas Gesicki was productive and highly athletic: As a prospect, Gesicki is the player to whom Fant is most comparable.
Why was Hurst drafted ahead of Gesicki? Because he was viewed as the best combination tight end in the class, with the ability to split out wide, line up in the slot and stay in line to block.
That's exactly what Hockenson can do — and he's a much better prospect than Hurst was.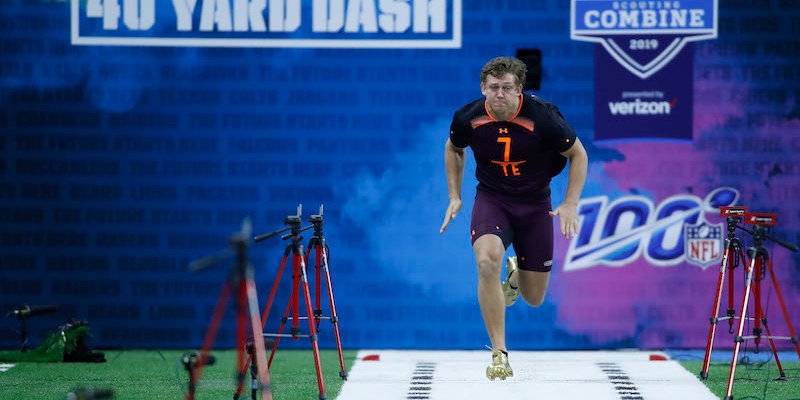 In 2017, O.J. Howard was selected at No. 19, ahead of Evan Engram at No. 23 and David Njoku at No. 29. Engram and Njoku had the better receiving seasons entering the draft.
O.J. Howard: 45-595-3 receiving in 15 games
Evan Engram: 65-926-8 receiving in 11 games
David Njoku: 43-698-8 receiving in 12 games
Why was Howard selected ahead of Engram and Njoku? Because with his bigger size, he was viewed as more of an all-purpose tight end, while they were considered move players.
O.J. Howard: 6-foot-6, 251 pounds
Evan Engram: 6-foot-3, 234 pounds
David Njoku: 6-foot-4, 246 pounds
Throughout the recent history of the NFL draft, the league's preference for well-rounded players at the position is clear.
Last year Hockenson at worst was just as impressive of a producer as Fant.
T.J. Hockenson: 49-760-6 receiving, 1-4-1 rushing in 13 games
Noah Fant: 39-519-7 receiving, 2-1-0 rushing in 12 games
And he was unquestionably the better blocker.
NFL general managers can be unpredictable, but if the past is any indicator, Hockenson should be selected ahead of Fant.
Given that they're both entering the NFL from "Tight End U" — the same institution that produced George Kittle, C.J. Fiedorowicz, Tony Moeaki, Scott Chandler and Dallas Clark — I expect both Hock and Fant to be strong NFL players. Fant might even have the better career.
But I'd bet on Hock all the way to -150 to be drafted before his college teammate.
The Pick: Hockenson (+100)
---
Matthew Freedman is the Editor-in-Chief of FantasyLabs. He has a dog and sometimes a British accent. In Cedar Rapids, Iowa, he's known only as The Labyrinthian.
How would you rate this article?