Who Should Be the Top Fantasy WR Drafted in 2019? Our Experts Debate
Credit:
USA Today Sports. Pictured: Davante Adams, DeAndre Hopkins
Our fantasy football experts debate who should be the top fantasy WR in 2019 drafts.
Davante Adams and DeAndre Hopkins are favorites, but there's a third wild card in the mix.
It's a virtual two-man race between DeAndre Hopkins and Davante Adams for who should be the No. 1-ranked wide receiver in fantasy football, but they're not the only candidates our experts like to be the first WR off draft boards.
Five of our analysts — Sean Koerner, Matthew Freedman, Peter Jennings, Ian Hartitz and Justin Bailey — debate who should be the top fantasy WR taken in 2019 drafts.
Sean Koerner: Davante Adams
I have Adams and DeAndre Hopkins essentially tied for my top WR, but lean Adams.
Hopkins will likely have Will Fuller and Keke Coutee healthy for more of 2019 than we saw in 2018, and their presence should eat into his target share a bit. Adams, meanwhile, scored the same number of fantasy points as Hopkins last season despite playing one fewer game. That was also despite it being a down year for Aaron Rodgers, who played at less than 100% all season and threw for only 25 touchdowns. I expect Rodgers to improve this year under new head coach Matt LaFleur, which should only help Adams.
Adams seems to have the highest week-to-week floor of any WR: He led the league with top-20 finishes at the position (12 of his 15 games) while putting up either at least 80 yards and/or a touchdown in every game.
Ian Hartitz: DeAndre Hopkins
Look, Odell Beckham Jr. is the best wide receiver alive. It's not his fault the early years of his career were influenced by Eli Manning's corpse.
But we aren't picking the best wide receiver for a sandlot game; we're trying to pick the one who will rack up the most fantasy points. That man looks like Hopkins.
The league's finest contested-catch artist has functioned as a truly elite WR1 in 11 games with both of his sidekicks Deshaun Watson and Will Fuller healthy:
Watson: 65% completion rate; 9.0 yards per attempt; 32 total touchdowns
Hopkins: 69 receptions; 1,113 yards; 12 touchdowns
Fuller: 45 receptions; 782 yards; 11 touchdowns
Nuk has actually been at his best with Fuller's field-stretching talents available: He's scored 12 touchdowns in 11 games with Fuller since 2017 compared to 12 scores in 21 games without him.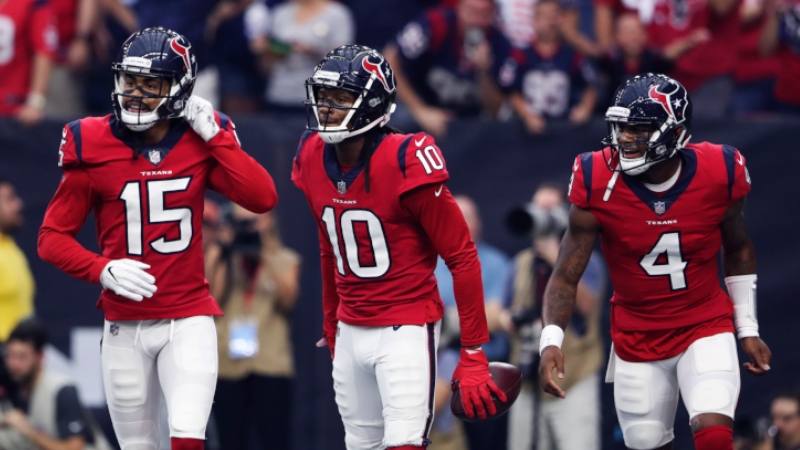 Ultimately, Hopkins' status as this season's WR1 comes down to his insane volume: He led the league with 15 targets inside the 10-yard line in 2018 and was one of six receivers to average double-digit targets per game.
Thirty-seven wide receivers have had at least 160 targets in a season since 2010, with 36 (97%) emerging as a top-12 PPR receiver, 31 (84%) in the top eight, 27 (73%) in the top five and 17 (46%) in the top three. Nuk joined Adams, Antonio Brown, JuJu Smith-Schuster and Julio Jones as the only players with at least 160 targets in 2018.
Hopkins has the best quarterback and the fewest amount of supporting cast questions among our group of high-volume receivers. He's my No. 1 wide receiver off the board.
Matthew Freedman: JuJu Smith-Schuster
I don't know if JuJu should necessarily be the first wide receiver drafted, but I'm projecting him to finish with the most fantasy points at the position. And I'm 100% comfortable with him being the first receiver I draft — especially since I typically don't need to take him as the No. 1 receiver in order to get him.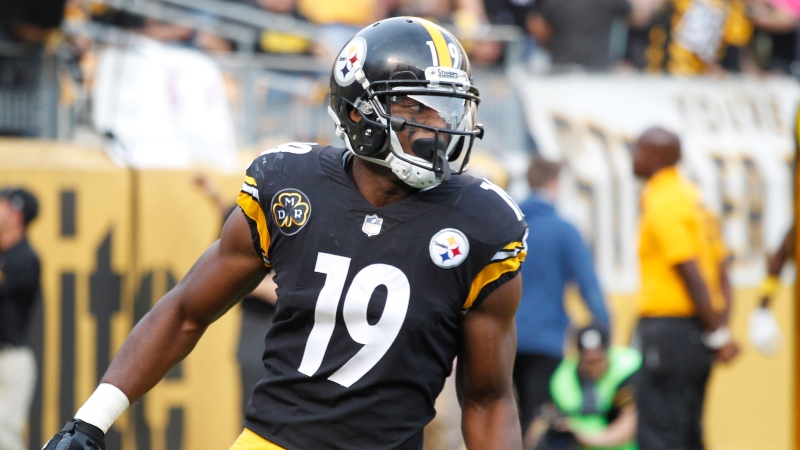 JuJu is one of the most precocious wide receivers in NFL history: No receiver has had more than his 122 receptions and 1,783 yards receiving before the age of 22. In his third season, he could have legitimately improve upon the 1,426 yards he got last season.
In 2018, he had a 0.25 market share of targets on a per-game basis. And with Antonio Brown no longer on the Steelers, JuJu's market share should be even larger, considering the per-game marks that Brown had.
Antonio Brown's Per-Game Target Market Share in Pittsburgh
2018: 0.27
2017: 0.32
2016: 0.28
2015: 0.33
2014: 0.30
2013: 0.29
With a larger share of the targets — especially the high-leverage end-zone opportunities that Antonio hogged in 2018 — JuJu could have a truly transcendent campaign on a team that's historically played fast and passed heavily.
Peter Jennings: Davante Adams
To me, the top wide receiver in fantasy football this season is Adams.
You'd be hard-pressed to find any receivers who have matched Adams' production in the touchdown department over the past few seasons, especially in the red zone: His 28 red-zone scores are nine more than the next-highest receiver since 2016.
Another reason to love Adams is the way that his situation has improved this offseason: He led the league in targets per game last year, but that should only improve with the departure of Randall Cobb as well as with the long-anticipated arrival of a new play-caller in LaFleur.
The vacancy of Cobb leaves even fewer weapons alongside Adams. Although this could result in more defensive attention on Adams, he's fared very well against shadow coverage, scoring at least 16 PPR points in nine of his 10 contests matched up with shadow cornerbacks over the last two seasons.
Adams' proven ability, production and connection with Rodgers, along with the expected improvement in his situation, make him the clear No. 1 receiver.
Justin Bailey: Davante Adams
Adams ranked fourth in the league in Air Yards last season while leading the Packers with 28% of their target share and 36% of their Air Yards. Overall, it's hard not to take Adams as the first receiver off the board, especially when you consider his overall target share, red-zone usage and touchdown upside.
Adams was dominant in the red zone last season: 12 of his 13 receiving touchdowns were within the 20-yard line. With the Packers running out an inexperienced group of young receivers around Adams, it should be another big year for him.
How would you rate this article?