Travis Etienne Dynasty Fantasy Outlook, NFL Draft Profile & Props
Credit:
Carlos Herrera/Icon Sportswire via Getty Images. Pictured: RB Travis Etienne
Travis Etienne Draft Profile
| | |
| --- | --- |
| Position | RB |
| School | Clemson |
| Height | 5'10" |
| Weight | 215 |
| 40-Yard Dash | 4.41 |
| 2021 Age | 22 |
| Class | SR |
| Recruit. Stars | 4 |
| Projected Round | 1-2 |
---
Travis Etienne Draft Props
As of writing, there are only two props that pertain to Etienne:
Over/Under 1.5 Running Backs in Round 1: I like it.
Travis Etienne No. 1 Running Back Drafted: I don't like it.
In my recent post-free agency mock draft, I have only one running back going in Round 1: Najee Harris of Alabama. So that shows you what I think is likeliest to happen.
While I rely on my own research, I also take a "wisdom of the crowds" approach by surveying an index of mock drafts. I find that these drafts — created by experts with established records of success — collectively give me a good sense of the realistic range of outcomes for what we might see with any given player or pick.
In just 15% of these mocks do we see two backs — always Harris and Etienne — go in Round 1.
And that puts me on the under, which is available at -200 at DraftKings. I think that's a great number: It implies that the under has a 66.7% chance of hitting, while I think the true odds are closer to 80%.
Here's the thing: Over 1.5 running backs in Round 1 is available at +310 at Fox Bet, which means that bettors have the opportunity to engage in some sweet arbitrage: #FreeMoney.
There are a few ways this can go.
If you want a risk-free bet on the under, you can put 0.645 units on the over at +310 and 2.0 units on the under at -200. If the over hits, you win nothing. But if the under hits, you win +0.355 units.
Similarly, if you want a risk-free bet on the over, you can put 1.0 units on the over and 2.0 units on the under. If the under hits, you break even, but if the over hits you win +1.1 units.
You can split the difference by betting 0.731 units on the over and 2.0 units on the under. If the over hits, you win +0.266 units; the under, +0.269 units.
If you want to go the risk-free route, I suggest option No. 1, as the under has a significant edge. If you want to forgo any risk and simply lock in a profit, option No. 3 is a fine choice.
In previous years I would have gone with option No. 1: In my heart, I am a wimp who likes to avoid the possibility of loss wherever possible, but I also wouldn't have wanted to pass up the opportunity to exploit an edge.
Recently, however, I've become more willing to assume risk, and the edge on the under is sufficient enough to entice me to put the full 2.0 units on the under at -200 and just let it ride.
As for Etienne being the No. 1 back: It's possible, but it seems unlikely. In 90% of the indexed mocks we have at least one back selected in Round 1, and in this robust sample, Etienne is the first back selected just 22.2% of the time.
Regardless of the sportsbook, the posted odds for Etienne to be the top back in the class are not high enough to justify a position. His odds range anywhere from +105 at Fox Bet to +150 at DraftKings, but at present I'd need to see a number around +250 or +300 before I started considering it.
Pick: Under 1.5 running backs in Round 1 (-200, up to -300)
Bet Now: DraftKings
Units: 2.0
Dynasty Fantasy Analysis
In my way-too-early dynasty rookie rankings, I had Etienne as my No. 1 player. In the subsequent weeks, not much has changed.
In superflex leagues, a quarterback should be taken at the top of the board. And in the tight end premium format, where tight ends get 1.5 points per reception (PPR), there is a very real case to be made for Florida tight end Kyle Pitts as the No. 1 overall pick. In fact, even in standard and PPR leagues, Pitts makes for a compelling choice because he is truly a one-of-a-kind prospect, but I must admit that taking Pitts No. 1 would be a rather contrarian move.
Etienne, however, makes a lot of sense at No. 1, especially for teams in need of an upgrade at running back — and, in reality, that's most dynasty teams.
If you want to go with a wide receiver at No. 1, I won't try to stop you — wide receivers are longer-lived assets compared to running backs. And in many leagues, the starting lineups call for more receivers than backs, so it's usually sharp to prioritize them in rookie drafts.
Ja'Marr Chase is the guy if you choose to go with a wide receiver at No. 1. I don't think there's much debating that. But if you opt to go with a running back, there's some debate: Etienne or Harris.
I like Harris: He should be an immediate fantasy starter as a rookie. He is big, can catch the ball and has a good chance to be selected on Day 1.
Etienne, though, is still my preferred choice as the top back in rookie drafts, at least right now, before we know where they land.
Harris I expect to go ahead of Etienne in the NFL draft, but they should have comparable draft position. And while Harris is built more like a lead back, Etienne at his pro day showed that he has the size to stand up to the grind of the NFL.
Official verified pro-day measurables on Clemson RB Travis Etienne:

HT: 5101
WT: 215
Hand: 9 3/8
Arm: 31 1/8
Wing: 73 1/8

— Jim Nagy (@JimNagy_SB) March 11, 2021
And even though Etienne bulked up from 205 to 215 pounds, the extra muscle didn't seem to impact his athletic testing, as he still managed to blaze a 4.41-second 40-yard dash (or thereabouts).
With his combination of size and speed, Etienne almost certainly has the best athletic profile of any back in this class.
Clemson running back Travis Etienne meets all the requirements when it comes to size, speed and production.

At 215 lbs, Etienne ran an unofficial 4.41 at @ClemsonFB pro day, helping him earn a 99 athleticism score according to the NGS draft model.

🔹 Pro Bowl Probability: 33% pic.twitter.com/ehgrDe7lrK

— Next Gen Stats (@NextGenStats) March 11, 2021
And Etienne isn't just an athlete: The guy can play football.
As an 18-year-old true freshman, he led Clemson's backfield committee on the ground with 107 carries, 766 yards and 13 touchdowns rushing while chipping in five receptions for 57 yards in 13 games. And in the three following seasons, he proved himself to be one of the most consistently productive players in college football.
2018 (15 games): 204-1,658-24 rushing | 12-78-2 receiving
2019 (15 games): 207-1,614-19 rushing | 37-432-4 receiving
2020 (12 games): 168-914-14 rushing | 48-588-2 receiving
Even though he played at under 210 pounds at Clemson, no player in college football history has had more games with a touchdown than Etienne.
The main attraction amongst players taking part in Clemson's Pro Day today will be RB Travis Etienne.

He scored a TD in 46 games in his college career, the most in NCAA history.

This dude can absolutely fly too 💨💨 pic.twitter.com/JIi3Q0ClX8

— Field Yates (@FieldYates) March 11, 2021
Where Etienne really distinguishes himself is in the receiving game. He's a fine runner, although he is more of a sprinter than a pile mover, and in the NFL his relative lack of power might limit him to a zone-heavy scheme. But as a receiving back, he is unrivaled in this class.
Etienne impressively improved as a receiver each year of college so that by his senior year he was one of the best pass-catching backs in the nation.
In the running back leaderboards in the 2021 Sports Info Solutions Football Rookie Handbook, Etienne stands out as a receiver.
Yards Per Route Run
Travis Etienne: 1.6
Michael Carter: 1.2
Receptions Per Game
Travis Etienne: 4.0
Demetric Felton: 3.7
Receiving Yards Per Game
Travis Etienne: 49.0
Najee Harris: 32.7
As a senior, Etienne led all FBS backs with 588 yards receiving, and  Pro Football Focus ranked him as the No. 1 pass-catching back with a 90.9 receiving grade.
With his size and receiving ability (as well as his durability), Etienne looks like a three-down NFL back — at least according to Clemson head coach Dabo Swinney.
Since 2019, Etienne is the only back in college football with 2,500 yards rushing and 1,000 yards receiving, and as Swinney mentioned, that kind of production puts him in rare company.
Over the past two decades, only two backs from a major conference have hit those thresholds over a two-year span.
Travis Etienne (2019-20, 27 games): 2,528 rushing | 1,020 receiving
Saquon Barkley (2016-17, 27 games): 2,767 rushing | 1,034 receiving
Etienne isn't Barkley as a prospect. Etienne is smaller, slower and older — but his college production is elite.
And Etienne isn't as old as he could be. If he had entered the NFL last season as a 21-year-old early declarant, I would have absolutely loved him, but he's still a year younger than Harris — and Etienne's age is the primary reason I have him ranked No. 1 among all backs.
In dynasty, running backs are extremely short-lived assets, and every year they could play matters. When choosing between two backs who have comparable expected draft position and sufficient size, athleticism and college production to indicate NFL success, I'll use Occam's razor and simply opt for the one who is younger — especially if that guy is also the better receiver.
Harris is a fine prospect, but I prefer Etienne just a little bit more. He should be the No. 1 back selected in rookie drafts.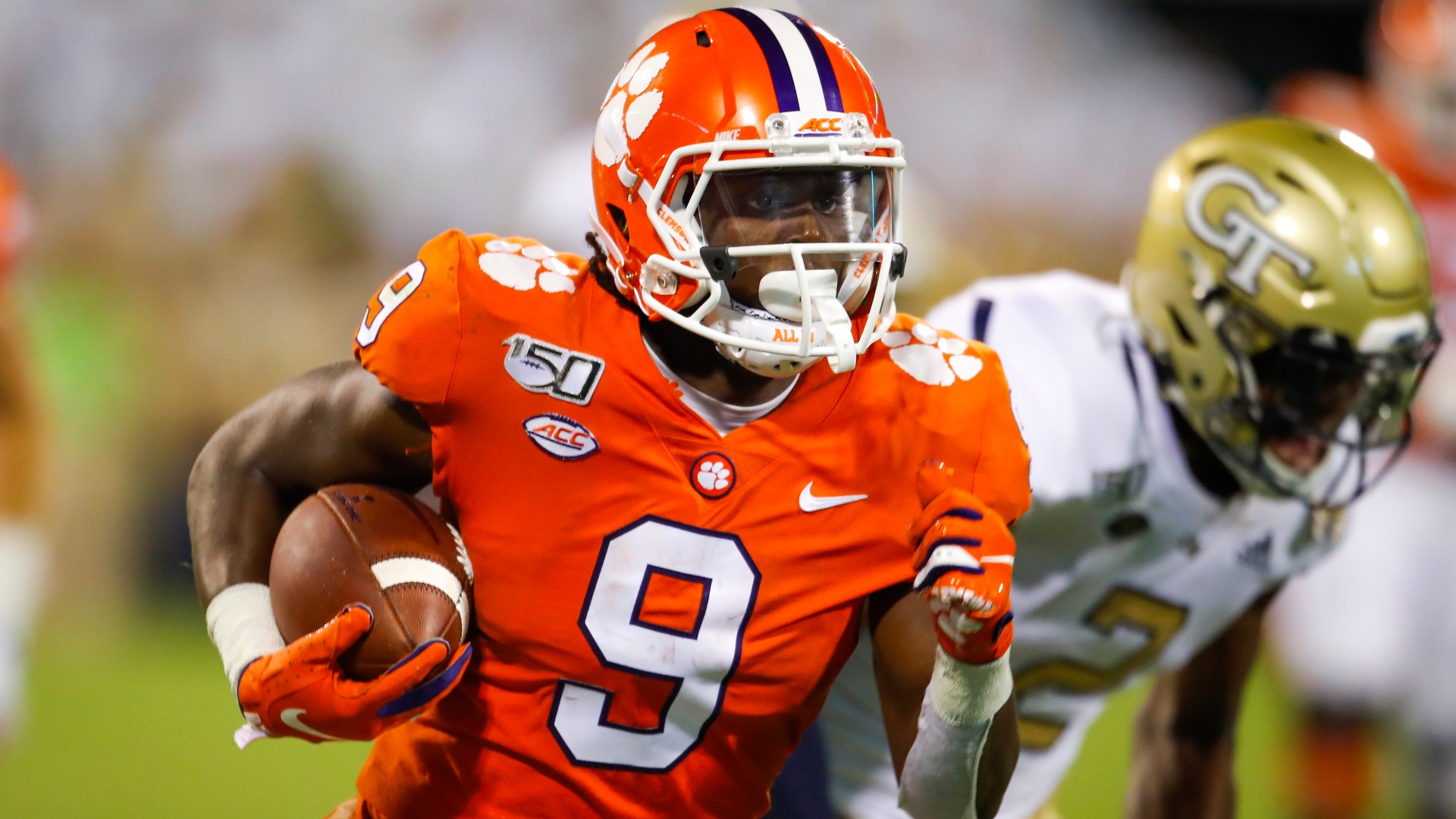 And as much I enjoy indulging the fantasy of taking Pitts No. 1 overall, a strong structural case can be made for Etienne.
This year's running back class is bad. Very bad. After Etienne and Harris, it's choppy. Javonte Williams from UNC is an acceptable-ish No. 3 option, but after him, the backfield quality in the class drops off significantly. That means that if you want to get a reliable back in your rookie drafts, you'll likely need to take him with a pick near the top of the board.
But this class is pleasantly deep at wide receiver and sufficiently deep at tight end. If you take Etienne instead of Chase or Pitts early in Round 1, you can still get an upside receiver you like in Round 2 or a value-imbued tight end in Round 3.
But if you take Chase or Pitts at the top of Round 1, you'll likely be disappointed with your options if you try to add a running back later in the draft.
For Etienne, what matters when comparing him to Harris is Etienne's age and receiving ability. What matters when comparing him to Chase and Pitts is positional scarcity.
And this year good rookie running backs will be hard to acquire: If you're in a position to draft Etienne, it will be hard not to do so.
NFL Prospect Comp: Cam Akers with better draft position and receiving skills but also older
---
Matthew Freedman is 1,018-828-37 (55.1%) overall betting on the NFL. You can follow him in our free app.
How would you rate this article?
This site contains commercial content. We may be compensated for the links provided on this page. The content on this page is for informational purposes only. Action Network makes no representation or warranty as to the accuracy of the information given or the outcome of any game or event.