Travis Kelce Is Having a Historic Fantasy Season for a Tight End
Credit:
Scott R. Galvin-USA TODAY Sports. Pictured: Travis Kelce
Travis Kelce has helped revolutionize the tight end position. Now he's having one of the best fantasy football seasons for a TE.
Here's what's behind his career campaign -- hint: Patrick Mahomes has something to do with it -- and how it measures up historically.
The Kansas City Chiefs lost a thriller to the Los Angeles Chargers last Thursday night, but it wasn't on account of all-world tight end Travis Kelce.
Kelce caught seven of his nine targets for 61 yards, further solidifying what has quickly become one of the best fantasy seasons from a tight end ever. Let's dig into what makes him and this campaign so special.
Kelce Isn't Your Average Tight End
Kelce is 6-foot-5, 255 pounds and ran a 4.61-second 40-yard dash at his collegiate pro day. He's an averaged-sized tight end with the route-running and athleticism of an elite wide receiver; he ranks in the 75th-percentile or higher in PlayerProfiler.com's Speed Score (88th), Burst Score (78th) and Catch Radius (78th).
This next-level ability with the ball in his hands has helped Kelce lead all tight ends in 20-plus yard receptions during each of the past three seasons. Andy Reid has consistently schemed the ball to Kelce via screens and other high-percentage routes to best utilize this explosiveness.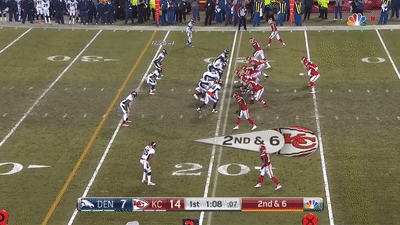 The Chiefs managed to snag Kelce with the first pick of the third round of the 2013 draft. He fell in part due to off-field issues in college that resulted in a full-season suspension for violating team rules. That rebel attitude has reared its ugly head, but he's been anything but a distraction off the field since joining the Chiefs.
As for on the field? Kelce has been one of the best tight ends the league has ever seen.
Patrick Mahomes Has Elevated Kelce's Play
Kelce was already amazing with Alex Smith under center, as the tight end has gained at least 850 yards and scored four-plus touchdowns every season between 2014 and 2018.
The sixth-year tight end has already earned inclusion among the goats at the position.
Most seasons with 1,000+ receiving yards among all TEs ever

Tony Gonzalez (4)
Rob Gronkowski (4)
Jason Witten (4)
Travis Kelce (3) 👀
Todd Christensen (3)
Greg Olsen (3)
Shannon Sharpe (3)
Kellen Winslow (3)

— Ian Hartitz (@Ihartitz) December 14, 2018
Only Rob Gronkowski (69.8 yards per game), Kelce (65.6) and Kellen Winslow (61.8) have averaged more than 60 receiving yards per game in league history. And yet the 2018 version of Kelce is unlike anything we've ever seen.
Kelce has already set career-high marks in targets (132), receptions (93), yards (1,220) and touchdowns (10) through 14 games, and his 87.1 yards per game is the highest single-season average among all tight ends to ever play (minimum eight games).
Kelce is Pro Football Focus' No. 1 overall receiving tight end this season and he ranks among the position's top 32 run- and pass-blockers.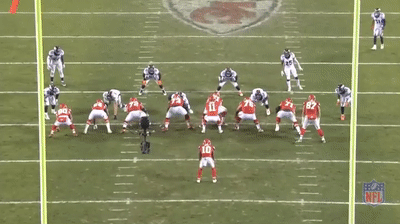 Mahomes has enabled the Chiefs' stud tight end to work as the offense's No. 1 receiver. Tyreek Hill is amazing, but Kelce has out-targeted Hill 132 to 121 this season.
The 2011 version of Gronk remains the gold standard of fantasy tight ends with his season-long 90-1,327-17 line, but Kelce is averaging the second-most PPR points per game ever through 14 games.
Overall, Kelce is the sixth-highest scoring player among all wide receivers and tight ends this season. And yet the tight end position continues to be undervalued in season-long leagues and daily fantasy games.
Tight Ends Who Double as No. 1 WRs Are Underpriced
Tight ends don't usually lead their team in targets. Only Kelce, Zach Ertz, George Kittle, Jordan Reed and Jared Cook lead their respective offenses in targets.
These tight ends understandably find themselves priced atop the position's salary scale, but that scale should probably have a higher ceiling. Only 13 tight ends have earned a price tag of at least $6,000 on DraftKings since 2014 (per our NFL Trends tool), and they've worked as one of fantasy's most-valuable assets this season.
Jason Witten (2012), Tony Gonzalez (2004) and Dallas Clark (2009) are the only tight ends who have caught at least 100 passes in a season in NFL history. Ertz and Kelce are expected to join them by the end of this season.
We've been debating whether certain tight ends should be considered wide receivers ever since Jimmy Graham and the Saints were forced to define his position before being franchise tagged. Graham's situation seemed to be a rare case that wouldn't be a consistent problem, but plenty of tight ends around the league are effectively used as wide receivers these days.
Starting TEs that line up in the slot or out wide on 50%+ snaps

Jimmy Graham (63%)
Eric Ebron (63%)
Ian Thomas (61%)
Ricky Seals-Jones (56%)
Cameron Brate (56%)
Jordan Reed (56%)
Zach Ertz (54%)
Travis Kelce (52%)
Trey Burton (50%)

— Ian Hartitz (@Ihartitz) December 14, 2018
Kelce isn't exactly a throwback tight end, and he't also probably not the new prototype for a modern wide receiver. Instead, the Chiefs' No. 1 receiver is a walking mismatch who must be accounted for wherever he lines up.
Kelce needs 58 more PPR points to top Gronk's all-time position-best mark. Kelce needs just 30.6 points to take second place, and he would finish fifth even if the Chiefs rest him for the remainder of the regular season.
It remains to be seen whether Kelce will build upon the incredible start to his career, but he might've already helped revolutionize the way we treat tight ends in fantasy football.
How would you rate this article?