Trevor Lawrence vs. Zach Wilson: Who Should Be the No. 1 Pick In the 2021 NFL Draft?
Credit:
Getty Images. Illustration by Katie Richcreek. Pictired: Trevor Lawrence (left) and Zach Wilson (right).
Trevor Lawrence is the consensus No. 1 pick in the 2021 NFL Draft. But should he be?
Chris Raybon has made a case saying that the Jacksonville Jaguars should take BYU quarterback Zach Wilson with the first overall pick in this year's draft.
Darin Gardner, meanwhile, has been enamored after watching Trevor Lawrence lead Clemson to postseason glory over the past three seasons.
They debate which signal-caller should be the first player off the board below.
---
More NFL Draft Debates: Who should be the third QB drafted? | Is Ja'Marr Chase, DeVonta Smith, or Jaylen Waddle the best WR available? | Is Travis Etienne or Najee Harris the better RB? | Can Kyle Pitts make a big impact in Year 1?
---
---
The Case for Trevor Lawrence

What can I say about Trevor Lawrence that hasn't already been said? 
He came in as a true freshman, went undefeated, and capped it off by blowing Alabama off the field in the National Championship. His only two losses as a starter came in the College Football Playoff. 
He ranked in the top 10 in adjusted yards per attempt as a true freshman, and still managed to improve every year — 9.3 in his freshman year, 9.9 as a sophomore, and 10.2 this past season. Meanwhile, Zach Wilson ranked only 70th in that metric in 2019 against a much more difficult schedule compared to the one BYU played against in 2020.
Lawrence is also an incredible athlete for his size. His running ability nearly single-handedly won the game against Ohio State in the College Football Playoff in his sophomore year. He had a 67-yard touchdown run in which he blew past a defense full of future NFL players. In addition to having one of the best arms we have ever seen from a prospect, he can be a legitimate threat on the ground. 
These quarterbacks were playing in much different situations this season. 
When comparing offensive lines, it isn't even close. BYU had PFF's highest-graded offensive tackle, two top-10 guards, a top-20 center, and another top-40 tackle on the other side. Wilson had all day to throw every time he dropped back. His playing environment in the NFL isn't going to be anything close to what he experienced at BYU last year. 
Meanwhile, Lawrence had to overcome an offensive line that really struggled on the interior. Clemson's two starting guards ranked 178th and 228th at the position in terms of PFF grade, and its center ranked 79th at his position. I feel much more comfortable with Lawrence's anticipation and ability to play under pressure than I do with Wilson.
Photo Credit: Jared C. Tilton/Getty Images.
The Case for Zach Wilson
By Chris Raybon

This one comes down for arm talent for me. 
Usually when a college quarterback can whip the ball all around the field, they struggle with accuracy or consistency. Not Wilson. 
While attempting higher-difficultly throws than Lawrence, as evidenced by his 10.9 aDOT to Lawrence's 9.0, Wilson completed 72.7% of his passes while Lawrence completed 67.9%. 
If we look at PFF's Adjusted Completion Percentage, which adjusted for drops, batted passes, throwaways, etc., Wilson edges Lawrence 80.3% to 77.9%.
Photo Credit: Mark Brown/Getty Images.
Lawrence Rebuttal
Gardner: I really think Wilson's level of competition should be a concern. 
According to Bill Connelly's SP+ defensive rankings, Wilson only played one defense ranked in the top 30, which was San Diego State. He only had two total opponents that ranked in the top 40, and nine of his 12 opponents ranked outside the top 60. 
He also hardly faced any pass rush with a pulse. Eight of his 12 opponents ranked outside the top 70 in Sack Rate, and you can see that with the ridiculous pockets he had throughout the year.
Meanwhile, Lawrence played two top-20 SP+ defenses, along with eight of the top 60. He also faced three of the top-15 pass rushes in terms of Sack Rate. 
You have to take the schedule into account when looking at Wilson's massive jump from 2019 to 2020. When the defenses were tougher, Wilson was nowhere near what we saw in 2020. Lawrence, meanwhile, has been routinely cooking Power Five defenses since his freshman year.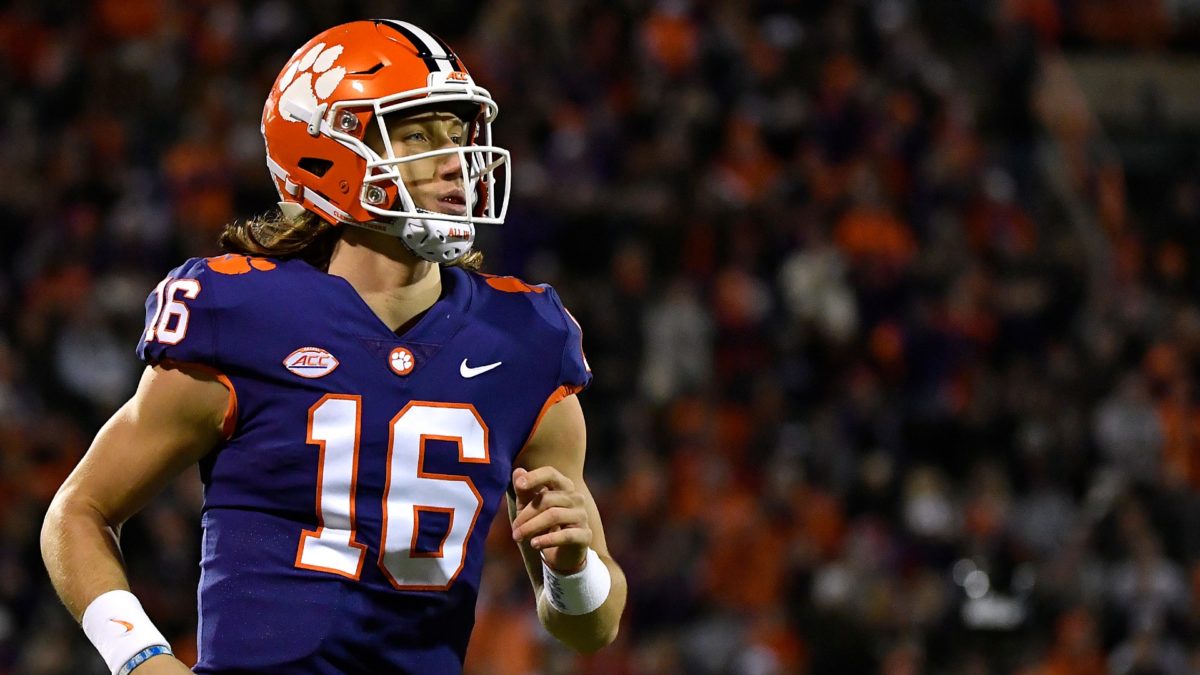 Wilson Rebuttal
Raybon: I think level of competition is absolutely a fair concern when one quarterback plays at
BYU and the other at Clemson — that's why Lawrence is the consensus No. 1. 
That said, young quarterbacks are still going through massive development at this stage, so I don't think we can't just write off Wilson's jump.
In addition, in looking at Wilson's superior accuracy metrics, level of competition is already baked in. On top of that, Wilson's degree of difficulty is greater if you consider he was making deeper throws. That's essentially my argument — he has greater arm talent.
And even when looking specifically at pressure, Wilson was also the better passer when under duress in 2020. Wilson had a passer rating of 98.5 and a passing grade of 74.1 while Lawrence had a rating of 84.8 and a grade of 55.1, per PFF.
Final Thoughts for Lawrence
Gardner: Lawrence has an incredibly rare combination of arm talent, athleticism, and size. 
Compared to Wilson, he has a much bigger sample size of good football and has done it against better competition. Wilson has a lot of highlight throws to get excited about, but Lawrence has plenty of those in his own right and is better at playing within structure. 
He has been billed as the top guy since high school and has lived up to the hype every step of the way. "Once-in-a-generation" gets thrown around a lot in sports, but that's absolutely the case with Lawrence. 
I do like Wilson, but I'm much more confident in Lawrence's ability to translate to the league.
Final Thoughts for Wilson
Raybon: You can't go wrong with either QB, and I'm not taking anything away from Lawrence. But Wilson has generational arm talent, and that undoubtedly translates — just ask Patrick Mahomes.
My argument is essentially that of Chris Simms, who sees Wilson as "clearly" the No. 1 quarterback. This carries a lot of weight because Simms' track record at quarterback evaluation is second to none: At the time, he was considered contrarian when he had Justin Herbert ahead of Tua Tagovailoa last year, Dwayne Haskins behind Drew Lock in 2019, Lamar Jackson and Josh Allen over Baker Mayfield and Sam Darnold in 2018, and Patrick Mahomes over Deshaun Watson and Mitch Trubisky in 2017.
How would you rate this article?