Is T.Y. Hilton an Elite Fantasy Football Wide Receiver?
Credit:
Trevor Ruszkowski-USA TODAY Sports. Pictured: T.Y. Hilton
T.Y. Hilton has been an elite fantasy football producer throughout his career.
What should you expect from the Indianapolis Colts' top wide receiver in 2019?
Ian Hartitz analyzes Hilton's outlook and when he should be going in drafts.
We're in the thick of the NFL offseason and it's officially time to start fantasy football prep. I'll be answering the biggest questions heading into the 2019 season; this is part of that series.
---
Third-round players from non-Power Five conferences don't often excel at the NFL level, but T.Y. Hilton isn't your everyday wide receiver.
The Indianapolis Colts' longtime No. 1 pass-game target has averaged 1,156 receiving yards since entering the league in 2012, defeating pretty much any and every AFC South cornerback along the way.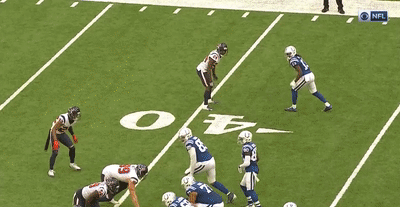 What follows is a breakdown of just how consistent Hilton has been over the years and what his fantasy football value looks like in 2019.
T.Y. Hilton Is as Good as Any NFL WR … with Andrew Luck
Hilton's production has been strongly tied to the presence of his franchise quarterback under center.
Hilton still managed to convert 109 targets into 57 receptions for 966 yards and four touchdowns with Jacoby Brissett running the offense in 2017, but that's peanuts compared to what we've seen him do with Luck.
Hilton per game with Luck (90 games): 8.7 targets, 5 receptions, 80.6 yards, 0.41 touchdowns, 100-plus yards in 34% games, 15.6 PPR
Without (26 games): 7 targets, 3.8 receptions, 61.4 yards, 0.23 touchdowns, 100-plus yards in 19% games, 11.3 PPR
For reference, Hilton's average of 80.6 yards per game with Luck at quarterback would trail only Julio Jones (97), Odell Beckham Jr. (93), Antonio Brown (86) and Calvin Johnson (86) among all players in NFL history (min. 16 games). Hilton's career average with or without Luck of 75 yards per game (No. 13 all time) is still pretty dandy in its own right.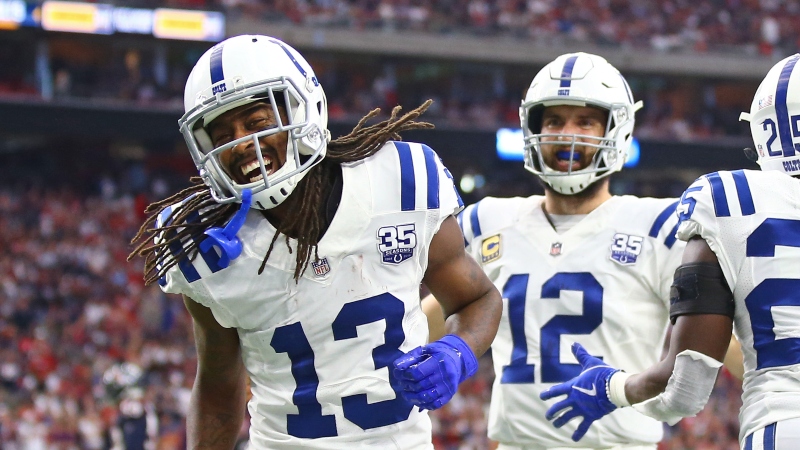 Hilton has still been an above-average receiver without Luck, but he's consistently been a top-10 talent on a per-route basis anytime his quarterback has been healthy enough to suit up.
2018: 2.54 yards per route run (tied-third among WRs with at least 50 targets per Pro Football Focus)
2017: 1.74 (T-25th, zero games with Luck)
2016: 2.35 (third)
2015: 1.82 (32nd, seven games with Luck)
2014: 2.36 (10th)
Slowing Hilton down has proved to be an incredibly difficult task under almost any situation, particularly when the Colts aren't exposed to the elements of mother nature.
Targeting Hilton in Domes Has Been Good for Business
Death, taxes and Hilton balling out indoors.
Hilton per game in domes (70 games): 8.6 targets, 5.1 receptions, 86.2 yards, 0.46 touchdowns, 39% games with 100-plus yards, 16.5 PPR
Outdoors (46 games): 7.9 targets, 4.2 receptions, 61.2 yards, 0.24 touchdowns, 20% games with 100-plus yards, 11.7 PPR
I mean, how are defenders supposed to stay in front of this guy on turf?
Per our FantasyLabs NFL Trends tool, Hilton has averaged an additional 2.3 DraftKings points per game with a +2.0 Plus/Minus, 51% Consistency Rating and 17% Upside Rating at home since 2014. Surprisingly, his average ownership in Indianapolis has actually been lower than on the road.
Hilton is pretty much guaranteed to play in at least nine dome games per season between home dates at Lucas Oil Stadium and a yearly trip to NRG Stadium to take on the Texans. The Colts will have double-digit dome games in 2019 thanks to an additional visit to New Orleans in Week 15.
Hilton will turn 30 in November, but he's still worthy of a top-three round pick in fantasy football drafts of all formats.
This Colts' Offense Should Be Better Than 2018
Luck's ability to regain his elite-level play was the team's single-biggest development of last season. It's tough to imagine a world in which his No. 1 receiver doesn't produce top-tier production as long as continues to ball like a top-tier quarterback.
The most pressing "concern" for Hilton in 2019 comes down to scoring chances. Surprisingly, Hilton (10 targets inside the 10-yard line) had more opportunities close to the end zone than Eric Ebron (six) last season, but targets could be a bit more scarce in the red zone this season thanks to the return of Jack Doyle and addition of Devin Funchess.
Funchess in particular is a decent bet to lead the Colts in touchdowns. It's not outrageous to think the 25-year-old Funchess could take a step forward in a more traditional offense than what he saw in Carolina.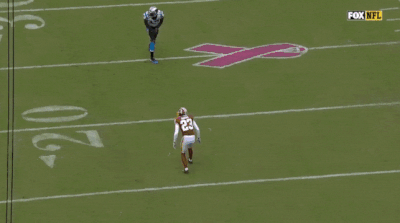 Still, Hilton has scored only between five and seven touchdowns over every season of his career anyways. He's routinely out-performed expectations thanks to gaudy reception and yardage totals.
Luck has certainly made it a priority to feed Hilton throughout his career:
2018: 8.6 targets per game (13th among all wide receivers)
2017: 6.8 (31st)
2016: 9.7 (sixth)
2015: 8.4 (18th)
2014: 8.7 (17th)
2013: 8.7 (17th)
2012: 6 (T-50th)
We shouldn't expect this fantasy-friendly workload to drastically change in 2019, and Luck's second season under head coach Frank Reich could certainly produce a more efficient offense overall.
Hilton is more than worthy of his current average draft position as the WR10 in PPR formats, and I'd even take him above Adam Thielen (currently WR9) thanks to his status as the Colts' undisputed No. 1 pass-game option.
How would you rate this article?