Millman's Week 6 NFL Recap: Sweating Chiefs-Patriots and Getting the Best of the Number
Credit:
Credit: David Butler II-USA TODAY Sports. Pictured: New England Patriots wide receiver Julian Edelman (11) makes the touchdown catch against the Kansas City Chiefs in the second quarter at Gillette Stadium.
I didn't get the best of the number with my Bengals and Redskins bets. One of those ended up costing me; the other cashed just fine.
Who doesn't love a good backdoor cover when it goes in your favor? Thank you, Broncos!
A thrilling Chiefs-Patriots game capped off the day, and kept bettors entertained until the very end.
I've been covering sports betting for nearly 20 years (it pains me to write that for many reasons, mainly because I know the 20-somethings in my office will use it against me every god damn day).
The one phrase I've heard more than any other, with the exception of, "That one's gotta hurt" is, "You've got to get the best of the number."
That means betting a game at the peak spread for the side you want. For example, if you liked the Cardinals as underdogs this week against the Vikings, you wanted to get them at +10.5, where it closed, rather than the +10, where it opened (and landed, with the Vikings winning 27-17).
This week, I did not get the best of the number in several games. And as they kicked off, I was very, very worried. Not just because I left some perceived value on the table, but because the lines that I bet moved due to wiseguy action.
That means, at the end of the day: I'd either be the wiseguy, or the broke guy.
---
>> Sign up for The Action Network's daily newsletter to get the smartest NFL conversation delivered into your inbox each morning.
---
My bets:
Steelers at Bengals (-2.5)
The line closed at Bengals -1, with wiseguy money coming in on Pittsburgh. Uh oh!
Panthers at Redskins (-1)
The line closed at Redskins +1.5. I'm bummed. A lot of public action came in on the Panthers all week. But I can still live with this one.
Chargers (-1) at Cleveland
Oh boy, this one closed at pick 'em with the wiseguys loving the Browns.
Rams at Broncos (+7)
Line closed at 6.5, I GOT THE BEST OF THE NUMBER!
Jags at Cowboys (+3.5)
Big mistake. I bet this at 12:48 p.m. on Sunday. Regretted it as soon as I did. Got greedy, trying to be too smart. Feeling like I should have bet the Cards at +10.5 instead.
Chiefs at Pats (-3)
Line closed at Pats -3.5, I beat the market.
My SC Picks:
Pats -3.5
Redskins +1
Titans +2.5
Here we go!
1:12 p.m. ET: It took 12 minutes for the RedZone to bring me an update from my games. And it's the Chargers in the red zone, first and goal. I'm so wise. And kind, which is important. But mostly, it's important to be wise. And right now…
1:14 p.m.: I'm the wisest man in all the land. Because as soon as the Chargers scored a touchdown RedZone quickly flipped to the Redskins' old man artist, Vernon Davis, catching a 22-yard touchdown pass from Alex Smith.
I've seen two plays from two games I have bets on. Both were touchdowns. Let's just call it a day, shall we?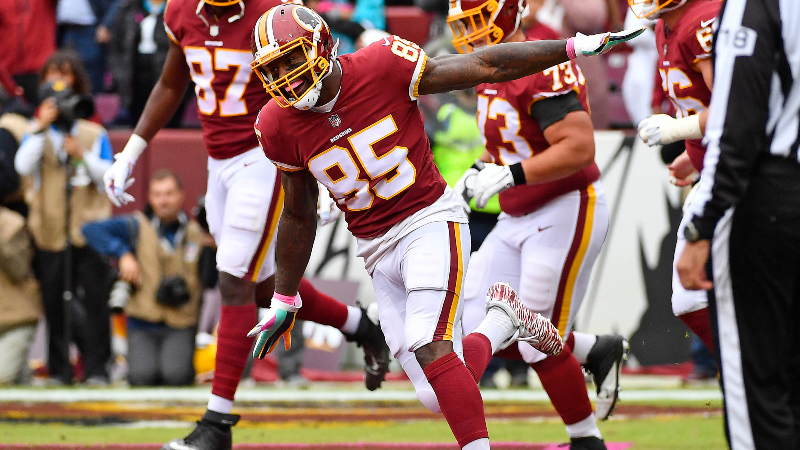 1:25 p.m.: I've never been more relaxed as a bettor. RedZone has not come back to me for more than 10 minutes and my Action Network app is showing fields of green in win probability.
1:27 p.m.: Oh hello, Bengals, Are you on the Steelers 29-yard-line? Welcome to my wiseguy party!
1:28 p.m.: I went from not even knowing Vernon Davis was playing anymore to only seeing highlights of him. And I like it.
1:29 p.m.: A.J. Green 20-yard, fingertip grab to the Steelers 9.
1:30 p.m.: Two-box time with both of my teams in the red zone on RedZone. Here's the problem: My 15-year-old son needs to go somewhere. And my wife has plans.
So I have to make a choice: Do I ask my wife to go out of her way and be late to meet someone and drive him so I can use my karma to will my teams to victory? Or do I drive him?
Will it free me up from parenting and husband duties for the rest of the day? Can he be late to his event as I watch the Bengals score (THEY JUST DID!!!!) and hope the Redskins do in the next two minutes?
1:32 p.m.: YES!!!!!!!!! (plus the Chargers sacked Baker Mayfield). If I leave now I can listen to the games on the radio, be a brilliant husband, father and bettor, and be back in time to see all the good stuff that will no doubt go my way in the second half. Because that's how betting goes, right?
2:28 p.m.: I'm back! Just in time for the Bengals to tie the game with 19 seconds left in the half. This proves that if you do the right thing — carpool the kids, make life easier for your wife — the betting gods will reward you with goodwill and happiness, at least until halftime is over.
For good measure, I emptied the garbage that was overflowing in the kitchen and put the recycling by the curb for tomorrow morning.
Next up: The sink full of dishes!
2:57 p.m.: Chargers are starting to blow out the Browns. Melvin Gordon scores from 10 after a Mayfield pick. 28-6 LAC.
But, if I can be greedy, sure wish I had gone with my instincts and my principles, and bet the Cards at 10.5 against Minnesota.
2:58 p.m.: Uh oh. James Conner breaks containment and runs 25 yards to the Bengals 1. Beat a wiseguy move, lose a wiseguy move?
3:02 p.m.: Steelers kick a field goal.
3:21 p.m.: Chargers touchdown to go up 35-6. I am smarter than a wiseguy! Redskins field goal to go up 20-9. I am smarter than the public!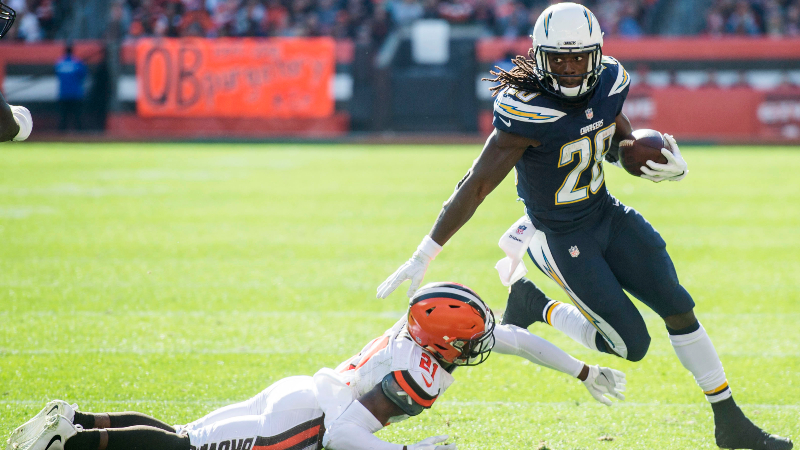 3:30 p.m.: The Redskins are clinging to a cover. The Bengals need to score to take the lead and give me a cover. At least the Chargers are making me feel good. Maybe I should go parent again. Wonder if my younger kid wants to play Ping-Pong?
3:36 p.m.: Yep, Antonio Brown 49 yards to the Bengals 14. Time for some gamblers math. A field goal by Pittsburgh and there's no way I cover, as the Bengals can win by one with a touchdown and PAT. If the Steelers score a touchdown there's likely no way I win, as the Bengals will be down by 10 with less than five minutes left.
I really should go play Ping-Pong.
3:40 p.m.: Steelers kick a field goal, up 20-14 with 3:35 left. New math tells me everything I need to know.
3:44 p.m.: Redskins kick a field goal to go up 23-17 with 3:15 left. Why did RedZone never show me this? I know they did not because I have not gone to play Ping-Pong. Instead I am on the couch, WAITING FOR A REDSKINS UPDATE. I only know this happened because The Action Network app kindly sent me an alert.
3:56 p.m.: The Redskins are gonna make me sweat. Third-and-1 for Carolina from the Skins' 24 with 1:23 left. First-down rush, Cam.
3:59 p.m.: Fourth-and-5…
… (heart racing)
… (heart racing)
…Incomplete!!!!!! Incomplete!!!!!!!
I didn't come anywhere near getting the best of the line. In fact, I would have paid for it had the Panthers scored; this game closed with Carolina as 1.5-point fave. Panthers score that touchdown and Washington loses 24-23. If I had gotten the best of the line, I would have had an even more relaxing afternoon,
PING-PONG TIME!!!!! I may not even watch the late games. I'm just gonna parent and husband and ignore it all. Like a pro.
4:40 p.m.: It was a good break. Spending time with your kids is important. And also easy when I keep my phone handy and get alerts on every play that matters to me (shameless plug now over). Also my 11-year-old beat me in a game up to 11. I'm not proud, but glad that he is boosting his confidence. Also, I was clearly distracted.
I come back to see a Broncos field goal (following a touchdown being taken off the board after a replay review), a Cowboys field goal to go up 3-0 on the Jags and the Ravens driving on the Titans. I also realize I have action on every afternoon game. Plus the Sunday night game. This is gonna be a long day.
I may need to go do the dishes.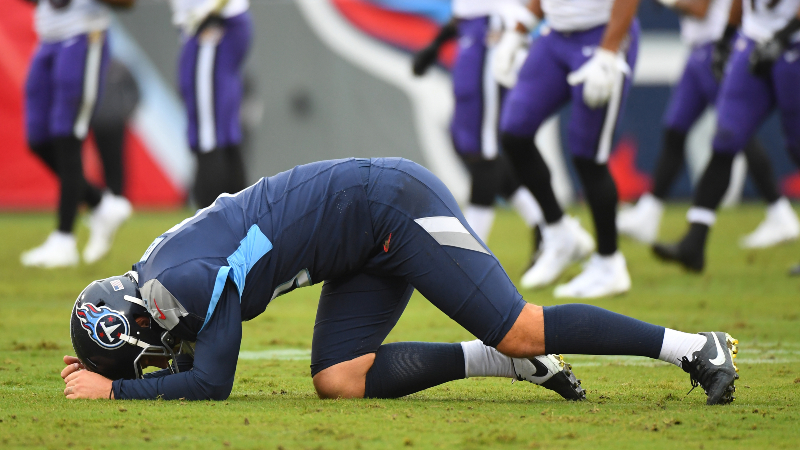 4:46 p.m.: Ravens touchdown, against a Titans team that has given up the fewest touchdowns in the red zone all season long. The drive was 17 plays, 94 yards, 9:09. Ugh.
Time to do the dishes.
4:53 p.m.: But first, I watch Dak Prescott fumble a ball directly into his arms and then, on the next play, get a touchdown pass overturned on review (deja vu) … and then, on the next play after review, sprint 17 yards for a touchdown.
4:53 p.m.: Then Todd Gurley scores, Rams 13-3.
4:54 p.m.: Marcus Mariota misses a wide open receiver for a touchdown by about 100,000 miles. I said on SportsCenter that this was going to be a close game, an ugly game and a tight game. Right now it is not those things.
Now, I am finally going to do the dishes. And maybe make dinner. The less I watch the better.
5:22 p.m.: That was fun. Doing the dishes was therapeutic, cleansing, helpful. Also, I am so far ahead of being valuable in the house I can't even count the points. I am the Cowboys vs. the Jags right now.
Also, it's nice to step away for 40 minutes and come back to see the Broncos driving with two minutes left in the first half and the Cowboys up 17-0 midway through the second, and driving. The Ravens are killing the Titans; that may have been an over-reach.
The Cowboys were an interesting choice, and I applied the same logic I did with the Titans: An undervalued team that is a home underdog; a team that is struggling on offense; a team going against a great defense and a similarly mediocre offense that still gets a lot of love from the public.
The added bonus for the Cowboys is that they were such a high-profile train wreck the week before that I couldn't help but think the line was going to go even higher than the +3 it was initially posted at.
Oddsmakers were going to wait until the last possible second to move off of the key number. And then, at around 12:45 p.m. ET this afternoon, it popped to +3.5.
I hit it.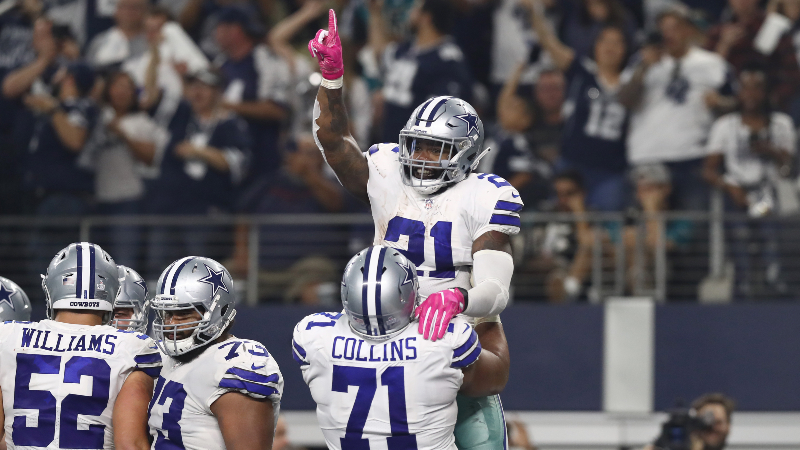 5:41 p.m.: Cole Beasley just scored on a 9-yard touchdown pass. Dallas is up 24-0.
I think I will go make dinner. That's the kind of guy that I am.
6:20 p.m.: I'm back! Seriously, I just made chicken stir fry and an arugula salad with chopped apples and cashews. Here's a pic of me making the veggies for the stir fry.
I'm legit, this is a freakin' parenting blowout. Not unlike all three afternoon games right, two of which I am on the wrong side of.
6:47 p.m.: The Cowboys game is over; they're up 37-7 in the fourth. Miraculously, the Broncos are still in the game. The Rams missed a field goal, and the Broncos threw it 41 yards on the next play! Plus unnecessary roughness. Then a 5-yard completion. Then…then…then…two straight incompletions and a field goal. But hey…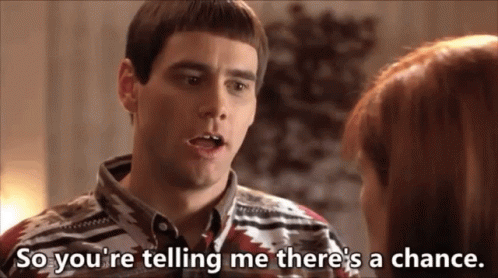 7:01 p.m.: This is it. Third-and-13 Rams from the Broncos 27. Just stop them once, let them kick a field goal, drive down the field, get it close and … oh, wait, Jared Goff throws a screen to Robert Woods and he goes 19 yards before he's touched? OK, that's cool.
7:04 p.m.: The Broncos waste another minute and their final two timeouts limiting the Rams to a field goal. But hey, the backdoor is wide open. We got three minutes to pay dirt!
7:15 p.m.: Broncos have a first-and-goal from the 7. Keenum drops back … tosses it in the end zone … pass interference.
These last-minute drives by losing teams have become so predictable: Completed passes down the middle, crazy quarterback scramble that breaks down the defense and ends in a miracle completion; more passes down the middle, a toss to the end zone that leads to a pass interference, and then …
7:17 p.m.: Touchdown Broncos! Demaryius Thomas is mentioned on television for the first time since Peyton Manning retired. They banged down the backdoor like the cover champions they are. I win!!!!
As my friend Bill Belichick says, we are onto Kansas City.
9:20 p.m.: The list of things I did instead of watching the game, in service to my bet: Laundry, change batteries on a TV remote control, pack for a business trip, throw away a pile of unread magazines on my nightstand, watch an episode of "The Office" with my kids (even the 11th time through for all of us, it's still funny), watch an episode of "I'm Sorry" with my wife (just started it, ridiculously funny, raunchy and worthy), play with the dog.
Finally, after multiple alerts, I see the Pats are up 17-9. I have spent the entire day mixing domesticity and betting. It has worked brilliantly and put me in position to go 2-1 on SportsCenter and 5-1 on the day.
Now both kids are done with me. I have earned the right to lend my karma to the New England Patriots. I think we can all agree they could use some luck, am I right?
9:28 p.m.: As soon as I turn on the game, Tom Brady lofts a deep pass to Josh Gordon, who drops it in the end zone when he's prematurely tackled by a Chiefs cornerback. Of course it's pass interference. First-and-goal, Patriots!
9:32 p.m.: Touchdown. Patriots up 24-9. Now it's just too easy.
10:37 p.m.: I'm wrong. It's not that easy. There is an air of inevitability when the Chiefs have the ball now. It's like the Pats blew the chance they had to destroy Patrick Mahomes' confidence. Instead, they are destroying mine. Pats 27, Chiefs 26.
10:44 p.m.: Dear Sony Michel, please run 5 yards every play for the next 13:57 until you score a touchdown. Best, Chad.
10:49 p.m.: Dear Chad, I'm sorry to disappoint you. But I'm sending you this field goal from my friend Stephen as a condolence gift. Best, Sony.
10:51 p.m.: Dear Chad, I hate you. Here's a 97-yard kick return to the Pats 3 to prove it. Best, Tremon Smith.
10:55 p.m.: P.S., here's a touchdown, jerk. Chiefs 33, Pats 30.
11:00 p.m.: What, Tom Brady is in the shotgun on third-and-1? What, he is going to throw deep?! No, no, no … wait a second, I'm a Patriots fan today. I knew this was going to work.
11:04 p.m.: Just as I knew Brady would evade a sack and then dive into the end zone. Just as I know, given the rules of the day, I should just go to sleep now. Since if I don't watch, I can't lose.
11:06 p.m.: Kidding. I'm still awake.
11:09 p.m.: GRONK!
11:16 p.m.: The Pats stall and kick a field goal to go up seven with 3:15 left. Please see entry 7:15 for the inevitable and unfortunate series of eve…
11:17 p.m.: ARE YOU F-ING KIDDING ME PATRICK MAHOMES AND TYREEK HILL?!?!? I can't even finish a sentence before you guys score on a 75-yard touchdown to tie the game?!?!?!
I can tell you right now: I'm going to push the bet I placed (Pats -3), but lose the prediction I made on SportsCenter (Patriots -3.5), because I didn't bet the best of the number.
11:28 p.m.: Like I said.
How would you rate this article?