NFL Conference Championship WR/CB Matchups: Does Bill Belichick Have an Answer for Tyreek Hill?
Credit:
USA Today Sports. Pictured: Bill Belichick and Tyreek Hill
We have two riveting matchups on the NFL's Championship Sunday: Rams-Saints and Patriots-Chiefs.
Below is a game-by-game breakdown of the top WR/CB matchups. Chiefs WR Tyreek Hill and Saints WR Michael Thomas could both have huge games on Championship Sunday.
Welcome to Championship Sunday! Only four teams remain, so we'll be able to focus on each team's respective wide receiver and cornerback groups more than usual.
Visit the FantasyLabs NFL page for more on this week's slate. You can also view all of the week's WR/CB matchups using our Matchups tool and check out matchup-specific stats for every NFC and AFC Championship matchup in the Matchup Manifesto.
Championship Sunday Matchup Matrix
The fine folks at Football Outsiders offer their DVOA metric specific to against the run, pass and certain positions. The ranks for all four defenses are below, with red meant to indicate the best and green the worst.
The Chiefs have struggled mightily at slowing down both tight ends and complementary receivers this season. Still, the potential return of all-world safety Eric Berry (calf) would be a major boost. Be sure to monitor our Conference Championship Injury Report for Berry's daily practice participation along with his estimated and official game statuses.
Also helping matters for the Chiefs is their home-field advantage at Arrowhead, where they've consistently thrived in recent history.
Longest active streaks of games without allowing 30+ points at home

1. Chiefs (34) 👀
…
2. Jaguars (16)
3. Cowboys (12)

— Ian Hartitz (@Ihartitz) January 15, 2019
The Chiefs boast a top-10 defense in DVOA against No. 1 receivers, although they join the Rams, Saints and Eagles as the league's only defenses that have allowed at least 80 receiving yards per game to their opponent's top receiver.
The Patriots' lone kryptonite has been against receiving running backs. Kareem Hunt caught 10-of-11 targets for 203 yards and three touchdowns in two games against the Patriots, and Damien Williams has caught 23-of-24 targets for 160 yards and a pair of touchdowns during his time with the Chiefs.
The Chiefs haven't been all that great against receiving running backs, either, as they allowed the third-most receiving yards per game to opposing backfields this season.
The Patriots have surprisingly been better at shutting down complementary receivers as opposed to their opponent's No. 1 receiver. This has held true in past matchups against Tyreek Hill, who has caught 14-of-20 targets for 275 yards and four (!!!) receiving touchdowns in two career games vs. the Patriots.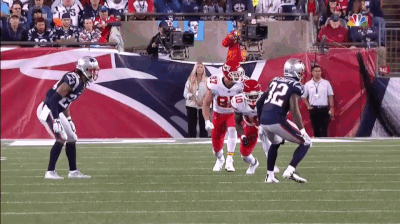 The Saints have largely operated as a pass funnel defense this season, ranking third in DVOA against the run compared to just 22nd against the pass. They rank among the league's bottom-two defenses in yards per game allowed to both No. 1 and No. 2 receivers.
Todd Gurley is also set up well as a receiver, although he converted his six receptions against the Saints back in Week 9 into just 11 scoreless yards.
The Rams haven't exactly turned things around against No. 1 receivers since Aqib Talib has returned. The likes of Amari Cooper (6-65-1), Alshon Jeffery (8-160-0) and Kendrick Bourne (5-59-1) have all produced at or above expectation in recent matchups against L.A.
The Rams were mostly able to limit receiving backs this season, although Alvin Kamara converted four receptions into 34 yards and a touchdown against them back in Week 9.
Divisional Round WR/CB Matchups
We can determine where each receiver will line up, as well as which cornerback each receiver will see the most of with help from the snap counts provided by PFF.
We'll also use PFF to compare each receiver's and defender's respective yards per route run and yards allowed per cover snap, along with their height, weight and 40-yard dash time. (Non-listed 40-times courtesy of DraftScout.com.)
Snap Percentage: Each receiver's respective percentage of snaps spent as the offense's left, slot or right wide receiver along with each cornerback's respective percentage of snaps spent covering an offense's left, slot or right wide receiver.
Physical: Each player's respective height (inches), weight (pounds) and 40-yard dash time (seconds). The players with the biggest advantages are identified in green while those that are undersized or slow are in red.
Production: Each wide receiver's respective targets per game and yards per route run along with each cornerback's respective targets allowed per game and yards allowed per cover snap.
Targets per game: A different filter was used to determine each team's target distribution. The Patriots' targets per game are their last three games without Josh Gordon, the Chiefs' are their 10 full games with Sammy Watkins, the Saints are their 16 games with Drew Brees, and the Rams are their nine games without Cooper Kupp (knee, IR).
New England Patriots at Kansas City Chiefs
Patriots WRs vs. Chiefs CBs
The Patriots are entering Game 4 of life without Flash Gordon. Space RB James White (26 targets) has worked far ahead of the likes of Hogan (16), Dorsett (10) and Rob Gronkowski (6) during this stretch, but Edelman (29) remains Tom Brady's most-trusted target.
This has been the case for the better part of the past half decade, as Edelman has racked up double-digit targets in 10 consecutive playoff games.
Julian Edelman in 11 playoff games since 2013:

9 receptions-151 yards-0 TD (13 targets)
5-87-0 (13)
8-118-1 (10)
8-137-0 (13)
7-53-0 (13)
10-100-0 (16)
9-109-1 (12)
9-98-0 (11)
8-74-0 (14)
10-89-1 (15)
6-84-0 (9)

— Ian Hartitz (@Ihartitz) January 17, 2019
Edelman should spend most of his time across from Fuller, who ranks outside of the league's top-30 full-time slot corners in passer rating and yards allowed per cover snap.
Dorsett boasts the largest speed advantage (+0.16 seconds) of any wide receiver-cornerback matchup this week. Still, Hogan is cheaper on DraftKings and boasts a superior median and ceiling projection in our Pro Models.
---
Chiefs WRs vs. Patriots CBs
The Patriots' aforementioned struggles with slowing down TyFreak have at least coincided with tame performances from Travis Kelce (5-61-0 and 5-40-0).
One positive during the Patriots' Week 6 win over the Chiefs was Gilmore's ability to shut down Watkins (2-18-0) in shadow coverage.
PFF's No. 1 overall cornerback lost Keenan Allen in coverage for a long touchdown during the first quarter of New England's Divisional Round win over the Chargers, but Gilmore has largely operated as one of the league's best cornerbacks for most of the season.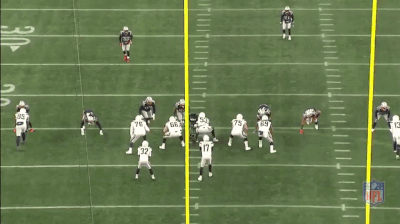 Conley is one of the more dynamic No. 3 wide receivers in the league, but he carries a weekly zero-target floor as long as he continues to work as the offense's No. 5 overall option behind Hill, Watkins, Kelce and Williams.
The Chiefs' league-best scoring offense boasts the week's top combined explosive pass play rate in what is expected to be Sunday's fastest-paced game.
Be sure to monitor our industry-leading NFL News feed for updated weather information, as the over/under has dropped to 55.5 points after opening at 59.5 (per our Live NFL Odds Page).
---
Los Angeles Rams at New Orleans Saints
Rams WRs vs. Saints CBs
Sean McVay is more than capable of scheming his talented receivers into favorable matchups this week, but it remains to be seen which version of Goff the offense will get.
Per our FantasyLabs NFL Trends tool, Goff has averaged 24.1 DraftKings points per game with a +6.8 Plus/Minus and a 68% Consistency Rating at home, compared to 16.9 PPG with a -0.8 Plus/Minus and a 36% Consistency Rating on the road over the past two seasons.
Things have been ever worse since Kupp was sidelined.
Jared Goff with Cooper Kupp this season (8 games):
69.6% completion rate
330 yards per game
9.7 yards per attempt
6.2% TD rate

Without Kupp (9 games):
59.8% cmp
249 yards per game
7.1 Y/A
4.7% TD rate

— Ian Hartitz (@Ihartitz) January 15, 2019
Woods has worked as Goff's undisputed No. 1 option with Kupp out this season. He's set up brilliantly in the slot against Williams, who is PFF's No. 109 ranked cornerback among 119 qualified players.
The Saints didn't have Lattimore to shadow during their first matchup against the Rams. He'll likely spend most of his snaps on Cooks regardless of if New Orleans chooses to again follow this strategy.
The Rams' elite field-stretcher roasted the Saints for 114 yards and a touchdown during his Week 9 #RevengeGame, but Cooks has failed to surpass even 65 yards in a game since the Rams' Week 12 bye.
Reynolds is capable of winning his matchup against Apple with volume, although the former first-round pick has been much more consistent since joining the Saints in Week 8. Overall, Apple is one of just 12 cornerbacks (min. 20% snaps) to not allow a touchdown this season.
Saints WRs vs. Rams CBs
Thomas has caught 27-of-38 targets for 387 yards and three touchdowns during his three career playoff games against the Panthers, Vikings and Eagles.
Next up is a Rams defense that he roasted for 211 yards and a touchdown back in Week 9.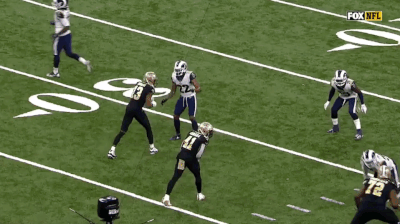 The Saints' undisputed No. 1 pass-game option probably won't be shadowed by Peters again this time around since Talib is back, but that defensive alignment would still allow Sean Payton to be able to deploy Thomas against the defensive back of his choosing. Thomas deserves to be in any conversation surrounding the league's top-five receivers.
Ginn would've scored a long touchdown on the first play of the Saints' Divisional Round win over the Eagles if it wasn't for a slightly under-thrown deep ball from Drew Brees. None of the Rams cornerbacks have the speed to hang with the Saints' lead field-stretcher, and Wade Phillips' defense yielded the third-highest explosive pass play rate in the league this season.
Kirkwood has emerged as the starting No. 3 receiver for the Saints, although Tre'Quan Smith has remained involved.
Both players, along with tight ends Josh Hill and Ben Watson, carry touchdown-or-bust ability, but Kirkwood's huge height advantage in the slot makes him my preferred punt play.
---
Be sure to check out FantasyLabs' industry-leading NFL News and Models, along with the Multi-Lineup Builder, Stack Builder, ownership projections and more. Other tools for the 2018 season are also available, including the Matchups page, DFS Contests Dashboard, NFL Ownership page and NFL Correlations page.
How would you rate this article?