NFL Wild Card WR/CB Matchups: T.Y. Hilton Owns Houston, Amari Cooper Set Up Well, More
Credit:
USA Today Sports. Pictured: T.Y. Hilton, Amari Cooper
The NFL playoffs kick off with four wild-card matchups: Colts-Texans, Seahawks-Cowboys, Chargers-Ravens and Eagles-Bears.
Below is a game-by-game breakdown of the top WR/CB matchups, featuring T.Y. Hilton and Amari Cooper in favorable spots.
The playoffs are here! And the kick off with Wild Card Weekend, so keep your head on swivel everybody.
Your first surprise: A new layout for this piece. The lack of overall WR/CB matchups made our usual format less effective, so we'll explore this week's key pass game matchups in two ways:
Identify which positions each defense is good and bad against, and
Breakdown each offense's specific matchups on the outside
Visit the FantasyLabs NFL page for more on this week's slate. You can also view all of the week's WR/CB matchups using our Matchups tool and check out matchup-specific stats for every wild-card matchup in the Matchup Manifesto.
Jump to: Colts-Texans | Seahawks-Cowboys | Chargers-Ravens | Eagles-Bears
Wild Card Matchup Matrix
The fine folks at Football Outsiders offer their DVOA metric specific to against the run, pass and certain positions. The ranks for all eight defense are below, with red meant to indicate the best and green the worst.
The Bears and Ravens are the week's top defenses, ranking first and third (respectively) in overall DVOA.
The only "weak link" in either secondary is the Ravens vs. tight ends, although Baltimore still hasn't allowed even a top 12 mark in DraftKings points per game to the position.
The Chargers are expected to have a three-man committee at tight end featuring Virgil Green, Antonio Gates and Hunter Henry (knee). They don't have the world's easiest matchup against safeties Eric Weddle (Pro Football Focus' No. 17 overall safety) and Tony Jefferson (No. 32).
The potential return of Bears' stud safety Eddie Jackson (ankle) would be bad news for Zach Ertz. Jackson is PFF's highest-graded safety this season.
Monitor every fantasy-relevant injury with our NFL Injury Report, which features daily practice participation as well as estimated and official game statuses.
The Cowboys (No. 16 in DVOA vs. pass; No. 5 vs. run), Texans (No. 18 vs. pass; No. 1 vs. run) and Colts (No. 20 vs. pass; No. 4 vs. run) have been pass funnel defenses this season.
The Texans are one of only six defenses that have allowed at least 75 yards per game to opposing No. 1 wide receivers. Houston has also allowed the second-most (71.7) yards per game to opposing tight end units.
The Colts have easily allowed the most yards per game (76.2) to opposing tight ends. Their zone-heavy defense has also yielded the sixth-most receiving yards per game to opposing running backs.
Don't be fooled by the Chargers' middling rankings: They've allowed the fewest yards per game (49.8) to opposing No. 1 receivers and the eighth-fewest to opposing No. 2 receivers (41.7).
Chargers' stud rookie safety Derwin James has helped lead the league's stingiest defense against tight ends as PFF's No. 5 overall safety this season.
Most metrics seem to indicate that the Texans, Eagles and Seahawks boast the worst secondaries in the Wild Card Round.
The Eagles' injury-riddled secondary has allowed a league-high 90.2 yards to opposing No. 1 wide receivers this season while the Seahawks (78.9) have allowed the fifth-most.
Wild Card Round WR/CB Matchups
We can determine where each receiver will line up as well as which cornerback each receiver will see the most of with help from the snap counts provided by PFF.
We'll also use PFF to compare each receiver's and defender's respective yards per route run and yards allowed per cover snap, along with their height, weight and 40-yard dash time from the NFL Combine. (Pro Day numbers courtesy of DraftScout.com.)
Snap Percentage: Each receiver's respective percentage of snaps spent as the offense's left, slot or right wide receiver along with each cornerback's respective percentage of snaps spent covering an offense's left, slot or right wide receiver.
Physical: Each player's respective height (inches), weight (pounds) and 40-yard dash time (seconds). The players with the biggest advantages are identified in green while those facing mismatches are in red.
Production: Each wide receiver's respective targets per game and yards per route run along with each cornerback's respective targets allowed per game and yards allowed per cover snap.
---
Indianapolis Colts at Houston Texans
Colts WRs vs. Texans CBs
T.Y. Hilton (ankle) didn't practice all week, but that's been the new normal recently and he's fully expected to suit up on Saturday — which is terrible news for the Texans considering how successful Hilton has been at NRG Stadium.
Jonathan Joseph ran a 4.3 back in his prime, but the Texans' 34-year old cornerback hasn't been that fast in years.
Regardless, Hilton indoors has simply been unfair to almost every defense in the league:
Career per-game outdoors (41 games): 4.2 receptions, 60.4 yards, 0.24 TDs
Indoors (67 games): 5 receptions, 83.9 yards, 0.45 TDs
The rest of the Colts receivers aren't particularly healthy, either. Ryan Grant (toe) has already been ruled out while Zach Pascal (knee) and Dontrelle Inman (shoulder, finger) were limited throughout the week. Inman (32 targets), Chester Rogers (25) and Pascal (18) rank behind Hilton (73), Eric Ebron (48) and Nyheim Hines (39) in targets since the Colts' Week 9 bye.
Inman offers the most upside of the group against the always-burnable Shareece Wright. The Colts' No. 2 receiver has posted strong 4-46-1 and 5-77-1 lines against the Giants and Titans, respectively, over the past two weeks.
Texans WRs vs. Colts CBs
As noted by DeAndre Hopkins himself, the Texans' No. 1 receiver had 115 receptions this season without a single drop.
The league's premier contested-catch artist regularly makes the impossible look easy against even the league's best cornerbacks.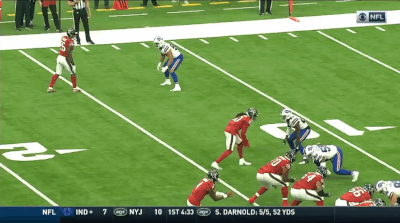 The Colts had some success by shadowing Nuk (4-36-1) with Pierre Desir in Week 14. Still, it's tough to ever bet against Hopkins considering his elite target volume and reputation of winning against any and every tough cornerback. (Note that not all of the following stat lines are from shadow matchups.)
DeAndre Hopkins since 2017:

Jalen Ramsey 7-55-1, 4-80-1, 3-50-1, 12-147-0
Marcus Peters 4-52-3
Richard Sherman 8-224-1
Patrick Peterson 4-76-1
Jimmy Smith 7-125-0
Joe Haden 4-65-1
Janoris Jenkins 6-86-0
Byron Jones 9-151-0
Tre White 5-63-1
Xavien Howard 6-82-2
Josh Norman 5-56-1

— Ian Hartitz (@Ihartitz) January 1, 2019
Head coach Bill O'Brien called Keke Coutee (hamstring) a game-time decision, but the Texans' slot receiver was able to practice in full all week and is tentatively expected to suit up. It's unclear whether the offense will continue to embrace more 2-TE sets with Coutee active or if Hopkins, Coutee and DeAndre Carter will work together in 3-WR sets.
Carter is set up well in the slot against Kenny Moore II, who is the Colts' slowest and smallest cornerback. Carter is only $3,300 on DraftKings and boasts a strong 97% Bargain Rating and a +3.4 Projected Plus/Minus in our Pro Models.
---
Seahawks WRs vs. Cowboys CBs
Doug Baldwin and Tyler Lockett both spend plenty of time in the slot. Baldwin has played well recently with four touchdowns over the past four games, but Lockett has formed the NFL's most lethal QB-WR combination with Russell Wilson.
Most career adjusted yards per attempt among current QBs and No. 1 WRs (min 50 targets)

1. Russ Wilson, Tyler Lockett (10.95)
2. Patrick Mahomes, Tyreek Hill (10.58)
3. Jared Goff, Brandin Cooks (10.47)
4. Dak Prescott, Amari Cooper (9.92)
5. Matt Stafford, Kenny Golladay (9.86)

— Ian Hartitz (@Ihartitz) January 1, 2019
Lockett and Baldwin are expected to run the majority of their routes against Anthony Brown and Chidobe Awuzie — PFF's No. 66 and No. 65 ranked cornerbacks, respectively. David Moore will have to make the best of his targets under the watchful eyes of Byron Jones, PFF's No. 6 overall corner.
Baldwin wasn't active for the Seahawks' 24-13 victory over the Cowboys in Week 3, which led to six targets apiece for Lockett (4-77-1) and Brandon Marshall (2-30-0), who is no longer with the team.
Baldwin and Lockett are plenty capable of winning their matchups, but don't expect either receiver to get many chances on the league's most pass-averse offense.
Cowboys WRs vs. Seahawks CBs
Dak Prescott and Amari Cooper have played some of the best football of their careers since joining forces in Week 9. The key for Cooper has simply been consistent target volume — something he had never really been afforded in Oakland.
Cooper in 2015 (16 games): 4.5 receptions-66.9 yards-0.4 TDs (8.1 targets)
2016 (16 games): 5.2-72.1-0.3 (8.3)
2017 (14 games): 3.4-48.6-0.5 (6.9
2018 with Oakland (6 games): 3.7-46.7-0.2 (5.2)
2018 with Dallas (9 games): 5.9-80.6-0.7 (8.4)
As discussed on this week's edition of the Daily Fantasy Flex, Cooper and rookie Michael Gallup are set up well on the outside against Shaquill Griffin (PFF's No. 112 overall corner) and Tre Flowers (No. 76). Gallup has at least six targets in four of his past six games and boasts a fantasy-friendly average target depth of 14.4 yards.
Cole Beasley has the group's toughest matchup and has totaled a pathetic 69 scoreless-yards in four career games against the Seahawks.
---
Los Angeles Chargers at Baltimore Ravens
Chargers WRs vs. Ravens CBs
Keenan Allen's annual second-half breakout featured at least 100 yards and/or a touchdown between Weeks 9 and 14, but he's battled a hip injury and posted pedestrian 0-0-0, 5-58-0 and 4-64-0 lines over the Chargers' past three games against the Chiefs, Ravens and Broncos, respectively.
Meanwhile, both Mike Williams (1-7-0) and Tyrell Williams (1-12-0) were shut down in the Chargers' first matchup against the Ravens by plus-sized outside cornerbacks Marlon Humphrey and Jimmy Smith.
It's not surprising that the Ravens were a top three defense in DraftKings points per game, Plus/Minus and Consistency Rating allowed to wide receivers this season (per our NFL Trends tool). Humphrey (PFF's No. 15 overall corner) has been the best of the group this season.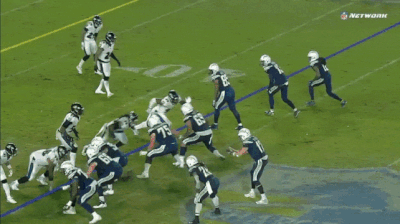 Still, Allen represents the Chargers' best chance at cracking the Ravens' cheat-code of a secondary considering his status as Philip Rivers' No. 1 receiver and the fact that Ravens slot corner Tavon Young (groin) is injured.
Allen is $6,900 on DraftKings and has a solid 24.3-point projected ceiling.
Ravens WRs vs. Chargers CBs
John Brown and Michael Crabtree both surpassed 50 receiving yards in five games with Joe Flacco under center but haven't managed even 40 receiving yards in a game since Lamar Jackson took over.
Tight end Mark Andrews and wide receiver Willie Snead have both surpassed 50 receiving yards in three games, but the ceiling and floor for anyone involved in the Ravens' run-first offense is dangerously low.
The Chargers' talented trio of cornerbacks makes this pass-game matchup an easy fade. Only Brown offers a realistic path to upside as long as Jackson is consistently throwing fewer than 25 passes per game — Brown has the week's biggest speed advantage against Casey Hayward, who has had trouble containing Tyreek Hill in the past.
---
Philadelphia Eagles at Chicago Bears
Eagles WRs vs. Bears CBs
Prince Amukamara (PFF's No. 13 cornerback) and Kyle Fuller (No. 8) have played great all season while Sherrick McManis actually has a higher overall grade than both in his limited snaps playing in Bryce Callahan's (foot, IR) place.
This is all bad news for an Eagles' passing game that has largely run through Zach Ertz since Nick Foles returned in Week 15.
Ertz (27 targets since Week 15)
Alshon Jeffery (18)
Nelson Agholor (15)
Golden Tate (14)
Darren Sproles (13)
Wendell Smallwood (10)
Dallas Goedert (8)
Josh Adams (5)
No Eagles receiver is set up particularly well. Jeffery doesn't have a massive size advantage, Agholor doesn't boast much of a speed advantage and Tate has serious volume concerns. The potential return of field-stretcher Mike Wallace (ankle) would seemingly hurt Agholor more than anybody.
Bears WRs vs. Eagles CBs
Allen Robinson (ribs), Taylor Gabriel (shoulder) and Anthony Miller (shoulder) are tentatively expected to suit up after practicing in full on Wednesday. All three are set up wonderfully against the Eagles' injury-riddled secondary, which joins the Saints and Jets as the only units to allow more than 3,000 yards to wide receivers this season.
The Eagles don't make a habit of moving their cornerbacks, so we can safely identify our probable matchups on the outside. (Spoiler: They're all good for the Bears.)
A-Rob vs. Avonte Maddox: The Eagles' fourth-round rookie is PFF's No. 60 overall safety this season.
Gabriel vs. Rasul Douglas: The Bears' field-stretcher boasts the week's second-largest speed advantage against Douglas.
Miller vs. Cre'Von LeBlanc: The Eagles' slot corner joined the team in Week 10 and has allowed 23-of-35 (66%) targets thrown into his coverage to be caught for 216 yards and a touchdown — good for a solid 92.1 quarterback rating.
Mitchell Trubisky doesn't typically zero in on one receiver, but this could be the perfect strategy against an Eagles secondary that doesn't seem to have much hope of covering anybody. Still, this isn't great for fantasy purposes.
Trubisky's target distribution in 14 starts this season favors four specific receivers, with another three players staying involved.
Robinson (19% target share with Trubisky)
Gabriel (18%)
Tarik Cohen (16%)
Trey Burton (16%)
Miller (11%)
Josh Bellamy (5%)
Jordan Howard (5%)
Be sure to check out FantasyLabs' industry-leading NFL News and Models, along with the Multi-Lineup Builder, Stack Builder, ownership projections and more. Other tools for the 2018 season are also available, including the Matchups page, DFS Contests Dashboard, NFL Ownership page and NFL Correlations page.
How would you rate this article?