Koerner's Fantasy Football Tiers: WR Rankings and Draft Strategy
Credit:
USA Today Sports. Pictured: Julio Jones, DeAndre Hopkins, JuJu Smith-Schuster
Welcome to Sean Koerner's 2019 fantasy football tiers, where he ranks wide receivers into groups based on their value.
See his overall draft strategy at the position as well as when to target certain WRs in season-long re-draft leagues.
The best way to spend your high draft capital this season is at wide receiver.
Sure, the position is deep and there are tons of players outside the top 80 who can offer solid production — but solid production for a WR means they'll likely only offer WR3 (maybe WR2) value. So to help you prioritize when to draft those top 80ish receivers, I've ranked them into tiers.
Before we dig into that analysis, which includes when to draft players from all 10 tiers, let's run through my overall strategy at the position.
---
>> Create custom cheat sheets using Sean Koerner's fantasy football rankings with our Draft Kit.
---
My 2019 WR Draft Strategy
There isn't much turnover among the top WRs, so it's critical to stockpile them with early picks. Let's look at the best strategy depending on draft order.
If you have Picks 1-5, you should absolutely go with a stud running back. But when the draft comes back your way, you should be able to at least snag two WRs from Tier 4 or better to give yourself a nice RB/WR/WR start.
If you have Pick 6 or later, it's much more likely you can start your draft off by taking two stud WRs in the first two rounds, then pick off RB2 types in Rounds 3-4.
The middle of the draft order (Picks 5-8) are among the most trickiest positions, but also the most flexible. There can be scenarios in which you go WR/RB/TE or TE(Travis Kelce)/WR/RB over the first three Rounds. Of course, your draft plan shouldn't be set in stone — you want the draft come to you and to anticipate what your league-mates will want to do.
If you have Pick 10 and the first nine picks are RBs, do not let FOMO convince you to draft a RB. In that case, you need to set the market by drafting Travis Kelce or the top WR on your list, then do the same thing in Round 2. The rest of the league will likely go on a heavy WR run after you have your two WR1 studs, which makes it very likely that RBs in the RB2-range will surprisingly fall to you in Rounds 3-4.
This is why I always stress to not panic — it's actually an incredibly powerful strategy to zig at a position while others are zagging. And that's the beauty of tiers: They help us to view positions in buckets and to understand when to attack certain tiers.
Now let's dig into the tiers. (Note that these are based on half-PPR scoring.)
IMPORTANT NOTE: This article is meant to give my general drafting strategy for the WR position. To get my up-to-date rankings, check out our draft kit, where you can download my projections/Tiers for your exact league settings.
---
More Tiers: QB | RB | TE
---
Tier 1
Davante Adams, Green Bay Packers
DeAndre Hopkins, Houston Texans
The point of tiers is to relieve the stress of choosing between two or more players, which can't be emphasized enough when it comes to these two studs. You can spend all summer trying to decide which to take first, but I'd be perfectly fine starting my draft with either.
My favorite example of their stud power is what they did in 2017: When Aaron Rodgers and Deshaun Watson both suffered season-ending injuries, Adams and Hopkins still managed to put up WR1 numbers with Brett Hundley, Tom Savage and T.J. Yates under center.
I love getting Picks 7-10 this season because you can typically start your team with this tier.
Tier 2
JuJu Smith-Schuster, Pittsburgh Steelers
Julio Jones, Atlanta Falcons
Odell Beckham Jr., Cleveland Browns
Tyreek Hill, Kansas City Chiefs
Michael Thomas, New Orleans Saints
Mike Evans, Tampa Bay Buccaneers
Tier 1 is well defined at WR, but I still consider Tier 2 to be the "Elite WR1 Tier." And once again, my 2019 draft plan perfectly aligns with having Picks 7-10 because I can lock in two WRs before Tier 3.
Hill and Thomas offer a much wider range of weekly outcomes among this group as they're much more likely to have monster games followed by duds. Neither are the type of receiver I target when trying to create a consistent team with a high floor that's designed to churn out more wins in a head-to-head format since our goal isn't to beat every team in the league each week — just that week's opponent.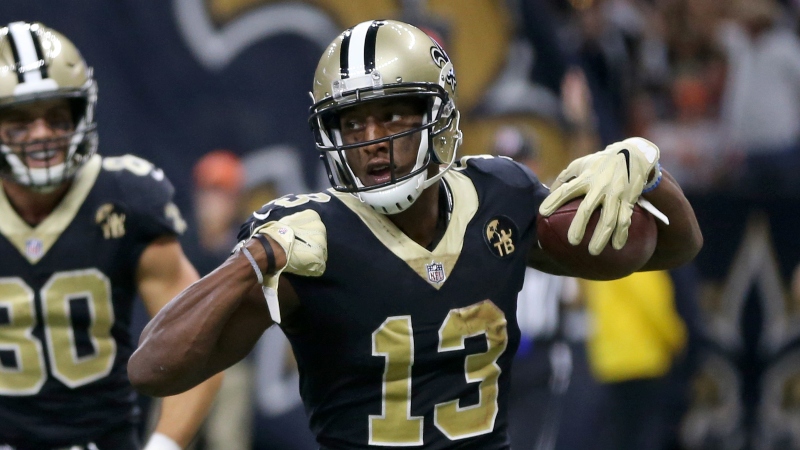 Having said that, I'll gladly take either if they fall to me at the end of this tier.
Tier 3
Antonio Brown, Oakland Raiders
Antonio Brown Island is oddly similar to Damien Williams Island (more on that in my RB Tiers).
I'm projecting Brown to have a very good season and am pretty much in line with his Average Draft Position (ADP) as the WR8, but his downside is low enough that I try to avoid him unless I find myself in a situation where I can't pass on him.
Unlike Adams and Hopkins, who were able to put up WR1 numbers with their starting quarterbacks out, Brown has struggled without Ben Roethlisberger. In his five games with Landry Jones starting for Big Ben, AB averaged only 4.8 catches for 68 yards — and he's never caught an NFL touchdown from a QB not named Roethlisberger. That will certainly change this season, but I'm not so sure the chemistry between he and Derek Carr will come close to what we saw in Pittsburgh. Big Ben could anticipate when Brown would break a route.
I'm a bit worried things could get ugly between AB and Carr, and that it'll show on the field. Even though I think Brown will ultimately see enough targets and has the talent to put up numbers, I'm avoiding him simply due to the 10-15% chance this experiment backfires big time.
Tier 4
Keenan Allen, Los Angeles Chargers
Adam Thielen, Minnesota Vikings
T.Y. Hilton, Indianapolis Colts
Stefon Diggs, Minnesota Vikings
Amari Cooper, Dallas Cowboys
This is the high-end WR2 tier.
It's typical to see a run on these receivers at the Round 2-3 turn, and since we start to see another sharp drop-off after this tier, Picks 1-5 should try to roster two before its gone. Being able to get Christian McCaffrey second overall then a WR combo of Allen and Diggs over the next two rounds is a perfect start to a draft.
Tier 5
Brandin Cooks, Los Angeles Rams
Kenny Golladay, Detroit Lions
Robert Woods, Los Angeles Rams
Julian Edelman, New England Patriots
There's a trio of Rams receivers inside the top 20 and all three are bunched within this range. A very reasonable strategy would be to pair a player like Cooks with Woods: Cooks offers that weekly high-ceiling, low-floor combo while Woods can give you more steady week-to-week production. And if you have both, they can balance each other out and combine for a solid output and boost your team's floor.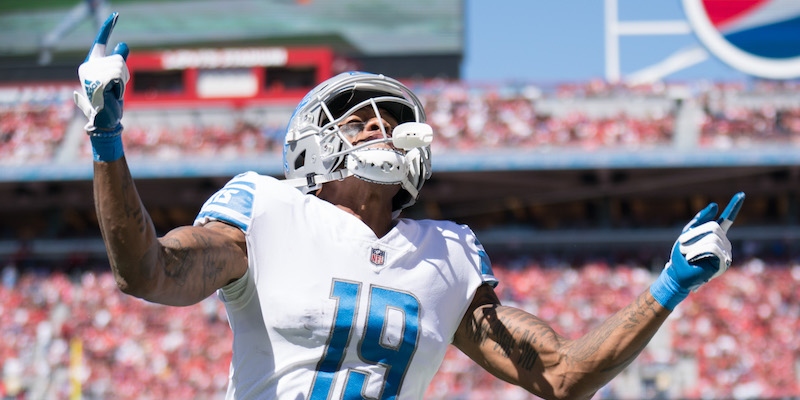 Golladay, meanwhile, is a WR1 type talent stuck on a WR3-type offense. The Lions brought in new coordinator Darrell Bevell to balance out the offense, and while it's safe to say he has a long history as a run-heavy OC, keep in mind that he had Adrian Peterson in his prime then Marshawn Lynch in his prime. Do you blame Bevell for running run-heavy offenses? Even if the Lions want to run more, they'll be a sub-.500 team and will be forced into more pass-heavy scripts than they'd like.
Golladay should still get his and will see enough targets to put up solid WR2 numbers.
Tier 6
Cooper Kupp, Los Angeles Rams
Calvin Ridley, Atlanta Falcons
Chris Godwin, Tampa Bay Buccaneers
Tyler Lockett, Seattle Seahawks
D.J. Moore, Carolina Panthers
We see a fairly sharp drop-off after this before the position flattens out. People often confuse this as the position being extremely deep and think it's OK to wait to load up at WR later in the draft, but the exact opposite is true: You need to have at least two to three WRs by the time this tier is off the board.
All five of these receivers are either entering or are in the prime of their careers. Sure, you might have some concerns about Ridley's TD regression or Lockett's ability to match last season's efficiency, but the fact is that these five are going in Rounds 4-5, and that's when the top three tight ends are off the board, the last of the RB2 Tier is gone and people are starting to draft QBs.
This tier gives you some nice fallback options if you went with a RB or Kelce in Round 1, allowing you to still end up with a high-upside WR2 before the position sees its final steep drop.
Tier 7
Tyler Boyd, Cincinnati Bengals
Jarvis Landry, Cleveland Browns
Alshon Jeffery, Philadelphia Eagles
Mike Williams, Los Angeles Chargers
Allen Robinson, Chicago Bears
Boyd should be a mid-range WR2 when A.J. Green is out and a high-end WR3 once Green is back.
If Boyd gets off to a fast start, you should consider trading him for a Tier 5 or 6 WR who is off to a slow start. We saw Boyd put up solid numbers even with Green on the field last season, but it's never an ideal situation when we're expecting a player to peak early on but be at risk of seeing a slight dip in production closer to fantasy playoffs.
Jeffery and Robinson make sense as high-ceiling/high-floor plays. As long as both can stay healthy, they'll be able to put up solid WR2 numbers. Williams, meanwhile, should see a spike in his targets and yardage with Tyrell Williams gone, but a slight drop in his TD production with Hunter Henry back in the mix.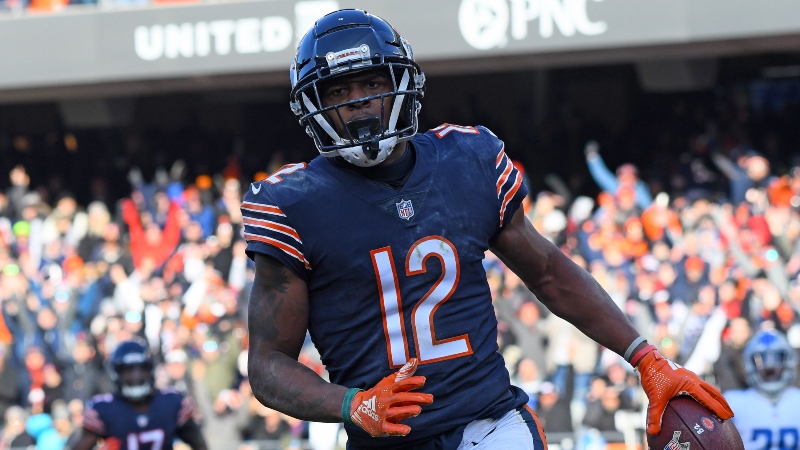 This is the last chance to snag a WR3 who could make a big impact on your team.
Tier 8
Corey Davis, Tennessee Tians
Marvin Jones, Detroit Lions
Robby Anderson, New York Jets
A.J. Green, Cincinnati Bengals
Dede Westbrook, Jacksonville Jaguars
Will Fuller V, Houston Texans
Dante Pettis, San Francisco 49ers
Christian Kirk, Arizona Cardinals
Sterling Shepard, New York Giants
Courtland Sutton, Denver Broncos
Sammy Watkins, Kansas City Chiefs
Larry Fitzgerald, Arizona Cardinals
James Washington, Pittsburgh Steelers
This is where the gradual decline starts (hence the larger groupings). As a result, we'll start to see a wide range of opinions as to who should even be in this tier, let alone the exact order. The good news is we can let our league-mates decide which of these WRs falls to us in the later rounds, making this a good opportunity for us to target other potential areas of need at QB/RB/TE.
If you do need to address WR at this point in the draft, though, there are four higher-floor receivers to target as WR3/FLEX options: Davis, Westbrook, Pettis and Fitzgerald.
Those four would also be worth targeting if you drafted A.J. Green and need a receiver to start the first few weeks. We'll need to pay close attention to his recovery, but right now I'm projecting him to miss three regular-season games. If he's close to 100% by Week 4, then he's worth a top-25 pick at WR. It's also typically easier to fill-in for players during the first few weeks while the overall health of the league is in good and shape we don't have to worry about BYE weeks.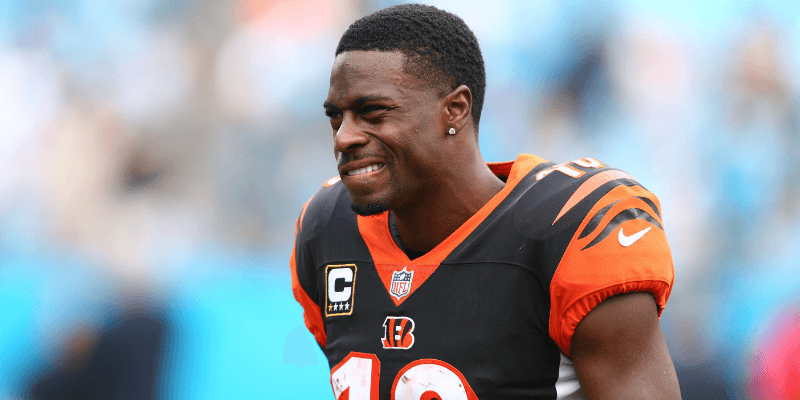 An experienced manager would be able to navigate the first few weeks without Green. And if you can start off 2-1 or 3-0 with Green on your bench, you'll be sitting pretty. But I like the idea of investing in receivers we anticipate can provide more value during fantasy playoffs rather than the first few weeks.
If you're selecting your first WR to start the season on the bench, for example, you need to go for more upside and target WRs who have WR2/3 potential but have lower floors like Anderson, Fuller, Kirk, Sutton and Washington.
Tier 9
Curtis Samuel, Carolina Panthers
Tyrell Williams, Oakland Raiders
Emmanuel Sanders, Denver Broncos
Mohamed Sanu, Atlanta Falcons
Marquez Valdes-Scantling, Green Bay Packers
DeSean Jackson, Philadelphia Eagles
Jamison Crowder, New York Jets
Kenny Stills, Miami Dolphins
Anthony Miller, Chicago Bears
Keke Coutee, Houston Texans
Michael Gallup, Dallas Cowboys
Geronimo Allison, Green Bay Packers
Once again we have a tier with a cheap potential WR3s.
At this point, there's almost no reason to target low-upside options like Sanu, Crowder and Stills (unless you're in a deep league and/or start five WRs). We'll be able to find WRs on the waiver wire who can produce similar to what I'm projecting for this group, so let's target players with the highest ceilings. Those would be Samuel, Valdes-Scantling, Miller, Coutee, Gallup and Allison.
Both Packers WRs are worth targeting simply because we're trying to get shares of the potential WR2/3 behind Adams this season.
Samuel is a much cheaper version of D.J. Moore — both should be electric and Samuel can be had 20 WRs later.
Miller, Coutee and Gallup are all primed for Year 2 breakouts. They're all in situations where defenses can't key in on them and are likely to benefit from easier matchups from week-to-week. Coutee is a great target in full PPR formats and could be a shoe-in WR3 whenever he's active — an incredible weapon to have at an ADP of WR48.
Tier 10
D.K. Metcalf, Seattle Seahawks
Devin Funchess, Carolina Panthers
Albert Wilson, Miami Dolphins
Donte Moncrief, Pittsburgh Steelers
Quincy Enunwa, New York Jets
This is the last tier worth discussing.
These WRs have a wide range of outcomes — their end-of-season result will have more to do with luck and/or the health of their team's other pass catchers and QB play — but that wide range is a good thing when we get this late in a draft. It simply means these receivers have the upside of a potential WR2/3, or they can just be dropped.
The latter would have almost no negative impact on our team, so why not shoot for pure upside?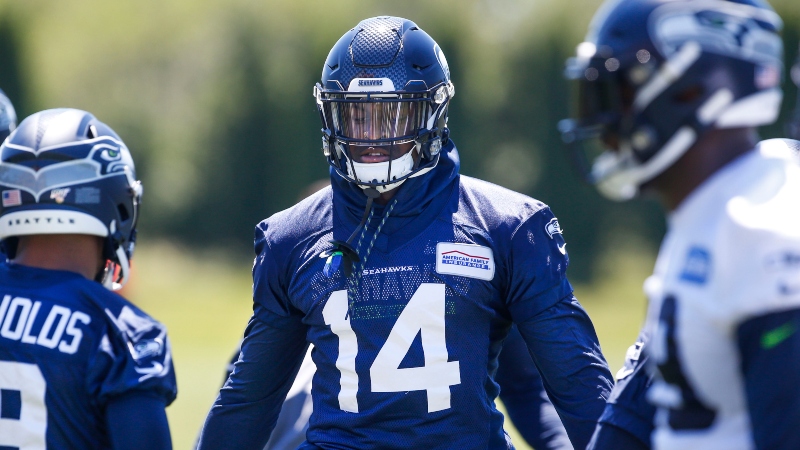 I like to think of this range of players as broad investments. For example, I would target Metcalf for the upside of his talent and the WR2 opening in Seattle, while Funchess is a way to invest in the Colts' passing attack as it's very possible Funchess becomes Andrew Luck's second-favorite option and dominates red-zone targets.
High Floor Fliers
Zay Jones, Buffalo Bills
Golden Tate, New York Giants
Cole Beasley, Buffalo Bills
A.J. Brown, Tennessee Titans
Danny Amendola, Detroit Lions
Trey Quinn, Washington Redskins
While I typically stress shooting for the moon with your late-round WR fliers, I understand there are some leagues that you could still be drafting starters at this late in the draft — i.e. leagues of 14 or more teams, that start four to five WRs, or have a couple of FLEX spots.
In the event your league typically sees more than 50 WRs across starting lineups any given week, you can still choose to target WRs with high(er) floors that you can count on for a handful of points most weeks. These are typically slot WRs who will see a steady share of targets to ensure at least a few catches each week but otherwise have a fairly low ceiling.
It can help having options like this in these deeper leagues.
Tate is suspended the first four games, which makes it much easier to stash him and wait until BYE weeks start to narrow the player pool, making his value spike up to a WR3/FLEX who can be had much later in drafts now.
High Ceiling Fliers
John Brown, Buffalo Bills
David Moore, Seattle Seahawks
Tre'Quan Smith, New Orleans Saints
Chris Conley, Jacksonville Jaguars
John Ross, Cincinnati Bengals
Andy Isabella, Arizona Cardinals
Josh Gordon, New England Patriots
Josh Reynolds, Los Angeles Rams
In all other formats, there's every reason to take high-upside fliers for your final WR bench slot. They can either hit their ceiling as potential WR2/3 options or can be swapped out for a waiver wire plug-and-play during the season.
The preseason will help identify any other WRs we should add to our late-round flier list and which of these WRs we can safely ignore for now.
Gordon is a stash to see if he's able to be reinstated this season. Reynolds is one of my favorite deep-bench stashes as he'll become an instant starter for the Rams and a low-end WR3 in the event Cooks, Woods or Kupp miss time — when Kupp went down this past season, Reynolds was able to put up low-end WR3 numbers.
How would you rate this article?