Where Does Xavier Rhodes Rank Among Shadow Corners to Avoid in Fantasy?
Credit:
Brad Rempel-USA TODAY Sports. Pictured: Xavier Rhodes
Xavier Rhodes headlines the Minnesota Vikings consistently dominant defense.
Ian Hartitz evaluates where Rhodes ranks among shadow corners to avoid in fantasy football.
We're in the thick of the NFL offseason and it's officially time to start fantasy football prep. I'll be answering the biggest questions heading into the 2019 season; this is part of that series.
---
New-age cornerbacks are taking the league by storm thanks to their combination of length, athleticism and ability to play sticky man-coverage. Rules designed to protect receivers have limited the number of true head-hunting safeties in recent years, so corners who are capable of consistently taking away the opposition's No. 1 pass-game target have never been more valuable.
Xavier Rhodes deserves to be in any discussion about the league's very best cornerbacks thanks to his dominant play over the past three seasons. The Vikings' 2013 first-round pick has the size (6-foot-1 and 210 pounds) and speed (4.43-second 40-yard dash) to hang with even the league's best wide receivers.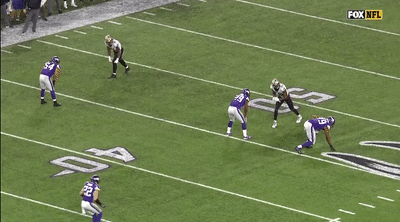 What follows is a breakdown on what makes Rhodes such a great defensive back as well as an analysis of how he ranks among the league's best shadow corners.
Rhodes Closed
Rhodes' unique combination of length and athleticism helps him consistently cause problems for alpha receivers such as Julio Jones and A.J. Green. Scheme and fatigue can prohibit cornerbacks from covering a receiver for every snap during a game, but Rhodes makes things more difficult for opposing offenses than the typical shadow corner.
Rhodes' list of victims in 2018 included several of the league's better big-bodied receivers including Davante Adams, Allen Robinson and Alshon Jeffery:
Xavier Rhodes in shadow coverage last season (PFF)

Davante Adams: 8-64-1, 5-69-1
K Benjamin: 3-29-0
Brandin Cooks: 7-116-1 (scored 47-yard TD on Trae Waynes)
Alshon Jeffery: 2-39-0
Chad Williams: 1-5-0
Robby Anderson: 3-44-0
Marvin Jones: 6-66-0
A-Rob: 3-39-0
K Golladay: 6-58-0

— Ian Hartitz (@Ihartitz) June 23, 2019
The Vikings only asked Rhodes to move into the slot on three percent of his snaps last season, as they're usually content to keep him on the outside unless it happens to be a high-leverage situation.
Rhodes finished the 2018 season ranked among PlayerProfiler's top-20 cornerbacks in catch-rate allowed (57.3%), passer rating allowed (79.2) and fantasy points allowed per target (1.4) despite boasting a fairly difficult strength of schedule.
The good news for Rhodes' 2019 upside is that he should continue to benefit from the Vikings' unparalleled continuity on the defensive side of the ball.
Vikings Look like One of the Better NFL Defenses (Again)
Rhodes has played inside the same style defense for nearly his whole career, as longtime head coach Mike Zimmer and defensive coordinator George Edwards each came to town in 2014, just one year after Rhodes was drafted.
The results of their five-year partnership have been spectacular.
The abbreviations in the following table denote points per game allowed by the Vikings (PPG), net yards per pass attempt (NY/A), Football Outsiders' pass DVOA rank (DVOA) as well as rank in fantasy points per game allowed to the wide receiver position (PPR).
Rhodes deserves plenty of credit for improving over the years and helping the unit become dominant against the opponent's featured receiver. Overall, the defense has ranked No. 3, No. 9, No. 12, No, 9 and No. 26 over the past five seasons in DVOA against No. 1 wide receivers.
Investing in pretty much any offensive position against the Vikings has usually been bad for business over the past five seasons:
Defenses that have ranked as a top-10 unit in fewest PPR allowed to a position in at least four of the past five seasons …
QB: BUF, DEN, MIN, SEA
RB: ARZ, MIN, SEA
WR: DEN, LAC, MIN
TE: BUF, KC

And bottom-10 units …
QB: NOR
RB: ATL, NYG
WR: PHI, TB
TE: IND, OAK

— Ian Hartitz (@Ihartitz) June 23, 2019
A big reason for optimism around the 2019 edition of this defense is the overwhelming continuity that the unit boasts at all three levels. Every projected starter has been with the Vikings for at least two seasons and for an average of 4.6.
2019 projected Vikings defense and years with team:

DE Griffen (9)
DT Joseph (5)
DT Johnson (2)
DE Hunter (4)
LB Kendricks (4)
LB Barr (5)
LB Gedeon (2)
CB Rhodes (6)
CB Waynes (4)
CB Alexander (3)
SS Harris (4)
FS Smith (7)

— Ian Hartitz (@Ihartitz) June 23, 2019
The defense will turn to incumbent backups Anthony Harris and Jaleel Johnson to fill the holes left by safety Andrew Sendejo and defensive tackle Sheldon Richardson, respectively.
Rhodes has a claim as the most important piece of the Vikings defense thanks to his unique ability to consistently track the opposition's No. 1 receiver for large portions of most games.
Not Many NFL Cornerbacks Shadow Full Time
Note: The following analysis originally appeared in our breakdown of Tre'Davious White and the Bills' underrated defense.
Overall, 51 cornerbacks were asked to shadow at least once in 2018. Thirteen did so at least five times. We'll use the high-frequency shadow corners as our focus group and highlight a few areas Rhodes stood out in.
Rhodes (6.4 yards allowed per target), Stephon Gilmore (6.4) and Joe Haden (6.6) were the best high-frequency shadow corners on a per-target basis.
The most targeted shadow cornerbacks last season were Rhodes, Gilmore, James Bradberry, Jalen Ramsey and Marshon Lattimore.
Rhodes was the best of the most-targeted group, allowing just 40.7 receiving yards and 0.2 touchdowns per game to his man.
Remember: Cornerbacks who shadow are asked to do so because they've demonstrated the ability to play the position at a high level. An average or even mediocre shadow corner still deserves credit for consistently taking on difficult assignments that a lesser player likely wouldn't even have had the chance to attempt.
How would you rate this article?