Six Angles Bettors Should Know for Ducks-Golden Knights
Credit:
Charles LeClaire-USA TODAY Sports
There's no East Coast bias 'round these parts. While the rest of the country will be winding down and getting ready for Monday to turn into Tuesday, we here at The Action Network know there's always action to be had.
Tonight at 10 p.m. ET, the Anaheim Ducks (+139) travel to Sin City (-159) in search of a big two points against the division-leading Vegas Golden Knights.
By now, you know the drill with Vegas — Cinderella in the desert, as it were. The Ducks, meanwhile, are a totally different story, one nobody can really get a read on, due to a plethora of injuries.
Who will pick up two big points on Monday night? Here's everything you need to know to bet the Ducks-Golden Knights showdown in the desert.
1. Anaheim's Saving Grace
While both Vegas and Anaheim rank in the top third of the league in goal differential when playing 5-on-5, only one of these teams boasts a positive expected goals (xG) differential this season.
With a -8.74 xG differential at 5-on-5, Anaheim is actually among the worst teams in the league in terms of expected goals. The Ducks allow 2.52 expected goals per 60 minutes at even strength, which ranks 26th in the NHL.
Some of the Ducks' less-than-impressive underlying numbers can be attributed to the rash of injuries Anaheim has had to deal with throughout the entire season, but their negative expected goals and below average Corsi paints a picture of a team that should be out of the playoff landscape.
But thanks to the play of netminder John Gibson, who leads the NHL with 24.29 goals saved above average (GSAA), the Ducks have stayed afloat and currently hold a playoff spot despite leading the NHL in man games lost this season.
Gibson's play and his .924 save percentage become even more impressive when you consider that the Ducks have allowed the sixth-most high-danger scoring chances when playing 5-on-5 this year. — Michael Leboff
2. Anaheim's Potent First Line
In DFS hockey, targeting peripheral stats is key when searching for both a high floor and ceiling. The upside with targeting shots over blocked shots is pretty simple: Small events (shots) are exactly what lead to less predictable — but often more significant — events like goals and assists. The top line for the Ducks certainly stands out as an appealing stack for tournaments from a peripheral stats perspective. Ryan Getzlaf, Corey Perry and Rickard Rakell all rank in the 93rd and 95th percentile or higher in both shots and power-play shots over the past month.
Reilly Smith and Jonathan Marchessault are the only Las Vegas players who approach those numbers, but neither falls in the top-20 percentile in shots+blocks, a category in which the Ducks' first line owns the top-three spots for power-play skaters in this game. — Joe Holka
3. Taking Advantage of Scoring Opportunities
Even though Vegas ranks eighth in limiting high-danger scoring chances at 5-on-5 and just 18th in creating them, the red light sure does come on a lot during a Golden Knights game. On average, 6.16 total goals are scored when Vegas is playing, the sixth-highest mark in the NHL.
On the other hand, the Ducks allow and produce more high-danger chances than Vegas does, yet they average just 5.63 total goals per game this year, which is the fourth-lowest mark in the circuit. — Michael Leboff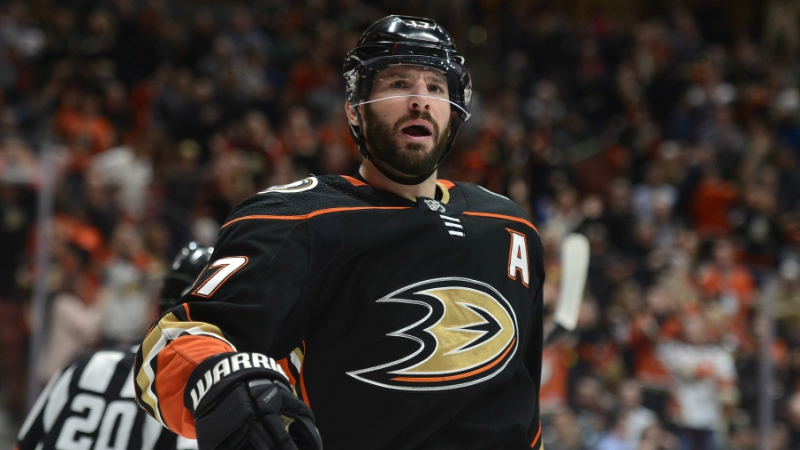 4. Don't Count out the Knights

If you're looking to live bet this game, here's an interesting nugget to consider: This season all 31 teams in the NHL have a combined goal differential of -117 when trailing at any point during a game.
But the Golden Knights lead the NHL in this category with a goal differential of plus-20. Vegas is just one of two teams, along with Tampa Bay (+11), with a goal differential of plus-10 or higher when trailing. — Evan Abrams
(Stats through Feb. 17)
5. The Vegas Flu is Real
Since 2005, road teams not on a back-to-back are winning 46% of games, including 45.1% this season. Anaheim fits this bill tonight, as they last played on Saturday night in Minnesota. However, teams playing in Vegas not on a back-to-back are only 2-16 (11%) on the moneyline this season, which is the worst record in the NHL. (In contrast, Vegas is only 6-4 when hosting teams that are on the second night of a back-to-back.) —  Evan Abrams
6. Interpreting DFS Netminder Value
Neither starting goaltender has been announced at the time of this writing, but the spot could be interesting for both teams as neither allows an abundance of shot attempts. Even though Anaheim has allowed the third-highest average Corsi Against on the slate (47.28) over the past year, they have allowed a low 43.14 Corsi Against the past month; Las Vegas isn't far behind at 46.0 over that same time period.
That said, both the Ducks and Golden Knights boast above-average offensive shot attempts, so their Corsi Expectation is simply middle of the pack on today's slate. From a DFS perspective, neither goalie stands with a high save prediction, so much of their value could hinge on how you view the moneyline and is most likely to accrue a win. — Joe Holla
---
Top Photo: Ryan Carpenter
Credit: Charles LeClaire-USA TODAY Sports