NHL bet du jour: Predators at Bruins
Joe (@pointshaving) and I (@stuckey2) will put our heads together to come up with our consensus play of the day on the ice.
---
Thursday: Predators +103
Any preface for the Predators should mention their drastic home and away splits during the 2016-17 regular season. Nashville was a tough out at Bridgestone Arena, where they sported a sterling 24-9-8 record; however, on the road, there was a significant drop-off as the Predators mustered only a 17-20-4 record. Yet, Nashville is a team still on the rise, and recent history has been favorable to Stanley Cup runner-ups in their first game of the new season. Let's have a look at how they have fared since the lockout:
** 10/12/16 Sharks (-163) 2-1 Kings
** 10/08/15 Lightning (-190) 3-2 Flyers
** 10/09/14 Rangers (+137) 3-2 Blues
** 10/03/13 Bruins (-183) 3-1 Lightning
Small sample size aside, intuition suggests that runner-ups have a little extra motivation to put the previous season behind them and start the new season with a win.
The Boston Bruins are a curious case, as they were one of the top Corsi teams last season, yet they barely grabbed a wild card, finishing at 95 points — seventh in the Eastern Conference. Now, Zdeno Chara is 40 years old and a far cry from the shutdown blue liner he was in his prime. Naturally, Tuukka Rask has seen a decline in his numbers, as the Bruins are no longer an elite defense despite having the best two-way center in the game, Patrice Bergeron.
Bergeron is questionable for tonight as he has been nursing a lower-body injury, but it is expected he will suit up. Boston boasts a formidable top six, but there is a steep drop-off in their bottom six and defensemen. An already thin defensive corps could be without Torey Krug, as one of the game's best puck movers and power play weapons is doubtful for tonight's contest at TD Garden.
Pekka Rinne can be hard to watch sometimes, especially on the road, but he has a strong defense in front of him, and there is a big coaching advantage in Peter Laviolette over Bruce Cassidy. In what should be a close contest, likely decided by a goal, look for Nashville to make Stanley Cup runner-ups 5-0 since the lockout.
Fair Odds: Predators -115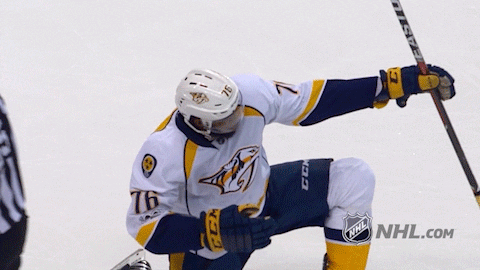 ---
Be part of the Action
Download the Sports Action app at the App Store or Google Play