Finding an Edge in Penguins-Leafs
Credit:
Charles LeClaire, USA Today
It's Hockey Night in Canada, and the network people must be thrilled about this one. We've got ourselves a marquee matchup between the two-time defending Stanley Cup champion Pittsburgh Penguins and the Toronto Maple Leafs.
The Penguins have continued their second-half roll and are on a three-game win streak. The Leafs, on the other hand, have hit a bit of a snag of late, losing four in a row after a great run in February.
Here we go.
All info as of Saturday morning. Check back during the day and keep an eye on our Twitter handle for any updates.
For live spreads and bet percentages, check out this page. To get access to our premium betting tools, subscribe here.
---
Pittsburgh Penguins (-115) @ Toronto Maple Leafs (-105) | O/U 6.5
7 p.m. ET, NHL Network
Auston Out: Toronto will still be without its leading goal scorer, Auston Matthews, on Saturday night. Since Matthews got injured Feb. 22, the Leafs have gone 1-2-2, but their underlying numbers have been impressive in this very small sample. In the five games without Matthews, the Leafs have a 54.22 Corsi For % (meaning Toronto takes 54.22% of the shot attempts at 5-on-5 in a game, on average, compared to their opponents — a good indicator of possession), which is well above their season average. — Michael Leboff
Danger Zone: If this game goes according to script, we should see a seesaw battle. The Penguins and Leafs are among the NHL's best teams at creating high-danger scoring chances at 5-on-5. The Penguins average 12.06 high-danger chances per 60 minutes, while the Leafs are just a few spots behind, creating an average of 11.78. While it's hard to separate the two teams, the Leafs have been the better team at preventing high-danger chances. Toronto is just about league average, allowing 10.87 high-danger chances against per 60, while Pittsburgh ranks 27th in the NHL with an average of 12.17. — Michael Leboff
Goalies: No matter who is in goal for Pittsburgh — either Tristan Jarry or Casey DeSmith — Toronto has a clear advantage in the blue paint. Frederik Andersen has been quality all season for the Leafs with his .923 5-on-5 save percentage and 6.71 goals saved above average (the number of goals saved compared to a hypothetical league-average goaltender, also known as GSAA). — Michael Leboff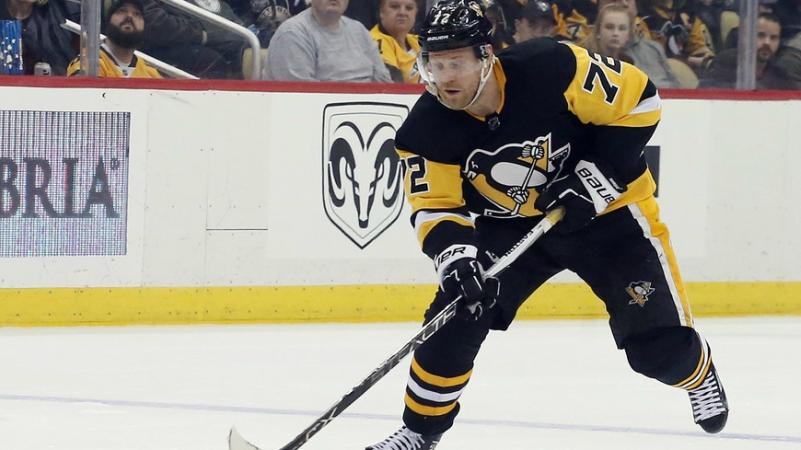 Pace Makers: This game is likely to be played at a high pace, with both teams leading the way on the four-game main slate in Corsi For expectation. Today also features two teams in the top 10 in penalty kill. In theory, that could certainly slow down both high-flying power plays, but, either way, the two players most likely to take advantage from a peripheral stats perspective are Kris Letang and Patric Hornqvist. They rank in the 98th and 96th percentile in shots+blocks over the past month, respectively. The next closest skater in this game is Evgeni Malkin in the 89th percentile. — Joe Holka
Maatta Money: If you're searching for value in this game, Olli Maatta, who's priced at $4,100 on DraftKings, stands out. He could be a strong pivot away from a chalky Pittsburgh PP1 stack, and instead of looking to Toronto on the other side of this game, consider Maata, whose 86th percentile shots+blocks outpaces every Maple Leaf but Morgan Rielly (88th percentile). Historically, power-play skaters with comparable peripheral stats, low price tags and Vegas implied totals have performed above their salary-based expectation (+0.61 DraftKings Plus/Minus) with a 51.7% Consistency Rating. — Joe Holka
Home Cooking: Toronto went 0-4 on its most recent road trip. A home game is just what the Leafs need. Since 2005, good teams (win rate of 55% or better) that have lost four or more consecutive games late in the season (March-April) have gone 18-7 (72%) straight-up when they play their next game at home. — John Ewing
Sometimes More Is Less: The Maple Leafs haven't played since Monday and have also dropped four games in a row entering this showdown. When teams are on a losing streak with extended rest (three or more days), it usually doesn't end well for bettors, as they have an ROI of -8.9%. — Evan Abrams
Geno Delivers: Evgeni Malkin has been a disrupting force for the Penguins in his career against the Maple Leafs. In Malkin's 34 games against Toronto, the Pens are 19-15 on the moneyline, and the Russian forward has notched 58 points. He is riding a four-game goal streak and a five-game point streak against the Leafs. — Evan Abrams
---
Top Photo: Kris Letang (L), Ron Hainsey (R)
Credit: Charles LeClaire, USA Today Sports
Stats in betting analysis are at 5-on-5 unless otherwise noted. Stats in DFS analysis consider all skating situations unless otherwise noted.