What NHL Bettors Should Know About Blues-Predators, Sharks-Wild
Credit:
Jason Zucker (L), Brendon Dillon (R) via Stan Szeto-USA TODAY Sports
The Western Conference is where the action is Sunday, so we're sinking our teeth into a pair of Pacific Coast matchups that feature four likely playoff teams.
In Nashville, the Predators are running hot and are now on the second line, behind Vegas, to represent the West in the Stanley Cup at +350. They will look to continue their recent form with a win over the Blues, who have hit a bit of a rough patch.
We also dig into an intriguing tilt between Minnesota, which is third in the Central after a 6-2-2 run, and San Jose, which is hanging on to second place in the Pacific.
Information is current as of Saturday evening. Check back during the day and keep an eye on our Twitter handle for any updates.
If there's a specific matchup you want to jump to, click the quick links below. For live spreads and bet percentages, check out this page. To get access to our premium betting tools, subscribe here.
STL-NAS | 
SAN-MIN
---
ST. LOUIS BLUES (+144) @ NASHVILLE PREDATORS (-165)
12 p.m. Eastern, NBC Sports
Great Expectations: Even though their expected goals (xG) percentage is just a tick over 50% (50.02), the Predators have a Goals For (GF) percentage of 55.92%, meaning they've scored nearly 56% of the goals compared to their opponents at 5-on-5. The almost six percentage points between their GF% and their xGF% suggests the Preds are overperforming their underlying metrics. — Michael Leboff
They Are Who We Thought They Were: Even though they are mired in a 3-6-1 stretch, St. Louis has been impressive this season, and everything checks out. St. Louis has a PDO (a measure of luck that is based on shooting percentage + save percentage where 100 is the average) in all situations that's right around average, 99.6. — Michael Leboff
Market Watch:  Despite getting only 25% of the tickets, the Blues have been steamed since this line became available. According to our Bet Signals, St. Louis was triple-tapped over at Pinnacle early this morning, pushing the number to +128. Since then, it's crept back up but only to +132 where it sits as of 10:25 a.m. ET. – Michael Leboff
DFS Skater Note: The biggest question in this game from a DFS perspective is, how many Nashville defensemen can/should you roster? You can make an argument for all three of Roman Josi (99th percentile shots+blocks over the past month), P.K. Subban (97th percentile), and Ryan Ellis (95th percentile). The added correlation with stacking Josi and Ellis in tournaments makes sense given their 0.26 correlation coefficient, but as bad as St. Louis has played lately, its 42.58 Corsi Against over the past month is quite strong defensively. That said, Josi and Ellis have also performed above their salary-based expectations in nine of their last 10 games. — Joe Holka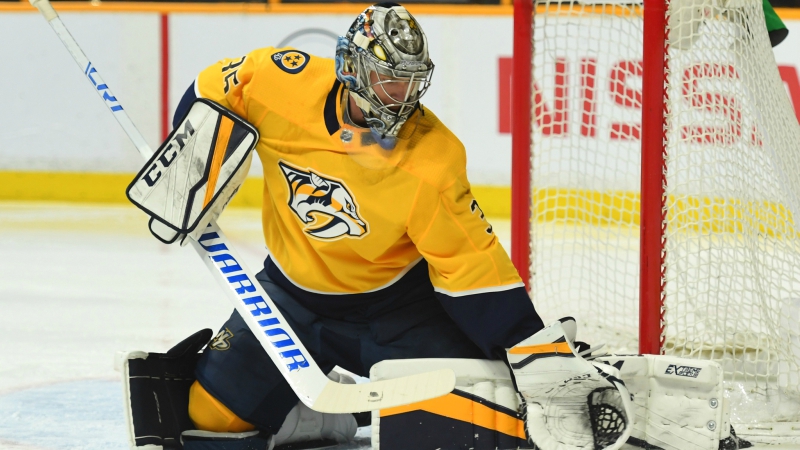 DFS Goalie Note: Obviously, there's value in targeting goaltenders on great defenses because the odds of that team allowing fewer goals and accruing the win are much greater. On such a small slate, you essentially need your goaltender to get the win or you're drawing dead. Why not attack a Blues team that's lost five straight with a red-hot Nashville team at home with a 6-2-2 record over its last 10? Pekka Rinne should have a reasonable floor with a 30.01 Save Prediction, good enough for second-highest on the early slate. — Joe Holka
Pekka-Boo: Predators goaltender Pekka Rinne is 20-9 on the moneyline (69%) during day games (before 7 p.m. ET) against conference opponents. Since 2014, Nashville's won seven consecutive games, and nine of its last 10, in this spot, with an average goal differential of +2.1. — Evan Abrams
Singing The Blues: The Predators have dominated the Blues on home ice in recent history. Including the playoffs, Nashville has won seven straight on the moneyline at home vs. St. Louis, but the glaring hole may be the Blues' lack of offense. St. Louis is averaging just 1.4 goals per game in Nashville during the losing streak, with five of the 10 goals coming in the first period and just one in the third period. — Evan Abrams
---
SAN JOSE SHARKS (+135) @ MINNESOTA WILD (-155)
8 p.m. Eastern
Wild but True: The Wild have the second-worst Corsi For (CF) percentage in the NHL at 46.41, but they've allowed the fewest expected goals of any team this season. The reason for their success? Minnesota has limited opponents to just 9.27 high-danger scoring chances per 60 minutes, which is the third-best mark in the circuit. — Michael Leboff
Schedule: Both the Sharks and Wild are playing their third game in four nights, but Minnesota will be the slightly fresher team given that San Jose will be playing its fourth game in six nights. — Michael Leboff
DFS Skater Note: The top power-play unit for the road underdog Sharks certainly stands out as an appealing stack for tournaments from an ownership and peripheral stats perspective. Brent Burns, Joe Pavelski and Logan Couture all rank in the 93rd and 92nd percentile or higher in both shots and shots+blocks over the past month. — Joe Holka
DFS Goalie Note: Neither starting goaltender has been announced at the time of this writing, but the spot could be interesting for both teams, as they allow an abundance of shot attempts. The Sharks own the top Corsi For expectation on the slate (48.5), but that could be due to the Wild allowing an above-average 50.38 Corsi over the past month defensively; looking to Minnesota goaltender Devan Dubnyk could be wise (31.63 Save Prediction) as a result. Historically, goalies with comparable salaries (at home) as similar moneyline favorites have performed above their salary-based expectation (+0.35 DraftKings Plus/Minus) with a 57.1% Consistency Rating. — Joe Holka
Bruce Bites Back: As coach of the Minnesota Wild and Anaheim Ducks, Bruce Boudreau has won seven straight on the moneyline against the Sharks. But six of the seven were one-goal games. — Evan Abrams
Bring Your Green Hat: Speaking of Bruce Boudreau… he's been a coach in the NHL since 2007, with the Caps, Ducks and Wild. Currently, the Wild are on a three-game moneyline winning streak, and historically that's been good news for Boudreau-coached sides. His teams are 115-61 (65.3%) on the moneyline for a profit of $2,175 on $100/game wager when on a three-plus-game winning streak, making him the most profitable coach in the NHL during that span. For a reference point, since 2007, all NHL teams on winning streaks of three-plus-games are hitting on the moneyline 51.3% of the time.
An added wrinkle: When Boudreau faces an above .500, in-conference opponent in this spot, his teams are 37-12 (75.5%) on the moneyline for an ROI of over 40%. Bruce has won eight straight, 11 of his last 12 and 19 of his last 23 games in this situation (82.6%) since the 2013-14 season. — Evan Abrams
Value Play:
Thursday's value play didn't come through as the Islanders (+175) did what they do best and gave up a lead late in the third before losing in a shootout. Tough way to lose but getting a dog at that price to a shootout gives you great expected value (EV), so it's nothing to be upset about.
The dogs are live again for today's games as both the Blues (+140 at Bovada, SIA and Matchbook) and Sharks (+144 at Pinnacle) are attractive bets.
---
Unless otherwise noted, all stats are for 5-on-5 play. 
Top Photo: Jason Zucker (L), Brendon Dillon (R) via Stan Szeto-USA TODAY Sports