Saturday's NHL bet du jour: Arizona at New Jersey (plus 3 others)
Joe (@pointshaving) and I (@stuckey2) put our heads together to come up with our consensus play of the day on the ice.
---
Wednesday recap:
The Habs dominated for stretches of that game, especially early, but they continue to be one of the unluckiest teams in the league early on this season. As a result, we should see some nice upcoming opportunities on Montreal.
Moving on to Saturday…
---
Coyotes +133
The Arizona Coyotes are still winless (0-9-1), but this is likely their best chance to pick up a win as they square off against a 7-2 New Jersey team. The Devils blew a two-goal lead last night but ultimately prevailed in the shootout. Cory Schneider is expected to make his return to action. Prior to his injury, Schneider allowed four goals in 40 minutes, four goals, five goals and three goals. While the teams he faced are a far tougher challenge than Arizona, New Jersey sports the second-worst xGA/60 (2.83).
There are not many positives for Arizona, but they are fresh, and their 93.78 PDO (second-worst) suggests they have not had the puck bounce their way. Kyle Palmieri is expected to miss again tonight for the Devils, and with that New Jersey loses his seven points (3 G, 4 A) in seven games this season and 53 points in 80 games last season. The last time New Jersey played back to back, they were dominated by San Jose, and while the Sharks are a far better team than Arizona, the Devils lack depth, and there is no doubt where the motivation will be.
The 1943-44 New York Rangers hold the record for most consecutive losses to start the season (11), and Arizona is one loss away tonight from tying a 75-year-old record. It is now or never for the Coyotes, and this will be the best spot they have on this grueling road trip. Look for the Coyotes to get their first victory of the season.
Fair Odds: Coyotes +120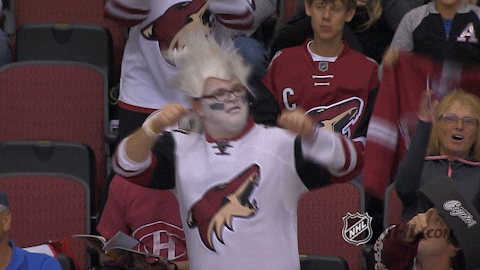 ---
Others for Saturday:
Bruins -115
Avs +115
Wild -105
YTD: 7-9
---
Be part of the Action
Download the Sports Action app at the App Store or Google Play