Rovell: Spending Stanley Cup Game 2 Next to a Blues Fan With $100K on the Line
Credit:
Darren Rovell-The Action Network
Las Vegas sportsbooks offered the Blues at 250-1 to win the Stanley Cup back in January when they were dead-last in the NHL.
Blues fan Scott Berry, on a work trip to Vegas, was too busy that week to use his allotted $100 per day at the tables, so he put it all on St. Louis instead. That $400 bet would pay out $100,000.
Berry attended Game 2 of the Stanley Cup Final at TD Garden in Boston, watching his Blues even the series in overtime.
BOSTON, Mass. — Scott Berry walked into TD Bank Garden on Wednesday night with his game face on.
But by the time he ate a pregame hot dog and made his way to his seat with a freshly charged phone and a beer, the 31-year-old St. Louis man started feeling it.
"It" is the pressure.
You see, Berry wasn't just a Blues fan in a sea of Bruins yellow and black. He was the fan with the most on the line.
Back in January, when the Blues were closer to a laughingstock than a contender, Berry took his fandom to the extreme by taking St. Louis — then dead-last in the NHL — to win the Stanley Cup.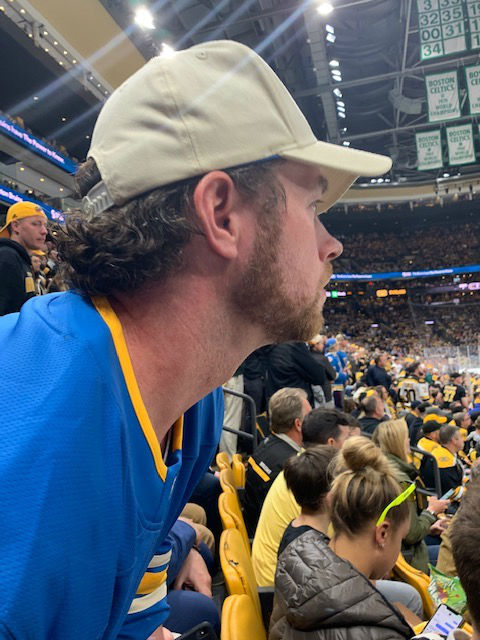 He was in Las Vegas for a healthcare symposium, there in his capacity as sales rep for Patientco, a company that sells a software platform to hospitals to make it easier for patients to pay their out-of-pocket costs.
He usually got away to play his customary $100 a day on table games, but on this trip, he was busier than usual. So, it came down to the last day and Berry wasn't leaving without his allotted $400 or so. He went to the sportsbook at the Paris hotel and put that $400 on the Blues to win the Stanley Cup at an absurd 250-1.
If the bet won, he would net $100,000.
It was seen as easy money back then for the bookmakers. But here Berry was, having flown in from St. Louis to watch his team try to win in a hostile environment and tie the series 1-1 after a deflating Game 1 loss.
As the Bruins played the opening hype video in the Garden, Berry couldn't look at it. His face was buried in his phone.
"You hedge?" A friend texts.
"Heck No," Berry responds. "Blues in Six."
As his story became public, Berry has been told by almost every gambler that he should hedge. He says he hasn't heeded that advice.
"I think everything happens for a reason," Berry said. "St. Louis needs this Cup. We've lost some of what defined us as a great city. We've had TWA, our hub, go out of business, the Rams left, Anheuser-Busch is moving pieces to New York and we've had our share of racial tension. We need this positive now."
Before the puck is dropped, some last words from his dad come in.
"Hang in there."
The first period is a doozy. Berry looks exactly like a guy who has something big riding on every move in the game.
He torques his body. He bites his nails. He takes his hand and bends the brim of his hat. Over and over again. His fist goes from relaxed to clenched when there's a shot on goal for either team.
The Bruins score first. He's in disbelief. Could his team even compete in this hostile environment?
It helps that he has good seats for this one, and, perhaps, more classy fans in front and behind him. There's no taunting or baiting and he doesn't do it either after the equalizer comes.
The Bruins respond, but the Blues answer back.
He's emotive, but not too talkative. The shots on goal are well in the Blues favor but Bruins goaltender Tuukka Rask is on his game. The 32-year-old Finn is the favorite to win the Conn Smythe and he's playing like it tonight.
It's 2-2 at the end of 1, but Berry is still uncomfortable. Boston is playing like the better team.
Time for another beer.
---
So what does $100,000 mean to Scott Berry?
Well, he says he could use it, but doesn't need it. He has paid off his college debts and he has lived pretty simply. He has done some thinking about giving away some money if the ticket cashes — he'd like to give some to his parents and work with the Blues charities.
He could have walked away on May 21 and made 100 times his money. He chose not to.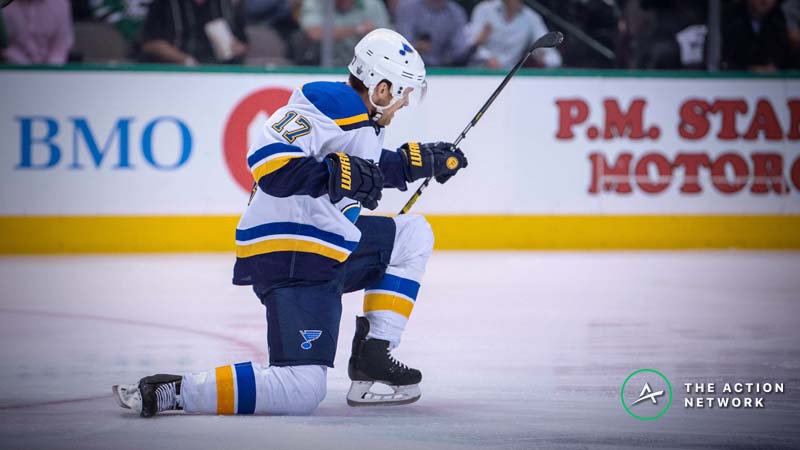 In the first period of Game 6, with the Blues up 3-2 in the series against the Sharks, the offer came in from prop bet market maker Propswap. A bettor was willing to pay $40,000 for Berry's ticket, but the offer would expire after the first period was over. It was a way to walk away without having to put up any money to hedge.
The period ended with the Blues up 2-0 and they went on to win 5-1.
Since then, Berry hasn't listened to offers, but doesn't want it to be all about money.
After two periods of no scoring on Wednesday night, Berry watched the far side of the ice as his Blues started overtime well. Boston couldn't clear the puck and took a penalty, meaning the Blues had an extra player on the ice and when the Bruins controlled the puck next the whistle would blow and St. Louis would go on a power play.
It never got to that point.
Just 3 minutes and 51 seconds into overtime, Blues defenseman Carl Gunnarsson, who had hit the post late in the third period, scores.
Gunnarsson would have been scratched if injured defenseman Vince Dunn was healthy enough to play and had never scored a playoff goal in his career.
The building, filled with cocky Boston sports fans who have seen their share of titles over the last two decades, goes quiet.
Berry can't believe his eyes. Initially, he's silent in disbelief. Seconds later, he morphs into superfan again.
Everyone told @ScottABerry1 to hedge his $400 bet that would yield $100,000 if the Blues won the series. After Game 1, they called him an idiot. He flew in for Game 2 and walked out a winner. Here's his reaction from his seat (NSFW)…Full story tomorrow on @ActionNetworkHQ pic.twitter.com/qxp1gziiJB

— Darren Rovell (@darrenrovell) May 30, 2019
"We're gonna win the thing," Berry says, moments after the goal. "There's no doubt in my mind.
Asked immediately whether he would take anything off table, now that the series had been evened at one with the Blues now in the driver's seat heading home to St. Louis, Berry isn't waffling.
"I'm not hedging," he says.
After the second period, Berry allowed himself to think about what happened if the Blues won Game 2. How would he leave the arena without getting jumped?
"Should I buy a Bruins shirt to leave and throw it in the garbage when I'm clear?" Berry wonders out loud.
But as Scott Berry leaves among the throngs of disappointed Bruins fans, there's little issue with his get up.
You see, Berry isn't the right target to taunt at this moment.
He's weeping.
How would you rate this article?