How To Bet On Hockey and 9 Advanced Stats To Use
Credit:
Kirby Lee, USA Today Sports
Below are advanced stats, strategies and resources if you want to learn how to bet on hockey.
The best way to judge yourself as a hockey bettor is by how often you beat the closing line.
The NHL betting market is a little softer compared to the NFL, NBA and MLB betting markets, so there's value to be had.
How to Bet on Hockey
Use the links to navigate to each section.
The best part about betting on hockey is that the market is softer than it is for other sports such as the NFL, college football or the NBA.
Not as many people bet on the NHL, so the market is not as efficient as it is for the more popular sports. This doesn't mean it's easy — it isn't — but it is just something to keep in mind if you're considering giving it a go.
If you want to bet hockey now in the United States, check out DraftKings.

The best way to judge yourself as a bettor is to grade yourself against the closing line at Pinnacle (considered the sharpest NHL sportsbook) on the Action Network App.
For example, if you bet the Stars -115 against the Rangers -105 and the game closes at Stars -120 at Pinnacle, you were on the right side of the game. If it closes at -110, you were on the wrong side.
If you're beating the closing number on a consistent basis it means you'll have more long-term success. If you aren't, take it as an opportunity to re-evaluate your process.
Click to return to table of contents.

2. Implied Probability
Speaking of process, it is paramount to familiarize yourself with implied probability.
Every betting line correlates with an implied probability. For example, let's say you are considering this line: Bruins are -130 against the Canadiens +110. At -130, the Bruins have an implied probability of 54.3% when calculating for the vigorish. At +110, Montreal has a 45.7% chance. The easiest way to do this is by using Pinnacle's converter.
If you think or your numbers tell you Boston has better than a 54.3% chance of winning, you have an edge on the Bruins at -130. I'd encourage you to come up with a "win percentage" before looking at lines. If your numbers are close to the lines, what you're doing is working.
Click to return to table of contents.

3. Possession-based metrics
There are plenty of stats in hockey. Some are just noise, but others can be quite predictive and can help you get a better idea of how good or bad a team truly is.
1. Corsi
Corsi is just the hockey vernacular term for a shot attempt at 5-on-5. If you shoot the puck toward the goal, it's a Corsi For. If the other team does it, well that's a Corsi Against.
What Corsi does is give us a picture of possession in a game. Hockey is so fluid, and there are so many "events" in a game that it's hard to keep track.
CF% or "Corsi For Percentage" is just the difference between Corsi events for and against represented as a percentage. If your team has a CF% above 50%, then it has been controlling the action more often than not.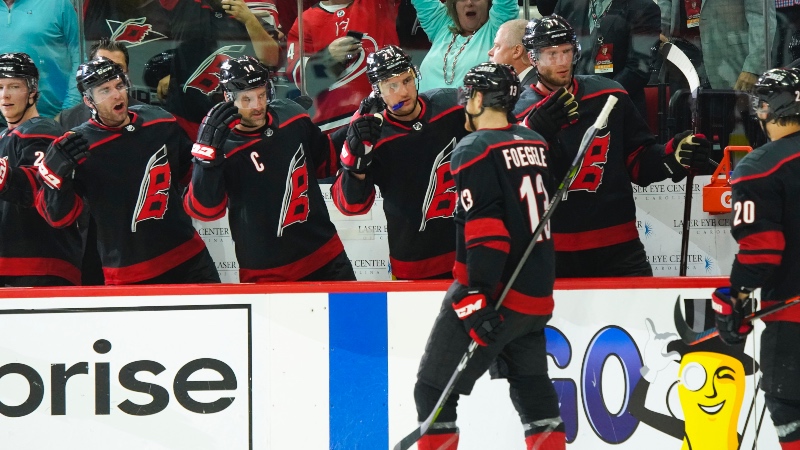 One problem with Corsi is that it doesn't give you a good idea of how many good scoring chances a team is creating or allowing. A soft wrist shot from the point has very little chance of going in but will go down as a Corsi For. Recently, teams, analysts and bettors have started to shift toward Expected Goals, High-Danger Scoring Chances and scoring chances.
Corsi isn't the be all and end all that some people make it out to be, but it gives you a decent foundation with which to work.
2. Fenwick
Fenwick is the same thing as Corsi except it doesn't count blocked shots. Usually a team's CF% and FF% are pretty close.
3. Adjusting for Score
When you're looking at Corsi, expected goals or any advanced stat, it is really important to adjust for score. A team that is trailing 3-0 will naturally push the pace while a team up multiple goals will shell up. Adjusting for score gives us a better idea of the true talent level of a team.
4. Expected Goals (xG)
If you're a soccer bettor, there's a good chance you use xG already. Corsica, perhaps the best source for Hockey Analytics and predictive stats, defines xG as the sum of goal fractions expected from observed unblocked shots.
Not all shot attempts are created equal. A rebound opportunity from in front of the net has a much higher chance of going in the net than a wrist shot from the blue line.
Once again, the best way to use xG is at 5v5, but if you're looking to break down how good a team's power play or penalty kill is, you can use xG there as well.
5. High-Danger Scoring Chances
High-Danger Scoring Chances (HDSC) is a stat tracked by Natural Stat Trick. It's pretty self-explanatory. A scoring chance that meets certain criteria goes down as a HDSC.
Click to return to table of contents.

4. Goaltending, aka Black Magic
Goaltending is incredibly volatile and hard to project. Most hockey bettors and modelers will agree that it is the hardest part of handicapping hockey. The best way to get an idea of how good a goaltender is to use a few different statistics and piece them together for a big-picture view.
1. 5v5 Save Percentage (SV%)
Save percentage is a good place to start when grading goaltenders. However, it is better to use to a goalie's 5v5 SV% because there are fewer variables in play at even strength.
2. Expected (xSV%) and Delta Save Percentage (dSV%)
Expected Save Percentage provides us with what a goaltender's Save Percentage should be after weighing the quality of shots he's faced. Delta Save Percentage is the difference between a goalie's xSV% and SV%.
For example, if John Gibson has a .920 xSV% and a .925 SV%, his dSV% would be +0.05.
3. Goals Saved Above Average (GSAA)
A relatively new statistic developed by Corsica, GSAA is pretty similar to WAR. In basic terms, it tells you how many goals a particular goalie has saved/allowed compared to what a league average netminder has done.
4. Stats to Avoid
You'll notice that I've left Wins and Goals Against Average (GAA) off this list. Both of those stats don't really give us any idea of how good a goaltender is. They are more of an indication of the team in front of him.
Click to return to table of contents.

5. Post-Game
The nature of sports betting is that sometimes you win bets you should lose and lose bets you should win. After a game, it's a good practice to dig into the box scores and see what happened.
For example, let's say you bet the Devils against the Penguins and the Pens win, 4-2, but they scored an empty-net goal, were outshot by 10 and created fewer xGs than the Devils. Sure, you lost the bet but you were a bit unlucky. That's a common occurrence in hockey. The sport is driven by luck and randomness (it's played on ice for goodness sake).
Here's another example that will pop up a lot. Let's say you have an edge on the Panthers at +210 against the Lightning. The game goes to overtime and then a shootout and you lose. You still made a good bet. Overtime and shootouts are basically coin flips, so you got a +210 underdog to a 50/50 scenario, giving you great +EV.
Click to return to table of contents.

6. Hockey Betting Resources
The hockey analytics and betting community is always growing, and generally people are happy to help. There are some incredibly sharp people who put out publicly available information. Following them and reading their stuff will make you better.
Twitter Follows
Sites To Bookmark
How would you rate this article?