NHL 2018-19 Betting Preview: Regression Is Coming For Mid-Tier Teams
Credit:
USA Today Sports. Pictured: Nathan MacKinnon, Taylor Hall, Johnny Gaudreau
The 2018-19 NHL season begins on Oct. 3.
There are 13 teams with Stanley Cup odds between 20-1 and 40-1 and we break down six of them in this season preview.
The Avalanche and Devils will likely see some negative regression while the Flames should benefit from some puck luck this season.
The NHL drops the puck on the 2018-19 season on Oct. 3, and season-long futures have been posted for about a month now, so the market has adjusted. But that doesn't mean there still aren't betting opportunities out there.
Below is the first half of the mid-tier teams — meaning they are between 40-1 and 20-1 to win the Stanley Cup. There are 13 teams that fall into this bucket, so we've separated them into two groups based on their season point total from the Westgate SuperBook in Las Vegas.
For our longshots preview, click here.
---
Chicago Blackhawks
Over/Under: 85.5 points 
Stanley Cup Odds: 40-1
The Blackhawks missed the postseason for the first time in a decade last season, and that's probably more a sign of things to come than an aberration as Chicago's core is on the wrong side of the mountain.
Jonathan Toews and Patrick Kane are both still top-tier players at this point, and Brandon Saad is right there with them. Youngsters Nick Schmaltz and Alex DeBrincat are good enough to roll with Kane and Toews and if Dylan Sikura can hang, Chicago has itself a proper top six.
After that? Woof.
Artem Anisimov will likely pivot the third line and he's going to be flanked by fringe NHLers. Anisimov isn't good enough to carry a line like that, and I expect his line to get shelled on a nightly basis. Chicago's fourth line won't be much better with Chris Kunitz, Marcus Kruger and some replacement-level player.
On defense, Duncan Keith is still the guy even though he's 35 and showing it. He won't have the same luxury that Brent Seabrook was afforded last season when the latter was paired with Erik Gustafsson — who is probably Chicago's most effective rearguard at this point.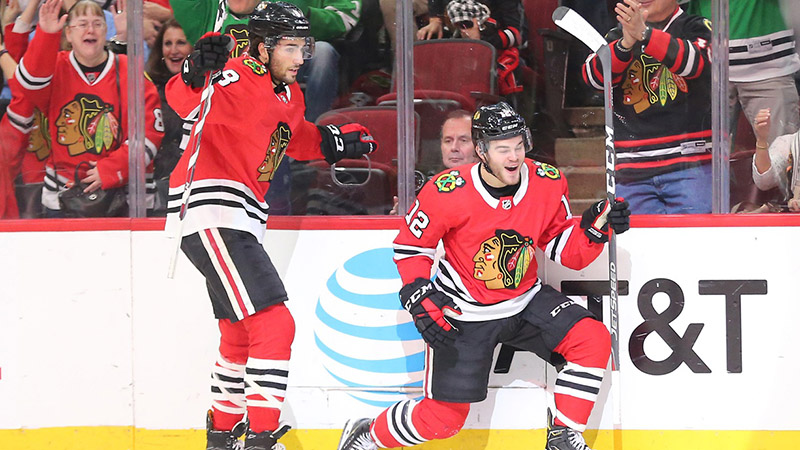 Keith will likely be paired with promising rookie Henri Jokiharju, and there's a chance that the poised Finn could be a nice fit, but he's yet to play an NHL game.
The bottom pair will likely consist of Jan Rutta and Brandon Manning and that is about as ho-hum as it gets.
The Blackhawks' most important player will be Corey Crawford. He's among the league's best goaltenders (ranked No. 3 by Corsica) and had Chicago in the mix for a playoff spot early last season. Then he got hurt.
Crawford's status for the season opener is still very much up in the air, and if he can't go, that's a big problem because his deputy, Cam Ward, is one of the worst goalies in the NHL. If Crawford can shoulder a heavy workload for Joel Quenneville this campaign, then the Hawks might be able to hang around the playoff picture.
There is still potential for the 'Hawks to surprise and make the playoffs. They've got high-end talent at the top of their lineup, but the grind of an 82-game season will take its toll on a team that is severely lacking depth. Add in the iffy nature of Crawford's health, and you've got yourself some serious concerns.
There's too much volatility here to make a preseason investment, but the Blackhawks will be an interesting team to monitor in the game-to-game market. A hot start could have the public falling in love with them all over again and provide some value the other way.
Colorado Avalanche
Over/Under: 89.5 points 
Stanley Cup Odds: 40-1
Before last season, plenty of pundits were expecting positive regression from the Avs. They logged 48 points in 2016-17 and, while they were bad, that is an awfully low point total. Clearly, there was some poor puck luck at play.
Boy did the bounces start going Colorado's way in '17-18. Not only did Colorado make the postseason, it also traded one of its best players in Matt Duchene a quarter of the way through the season. Just a few weeks later, the Avs won 10 games in a row to climb the ladder.
The main reason for Colorado's incredible bounce-back season was Nathan MacKinnon. The 2013 No. 1 overall pick had his coming out party last year and he basically carried the Avs to the dance.
The Avalanche finished the season with a 101.42 PDO (save percentage + shooting percentage at 5v5 where 100 is average). That is the fifth-highest mark from 2017-18. For some teams — with a lot of talented shooters and goaltenders — a high PDO is natural.
The four teams with a higher PDO than Colorado last season: Tampa Bay, Toronto, Nashville and Washington. Pick the odd man out.
Dig a little more deeply and you'll see the Avs also ran hot in terms of expected goals (xG). They had a -18.92 xG differential at 5v5 (adjusted), while their actual goal differential at 5v5 was +12.  They also ranked in the bottom 10 in shot share with a 48.4 Corsi For %. That all screams regression.
Colorado has a superstar in MacKinnon, but there are serious holes down the roster — especially at forward. Behind the top line (Gabriel Landeskog, MacKinnon and Mikko Rantanen) there's not much to get excited about. Alex Kerfoot anchors what could be a serviceable second line, but that's their ceiling.
Jared Bednar's defense is sturdy, but far from good. Erik Johnson and Tyson Barrie are established top-four rearguards, and Samuel Girard is a nifty puck-mover with room to grow. Outside of those three, it's a bit up in the air, but the blueline isn't a problem, and they should have solid goaltending from Philipp Grubauer and Semyon Varlamov.
There are more questions than answers with Colorado, and that is not a good recipe to contend in the Central Division. Nashville and Winnipeg are among the league's best teams, and the Blues' strong offseason has them within a stone's throw of that tier. Toss in Minnesota and Dallas and you've got yourself a gauntlet.
I featured the Avalanche as a good under play at 90.5 points when the betting opened back in August and I still think pegging them to go under 89.5 points is +EV. One other factor that can help keep the Avs under the number is the decent chance that Colorado is a seller at the trade deadline.
Edmonton Oilers
Over/Under: 89.5 points 
Stanley Cup Odds: 30-1
The Oilers went from 103 points in 2016-17 to just 78 last season. It was a humbling season in The Big-E, and it's hard to say that Edmonton will be that much better in 2018-19.
The Oilers still have the best player in the league, Connor McDavid, and that alone is enough to make them dangerous. The problem is that Edmonton's front office has done McDavid a huge disservice by not filling out the rest of the roster.
In fact, it's done the opposite by trading away players such as Taylor Hall and Jordan Eberle (not to mention the draft pick that resulted in Mathew Barzal) for horrible returns.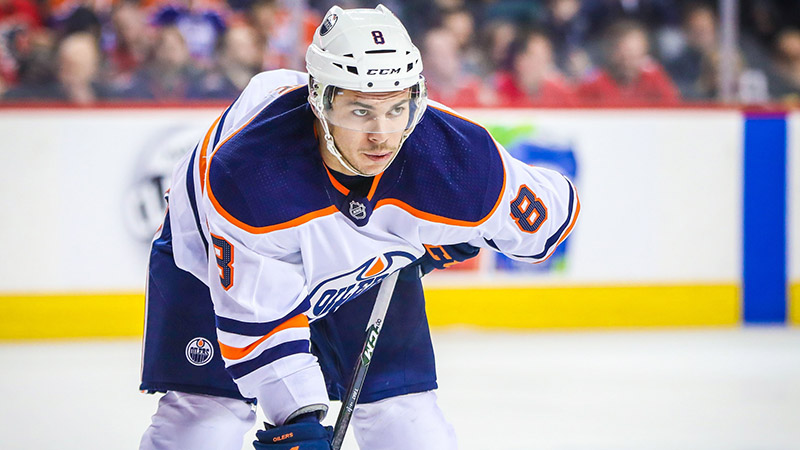 Behind McDavid is another standout center, Leon Draisaitl. Unfortunately, he will be straddled with the ever-declining talents of Milan Lucic on the left and likely Tobias Rieder on the right.
The Oilers likely will play it safe, and that will mean their bottom six is suboptimal. Ryan Strome will center a mediocre third line, and Kyle Brodziak will do the same for a bad fourth line.
The Oilers' defense is also top heavy with Darnell Nurse and Oscar Klefbom competing to be the No. 1 guy on the blueline. Whoever is pegged top dog will pair with Adam Larsson, a good defense-first rearguard. The problem is that none of them would be the guy on a great team. Nurse can get there, and a bounce-back season for Klefbom is possible, but it's still not a unit that would scare anyone.
However the top four shapes out, the third pair is an abomination. Kris Russell's reputation as a possession black hole is well-earned, and Kevin Gravel isn't much better.
In goal, who knows which Cam Talbot will show up this season. He took a big step back after shouldering a huge workload with aplomb in 2016-17. Talbot will be backed up by KHL standout Mikko Koskinen who had a brief cup of java with the Islanders in 2010-11.
One area to expect improvement is on special teams. The Oilers were horrendous on both the power play and penalty kill in 2017-18. An uptick in those departments should help the Oil climb closer to 90 points, but it's hard to be confident in picking Edmonton to better or worse than its Vegas projection.
New Jersey Devils
Over/Under: 91.5 points
Stanley Cup Odds: 40-1
There are a lot of similarities between the Avalanche and Devils. Both teams finished at the bottom of their conference in 2016-17 only to return to the playoffs a year later thanks to gargantuan efforts by their best players.
Hall's MVP season vaulted New Jersey into the playoffs. The right winger put up 93 points (39 G, 54 A) and was a play-driving monster. The Devils also benefited from great rookie seasons from 2017 No. 1 overall pick Nico Hischier — who pivoted the top line — and defenseman Will Butcher.
The problem is that New Jersey's depth is below average, and last season its depth players punched above their weight. Pavel Zacha, Miles Wood, Marcus Johansson, Jesper Bratt and Stefan Noesen could provide some scoring support, but to count on them to would be a stretch.
Zacha's production should increase, and Wood had a sneakily impressive season in '17-18, but they aren't sure things. Neither is Johansson — who has trouble staying healthy — nor is Noesen — who isn't a point producer as much as he is an effective off-the-puck player.
Even if you assume the best out of the second line, the bottom of the lineup leaves a lot to be desired. Travis Zajac is 33 years old and trending down, so relying on him to step up if Zacha doesn't cut it on the second line is not going to end well.
Outside of Butcher, the defense is nothing special. He looked good in sheltered minutes last season and was able to play a higher-risk game thanks to playing with Ben Lovejoy, who is a conservative player.
Butcher will likely take on more responsibility this season and it's possible he joins forces with Sami Vatanen as the No. 1 pair. Vatanen is a solid top-four defenseman but he's better suited as a second-pair rearguard, so it's a tall ask if John Hynes pencils them at the top, although he may have no choice.
Behind those two are Andy Greene, Damon Severson, Mirco Mueller and Lovejoy. There's a chance that Egor Yakovlev, a KHL import, could help, but who knows how he will fare in his first NHL season?
There are already a lot of questions for the Devils, and we haven't even reached the biggest unknown yet — the goalies.
Goaltending is already incredibly volatile, and the situation in New Jersey takes that to a new level. Somehow, this team made the playoffs in spite of poor goaltending last season. Most of the time when teams surprise, goaltending is a strength (see: Vegas Golden Knights), but for the Devils it was a clear weakness.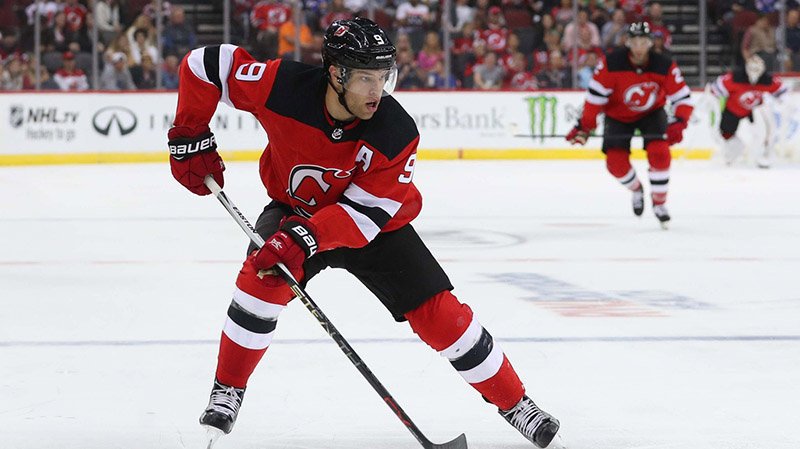 Cory Schneider is coming off a second poor season in a row, and Keith Kinkaid is a replacement-level backup, so there's some real cause for concern here.
Schneider — who underwent surgery in the offseason — is the more likely of the two to at least provide suitable netminding. The Massachusetts native has a .920 save percentage for his career but he's been at .908 and .907 the past two seasons, respectively.
There's still reason for optimism in New Jersey, but don't count on a repeat performance. The 91.5-point total is probably appropriate, but this is a vulnerable team that could be overpriced out of the gate.
Los Angeles Kings
Over/Under: 92.5 points
Stanley Cup Odds: 30-1
The Kings returned to the playoffs in 2017-18 but were quickly disposed of by the Vegas Golden Knights in Round 1. A return to the halcyon days wasn't expected last season, nor will it be this season, but once again the Kings will likely be in the mix for one of the lower seeds out West thanks to playing in the NHL's weakest division.
It's best to start from the back and work forward. Los Angeles finished with a .920 save percentage in 2017-18, good enough for third overall. Counting on goaltending is never a smart play considering how volatile the position is, but at least Jonathan Quick is among the league's best netminders.
Behind Quick is another story. Last season Quick was backed up by Darcy Kuemper — who was traded midseason to Arizona — and then Jack Campbell. And as Dom Luszczyszyn of The Athletic pointed out, those two combined for a .930 save percentage in 24 games, which screams regression.
The Kings will need good goaltending again this season because outside of Drew Doughty and to a lesser extent Jake Muzzin, Los Angeles is lacking on the blueline. Those two would make up one of the league's best pairings, but coach John Stevens separates them to help keep the rest of the defense from getting blown off the ice.
Even with Doughty and Muzzin, the defense is a weakness. Alec Martinez was terrible last season, Dion Phaneuf is below replacement-level at this point in his career, and potential No. 6 defensemen Paul LaDue and Daniel Brickley are question marks.
The Kings have talent up front, and Ilya Kovalchuk's return is fun and he is a great fit for the first line with Anze Kopitar and Dustin Brown, both of whom had terrific seasons under Stevens in '17-18.
The second line is also strong thanks to the return of Jeff Carter in between Tyler Toffoli and Tanner Pearson. Los Angeles is well off at the head of the table, but the rest of the roster is meh.
Los Angeles is an average team, and that is reflected in its odds. Nothing to see here.
Calgary Flames
Over/Under: 93.5 points
Stanley Cup Odds: 30-1
The Flames made a bad trade in the offseason, sending Dougie Hamilton and Micheal Ferland to Carolina for Noah Hanifin and Elias Lindholm.
Hanifin could end up being a legitimate top-pair defenseman, but Hamilton already was. Ferland for Lindholm is basically a wash, although the latter is probably a slight offensive upgrade.
Lindholm will join a potent top six that features Johnny Gaudreau, Sean Monahan, Matthew Tkachuk, Mikael Backlund and James Neal. The bottom six, headlined by Sam Bennett, isn't too shabby, either.
Things are a bit murkier on defense. Mark Giordano is a stud, but how he adjusts to losing Hamilton will be interesting. He had success with T.J. Brodie in the past, but Brodie has struggled over the past two or three seasons, and Calgary is going to need him to find his form.
Hanifin will play on the second pair with Travis Hamonic, who was a popular whipping boy in his first season with the Flames. Hamonic's game should complement Hanifin's, and they could be an effective pair.
Hamonic is an odd duck, as his time on Long Island saw him basically alternate between good seasons and bad seasons. A bounceback from the 28-year-old could be huge for Calgary.
The bottom of the Flames' defense is not good at all, and that's all I've got to say about that.
Mike Smith, who turned back the clock with a great run last season, is back in net, and I'm not sure how you can be confident in projecting his play, one way or the other.
Calgary was a bit unlucky in terms of production last season as its underlying metrics painted a pretty positive picture. They finished as the third-best possession team with a 53.02 CF% and averaged 2.47 xGF/60 at 5v5, the fifth-best mark in the league.
There should be some positive regression coming for the Flames as they had the third-lowest 5v5 shooting percentage in the NHL last season, and the difference between their goal differential (-11) and their expected goals differential (+13) was stark.
The Flames are an interesting team. Their offense may be good enough to cover any warts in the back, and there should be some puck luck coming their way.
I think Calgary to go Over 93.5 points is a good play.
---
Odds courtesy of the Westgate Superbook.
Stats and data provided by Corsica, Natural Stat Trick, Hockey Reference, The Athletic and NHL.com.