NHL 2018-19 Betting Preview: Which Playoff Hopefuls Can Make A Run?
Credit:
USA Today Sports. Pictured: Aleksandr Barkov, Alex Pietrangelo, Tyler Seguin
The 2018-19 NHL season begins Oct. 3.
There are 13 teams with Stanley Cup odds between 25-1 and 40-1, and we break down seven of them in this season preview.
The Panthers could be a good over bet, while fading the Wild is a smart wager.
The NHL drops the puck on the 2018-19 season on Oct. 3, and season-long futures have been posted for about a month, so the market has adjusted. But there are still plenty of betting opportunities out there.
In the first part of our NHL Preview series, we dug into teams with odds at 80-1 or longer. In part two, we dissected the lower end of the mid-tier teams.
All the teams in this piece have Stanley Cup odds between 25-1 and 30-1. The fact that there are 13 teams between 25-1 and 40-1 shows just how muddied the picture is in the NHL. There's a clear class of the league, but behind that group is a gaggle of teams that are all within a stone's throw of one another.
---
>> Download The Action Network App to get real-time NHL odds, track your bets and follow all of our experts' picks.
---
Anaheim Ducks
Over/Under: 94.5 points
Stanley Cup Odds: 30-1
Since the NHL returned from a season-long lockout in 2004-05, the Ducks have been among the league's most consistent organizations. The Ducks have missed the postseason just twice since then and have made the Western Conference finals twice in the past four seasons.
More of the same is expected of Anaheim in 2018-19, but this version of the Ducks is nearing the end of its rope.
The window would likely already be shut for the Ducks if it weren't for John Gibson. Anaheim's goaltender is on his way to being the best in the league — in fact, he may be there already.
As always with goaltending, it's important to note how volatile the position is and hard it is to project, but there's enough here to praise Gibson, and praise him we shall.
Gibson finished second in the NHL last season with a +32.5 Goals Saved Above Average (all situations) and comes into 2018-19 season as the No. 1 goaltender in the league according to Corsica. In 60 games last season, the 25-year-old logged a .926 save percentage (SV%), which was 1.74 basis points higher than his expected save percentage.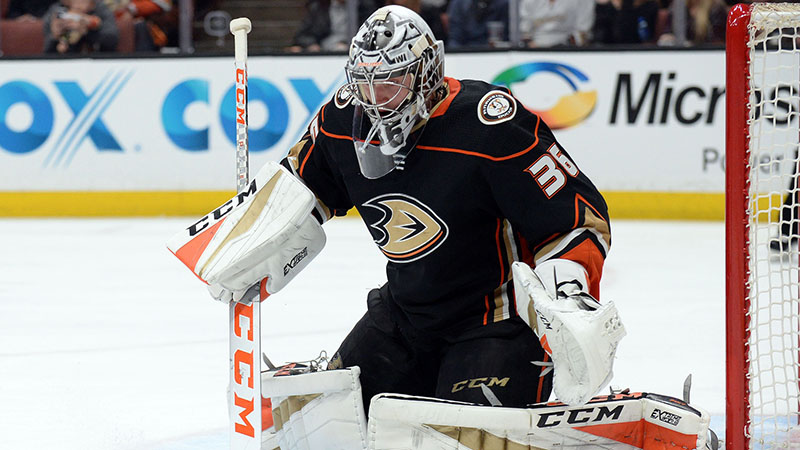 This wasn't a fluke season for Gibson, either, as it was the third season in a row that his save percentage topped .920, and over 178 career games, Gibson owns a .923 SV%. He is as good as they come.
The Ducks also have the luxury of having Ryan Miller as a backup. The former Vezina Trophy winner was great in 30 games for Anaheim last season, and his presence means Anaheim can keep Gibson fresh.
When they're healthy, the Ducks have a solid group of forwards, but a bunch of them are exiting their prime. Anaheim also has had trouble staying healthy, which is probably not a coincidence given the age of their best players.
Ryan Getzlaf, Corey Perry and Ryan Kesler are still humming along, but each missed significant time last season. Getzlaf is especially important to this team and drives the bus at the top of the lineup card. The 33-year-old will, along with Rickard Rakell, need to bear the brunt of the scoring load, as it seems Perry is beginning to fade.
If Perry does fade, it could mean that Ondrej Kase jumps to the top line and he could be in for a huge season. Kase and Sam Steel are two to watch for the Ducks, and putting the two of them with terrific two-way winger Andrew Cogliano could be a great fit.
As for the defense, well, it's odd. Anaheim has four really good defensemen in Hampus Lindholm, Josh Manson, Cam Fowler and Brandon Montour. Those four guys can carry water on any team in the league.
The problem is that the bottom pair is going to be ugly. Luke Schenn and Andrej Sustr will pair with 2014 second-round pick Marcus Pettersson, and that will not be a fun experiment to watch. If the Ducks can find a way to grab a suitable bottom-pair guy during the season, this unit will vault into the top 10.
The Pacific is probably the weakest division in the NHL, so I expect the Ducks will hang around.
They will likely do better than that thanks to Gibson, but betting on goalies is scary. Add in an aging core, and you've now talked yourself out of investing in the Ducks.
Florida Panthers
Over/Under: 94.5 points
Stanley Cup Odds: 30-1
If only the Panthers were in a different division.
Despite some certifiably insane moves last offseason, it's not out of the realm of possibilities that Florida contends for a playoff spot in 2018-19.
The Panthers' biggest strength is their top six. They essentially have two first lines with Aleksander Barkov serving as the talisman. The 23-year-old center is among the league's best players and, thanks to the market he plays in, is almost certainly the most underrated player on the circuit.
Barkov will likely play in between Evgenii Dadonov and Nick Bjugstad again. That trio was not a surefire winner going into last season, but they sure seem to be one now.  Barkov's sparkling two-way game helped Dadonov produce at an all-star rate last season and also helped Bjugstad bounce back after a couple of down years.
It isn't just the top line that will produce, either. Florida's second line would be a top line on a lot of NHL teams. Vincent Trocheck and Jonathan Huberdeau are creators, and Mike Hoffman — off-ice drama aside — is a great finisher.
Cracks begin to reveal themselves after the top six.
The Panthers' checking lines are a problem, but if they decide to give young players like Henrik Borgstrom, Dryden Hunt and Denis Malgin a chance over the likes of Colton Sceviour, Derek MacKenzie or Troy Brouwer, things start to look rosier.
That likely won't happen, and the bottom six could end up derailing Florida's season.
That is because the Panthers aren't really weak in any other area. Aaron Ekblad and Keith Yandle are a fine, if not great, first pair on defense, and Mike Matheson and Mark Pysyk are the same as a second unit. The bottom of the defense will not be great no matter who plays there, but this isn't an alarming group.
In goal things looks stable, too, with Roberto Luongo and James Reimer. Luongo is at the end of his career at age 39, but he was awesome last year. Reimer is one of the stronger backups in the league, and that means the Panthers can keep Luongo fresh.
Interestingly, the Panthers are -200 to make the playoffs at the Westgate but have their O/U set at 94.5 points. Usually, 95 points is the magic number to get into the dance, so it's a bit peculiar to see the difference in those odds.
In the end, I agree with the market that this is likely a playoff team and think the Over 94.5 Points is a fine wager.
Minnesota Wild
Over/Under: 95.5 Points
Stanley Cup Odds: 30-1
The Wild are a funny one.
On paper it's easy to see what they are. This is a solid team with decent players, even if a decent amount of them are getting long in the tooth.
The problem is that this team has been caught in this "good but not great" stage for years and hasn't done anything to either go for broke, or tear it down and try again at a time when the Predators and Jets aren't superpowers.
The Wild were a very tough team to play against last season. They allowed the 13th-most shot attempts against per 60 minutes (5v5) but the least amount of expected goals against per 60. That made life easy on goaltender Devan Dubnyk, who is probably overrated by the hockey world given his high expected save percentage, but you can only stop what's shot at you.
If Minnesota keeps its defensive structure, it will always hang around, but I struggle to see where the offensive production will come from.
---
>> Sign up for The Action Network's daily newsletter to get the smartest conversation delivered into your inbox each morning.
---
Eric Staal was sensational last season, but he shot the lights out and is due for regression. He's also up there in age. Mikko Koivu, 35, will continue to be one of the game's premier two-way centers, but his skills could decline with his age.
There are some good players supporting the veteran pivots. Nino Niederreiter, Jason Zucker and Mikael Granlund are all legitimate top-sixers, and Zach Parise showed shades of his prime when deployed with Koivu, but this group isn't going to leap off the page.
The Central Division is going to be a slog with the Preds and Jets expected to run the show and the Stars, Blues and Avs expected to be in the mix. The Wild are projected to hang, but they are vulnerable.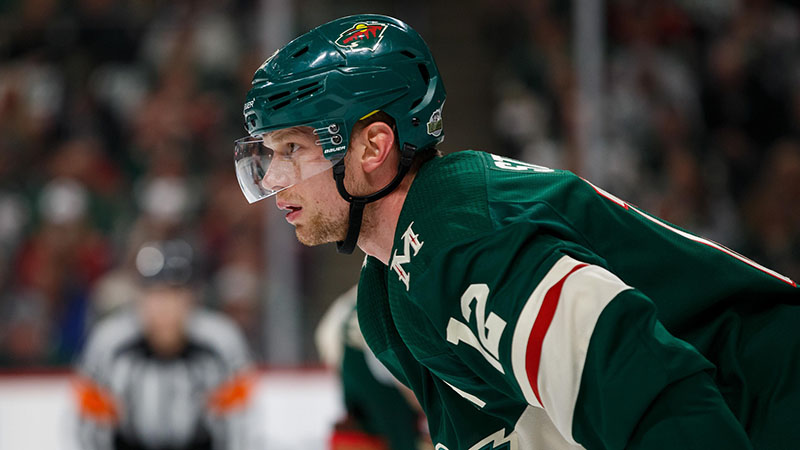 A run from Minnesota, a last charge if you will, is certainly possible — this is the NHL after all — but it's not something that I think is a wise investment. Instead, I think the Wild will get eaten up by this division and look to begin selling off some assets. I'm fading Minnesota and investing in the Under 95.5 points.
Columbus Blue Jackets
Over/under: 96.5
Stanley Cup Odds: 30-1
Columbus is one of the most complete teams in the NHL right now. And "right now" is a huge caveat with this team, because its two best players, Artemi Panarin and Sergei Bobrovsky, are unrestricted free agents at the season's end, and neither of them has given fans in Ohio a reason to believe he'll be back next season.
So therein lies the conundrum. Will Columbus cast caution into the wind and go for broke? Or will it see what happened to the Islanders this summer and make sure these two stars don't walk for nothing.
It's a big decision for GM Jarmo Kekalainen, but if I was a betting man (I am), I'd bet at least one of them (Panarin, probably) is gone before we get to February.
Is it possible that Kekalainen can flip the 26-year-old winger to one of his preferred destinations and get a ready-made impact? Sure, but almost no return will provide the results that Panarin would in 2018-19.
Aside from that paradox, things look good!
Bobrovsky is one of the best three goalies in the game, and he's got one of the game's best defense pairings playing in front of him for 20-plus minutes a night.
Not only are Seth Jones and Zach Werenski superstars, but they are 23 and 21, respectively, so the best is yet to come.
Things aren't nearly as tidy behind them, but Markus Nutivaara and David Savard are decent second-pair rearguards. The third pairing will likely feature Ryan Murray and either Dean Kukan or Gabriel Carlsson. It's not a great situation at the bottom of the roster, but not many teams have six great d-men.
The forwards may be top-heavy, too, but once again there's enough here to see a winner. Pierre-Luc Dubois, Cam Atkinson and Panarin are a sensational top line, and there's some scoring punch behind them.
Almost every forward on the projected roster — save for Brandon Dubinsky — brings something to the table, and if Sonny Milano is given a chance, he could form a terrific second line with Josh Anderson and Alex Wennberg.
Still, the Panarin-Bobrovsky situation looms, and it's impossible to ignore. If the team ever indicates it's not trading them, fire away on Columbus futures. But that is very unlikely.
St.  Louis Blues
Over/Under: 96.5
Stanley Cup odds: 30-1
St. Louis made one of the biggest acquisitions in the summer by trading for Ryan O'Reilly from the Sabres. O'Reilly is one of the game's most complete centers and put up stellar results despite playing for a bad team.
O'Reilly turns an already solid top nine into a great one, and if the Blues opt to go top-heavy, they could flank O'Reilly with Jaden Schwartz and Vladimir Tarasenko to form one of the game's most dynamic trios.
The more likely scenario is that Patrick Maroon rides shotgun with Tarasenko and O'Reilly, and Schwartz solidifies a second line featuring Brayden Schenn and David Perron. They'll be backed up by Tyler Bozak, Robby Fabbri and Alex Steen. Things could get even rosier if Jordan Kyrou or Robert Thomas crack the lineup.
Not only will this crop of forwards score, but they'll be backed up by a solid defense as well.
Alex Pietrangelo and Colton Parayko are complete defenders, and the fact that they are both better on the right side gives St. Louis two terrific pairs. Vince Dunn and Joel Edmundson will slot in on the left side to round out a tidy top four.
There is real concern over the third pairing. Jay Bouwmeester is not an NHL player anymore, but if he's handed easy minutes maybe, just maybe, he can avoid hurting the team when he's on the ice.
Goaltending is the elephant in the room for the Blues. Jake Allen was supposed to be the guy but has yet to grab the reins. He struggled so much last season that journeyman Carter Hutton was handed the keys to the car and turned a hot stretch into a three-year contract with Buffalo.
Whether or not Allen can turn things around, which is something goaltenders do without warning, will decide how far this team goes.
I've got no real edge at these numbers, but I wouldn't argue with someone who thinks the Blues are worth taking a shot on at 30-1. There's a good chance this team is among the contenders in the West, and that number could shorten pretty quickly.
Philadelphia Flyers
Over/Under: 97.5 points
Stanley Cup odds: 30-1
There's a lot to like about the Flyers, so naturally, let's start with their weaknesses.
The goaltending tandem of Brian Elliott and Michal Neuvirth is likely not going to be good enough to put the Flyers over the top. They likely won't sink the ship, either, but this a young, improving team that could be snazzy if it had better-than-average goaltending.
The Flyers will also need to find better roles for Andrew MacDonald and Robert Hagg on defense, as the two of them were regularly caved in when they played. The rest of the defense, which is led by studs Shayne Gostisbehere and Ivan Provorov, is quite good.
The Flyers' top two lines are what you'd expect from a team that will likely spend most of the season within a stone's throw of first in the division. Claude Giroux, Sean Couturier and Travis Konecny were awesome together last season, and James van Riemsdyk's return gives them a very dangerous second line that could become even more than that if 2017 second overall pick Nolan Patrick breaks out.
This is a deep group of forwards, but it has to be noted that regression is likely coming for Giroux, who shot 17.9% at 5v5 in 2017-18. He's still a terrific player, but the dude is probably not going to put up 102 points again this season.
There's something pretty crazy going on with the Flyers' odds. For the sake of uniformity I've used the Westgate odds for these previews (please always remember to shop for the best number), but Philadelphia's odds are all over the place depending where you look.
The most egregious number is an offshore sportsbook, where the Flyers are +1417 to win the Stanley Cup. Weird.
Whatever the number, I don't see much value in backing the Flyers and actually lean toward the Under 97.5 points or, for a bigger payday, backing them to miss the playoffs (+240, Westgate). I think they're basically a coin flip to make the postseason with their shortcomings in goal, so there's definitely value in fading Philly.
Dallas Stars
Over/Under: 94.5 points
Stanley Cup odds: 25-1
It is interesting that the Stars are the only team at the Westgate with Stanley Cup odds between 12-1 and 30-1.
Coming off a down year under Ken Hitchcock, the Stars are a feast or famine team. Hitchcock's conservative brand of hockey stunted the run-and-gun show the Stars had been putting on for years, so it'll be interesting to see if this potent group puts up gaudy numbers again now that they'll be able to be high flyers again.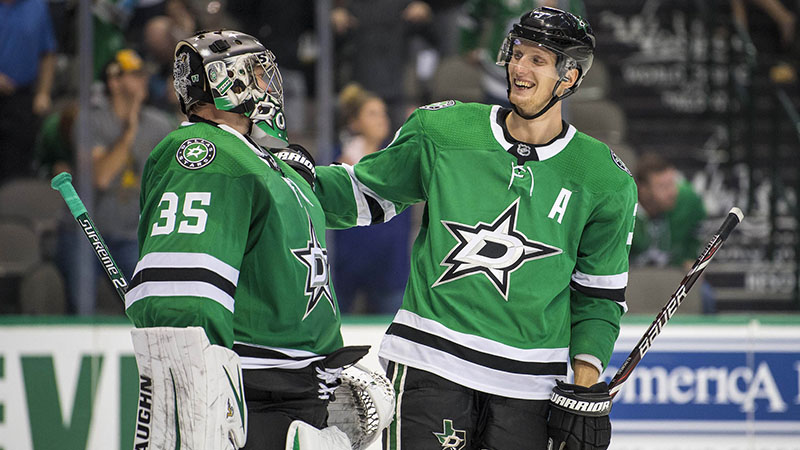 Dallas has the cast of characters to play the high-risk style. Tyler Seguin, Jamie Benn and Alex Radulov are a pleasure to watch when they're buzzing, and they give the Stars one of the league's best first lines.
By stacking the first line, the Stars leave something to be desired from their other three lines, but a bounce-back season from Jason Spezza is in store. Dallas sorely need him to be a productive No. 2 center.
Radek Faksa, Blake Comeau and Tyler Pitlick give the Stars a decent shutdown line, while the fourth line, no matter who ends up there, will be forgettable.
If Dallas gets secondary scoring, watch out, because that could end up being a real strength if the youngsters blossom.
John Klingberg and Esa Lindell are a great top pair and should continue to get better. Klingberg is a firecracker of an offensive defenseman, while Lindell is a growing into a great defensive defenseman.
Miro Heiskanen, the No. 3 pick in the 2017 draft, will almost certainly make the team out of camp, and while it's hard to project what type of impact a rookie (especially a defenseman) will have on his team right away, he has the skillset to be a big part of this defense.
Julius Honka should be given more freedom to do what he does best (move the puck) under new coach Jim Montgomery, and that could give the Stars one really good pair with two decent sets behind it. That's a luxury most teams don't have.
Ben Bishop will man the blue crease, with Anton Khudobin serving as a capable deputy. They're not world-beaters, but they are fine.
This is another Central Division team that has the tools to be good, but that's not going to cut it in this group. The Stars should be fun to watch again, but it's a pass.
---
Odds courtesy of the Westgate Superbook. Stats and data provided by Corsica, Natural Stat Trick, Hockey Reference, The Athletic and NHL.com.