NHL Betting Picks & Odds: Bruins vs. Flyers, Lightning vs. Maple Leafs (Tuesday, March 10)
Credit:
Fred Kfoury III/Icon Sportswire via Getty Images. Pictured: Barclay Goodrow
For a good while it looked like the Philadelphia Flyers would play the Boston Bruins in Round 1 of the Stanley Cup Playoffs. The Flyers spent the first 50 games of the season around the postseason bubble while the Bruins looked like a sure thing for the No. 1 seed in the Eastern Conference.
Now, it looks like if these two teams meet in the postseason it will be in the Eastern Conference Final. Philadelphia has won nine games in a row and is 19-5-1 over its last 25 games, the best mark in the NHL over that span.
Boston hasn't been too shabby, either. The B's have the second-best record over their last 25 games at 18-6-1.
Philadelphia hosts Boston on Tuesday night.
---
Odds as of Tuesday at 10 a.m. ET. In Pennsylvania? Check out FanDuel and get up to a $500 risk-free bet at FanDuel today or see more offers and reviews for the best online sportsbooks.
---
Boston Bruins vs. Philadelphia Flyers
Bruins odds: -110
Flyers odds: -110
Over/Under: 5.5
Time: 7 p.m. ET
The Boston Bruins are the best team in the NHL. The Philadelphia Flyers are the hottest.
Plenty of teams go on hot runs over the course of an NHL season and a lot of them are propped up by hot shooting and/or great goaltending. Philadelphia's current run has certainly been aided by some fortunate bounces — no team wins nine games in a row in hockey without a smile from Lady Luck — but the Flyers look every bit a contender right now.
Over their last 17 games, the Flyers have a 55.5% expected goals rate, are creating 2.6 expected goals for per 60 minutes (xGF/60) and are allowing just 2.1 xGA/60. While Philadelphia is certainly shooting a bit hot — it is scoring on 11.8% of its shots at 5-on-5 — everything is checking out during this streak.
But, if there was ever a team built to snuff out hot runs, it's the Boston Bruins. At the point, the B's are a machine. Boston has a 56.3% expected goals rate since the beginning of February and is giving up just 1.96 xGA/60 at 5-on-5 over its last 17 games.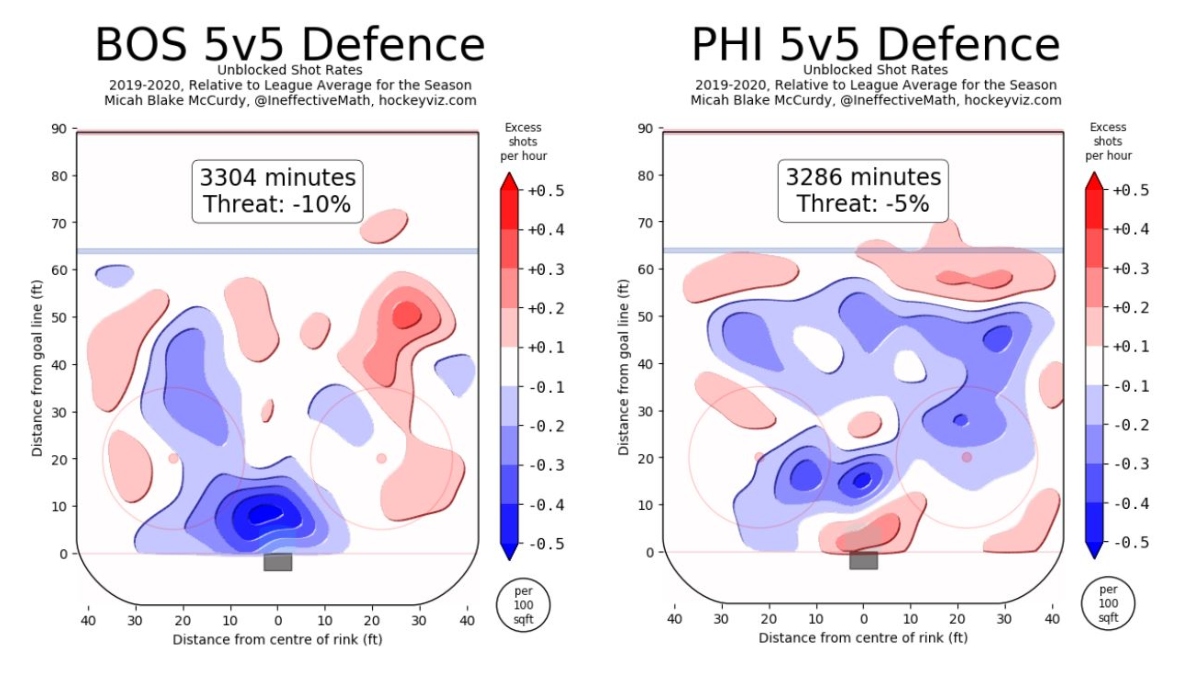 There are some injury concerns for Boston, with top-four defensemen Torey Krug and Brandon Carlo both sitting out on Tuesday night. Losing two big-minute players isn't ideal, but I still think Boston wins the game more than 50% of the time, which is all you're asking for when the line is a pick'em.
Pick: Bruins -110
[In Pennsylvania? Bet now at FanDuel.]
Around the League
It's almost a sure thing that, if the Toronto Maple Leafs (-105) qualify for the postseason, they will play the Tampa Bay Lightning (-115) Round 1. Toronto isn't a lock to make the playoffs — the Panthers are just one point behind them for the Atlantic Division's No. 3 seed — but most models have the Leafs above 75% to get into the dance.
In other words, the stakes for this game are a lot higher for Toronto than they are for Tampa Bay. That's not something I'm all that worried about, but there may be people out there who do consider those things when handicapping a game like this.
Both the Maple Leafs and Lightning have good underlying metrics, but they achieve those results differently. Toronto bets on offense being more repeatable than defense, while Tampa Bay's sturdy defense eases the burden on its talented group of goal-scorers.
The listed odds imply that the Lightning, who are already missing Steven Stamkos and could be without Victor Hedman, would be around -139 over the Maple Leafs on neutral ice. If Hedman was playing, I could see that, but for now it's too risky to get involved.
That being said, if either team somehow gets over +100, I'll play them.
Don't look now but the New Jersey Devils (+150) are on a heater, going 10-4-4 since the beginning of February. The Pittsburgh Penguins (-175) are 7-9-1 in that same span. What's more worrying is that Pittsburgh's underlying numbers have tanked since this cold run started. The Penguins have a 47.3% expected goals rate over their last 25 games, suggesting this skid may be more than just a blip on the radar.
New Jersey's expected goals numbers aren't good, either, but that's to be expected of a team that has spent most of the season in the Metropolitan Division basement.
The listed odds imply the Devils win this game 38.6% of the time, and considering Pittsburgh's form and the fact that it is playing its third game in four nights, I think there's a decent argument to be made that the Devils have some value already. However, I am waiting out the market to see if Jersey can get to +160 or better.
Another game with coin-flip odds features the New York Islanders (+105) against the Vancouver Canucks (-125). The Isles have lost six games in a row and now are fighting for their playoff lives, but their expected goals numbers aren't bad (49.4%) — they just can't score. The Isles are scoring 1.2 goals per 60 despite creating 2.3 xGF/60 during their losing streak.
Vancouver isn't a play-driving machine but their high-end talent provides some cover for their systemic flaws. I'm closer on the Isles at +105 than I am on Vancouver at -125, but I'll hope it gets to +110 before getting involved.
How would you rate this article?