Monday's NHL Betting Odds & Picks: How To Bet Predators vs. Leafs and More (Jan. 27, 2020)
Credit:
Darcy Finley/NHLI via Getty Images. Pictured: Nick Bonino
The All-Star Game is in the rear-view mirror, so we're officially in the business end of the 2019-20 NHL season. Over the next two weeks, teams will assess where they sit in the standings and decide if they want to go for it or shut it down and open up shop again for '20-21.
Two teams that are surprisingly not in a playoff spot at the turn are the Nashville Predators and Toronto Maple Leafs. Neither Nashville nor Toronto are out of it by any means — the Preds are six points off the mark and the Leafs are four, but they both have some work to do over the next 10 games.
Nashville hosts Toronto on Monday night.
Monday NHL Odds & Picks
---
In New Jersey? Bet now at PointsBet for access to their NHL promotion, which stipulates that if your NHL bet ever gets a two-goal lead in a game, you win even if it ends up actually losing (promotion good for up to $100).

---
Toronto Maple Leafs at Nashville Predators
Maple Leafs odds: -105
Predators odds: -115
Over/Under: 6.5
Time: 8 p.m. ET
The Toronto Maple Leafs picked a bad time to hit their first hurdle under head coach Sheldon Keefe. Toronto went 4-3-3 in its last 10 games before the break, including a 1-3-2 stretch over its last six games.
Toronto's overall game hasn't been that bad during its last half-dozen contests. The Leafs still had an expected goals rate above 50% in that span, but the defense and goaltending were an absolute disaster, allowing 4.45 goals on 2.7 expected goals per 60 minutes at 5-on-5.
Toronto's game is built around offense — the Leafs lead the NHL in scoring — but no matter how talented a team is, it will struggle to keep pace if it is leaking on the back end like Toronto has been lately.
The Leafs' defense should get a boost on Monday night with the return of top-pair defenseman Jake Muzzin, but his presence won't turn the Leafs into a defensive juggernaut overnight.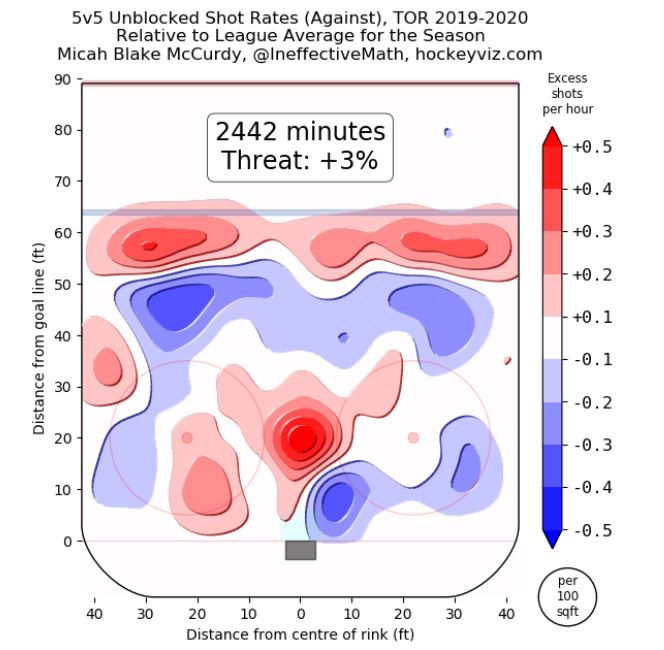 I think the Predators are a stronger team than their results show. Nashville's 22-18-7 record is underwhelming, but the Preds have been strong at 5-on-5 all season and if their goaltending was a little better, they would be right in the thick of the playoff race and Peter Laviolette may still have a job.
On the season, the Preds have a 52.2% expected goals rate and have been strong at both ends of the ice, generating 2.44 expected goals for and allowing 2.23 expected goals against per 60 minutes. Those numbers rank eighth and ninth overall this season.
The Predators also seem to be trending in the right direction. Nashville boasts a 54.4% expected goals rate at 5-on-5 in John Hynes' first six games in charge. It's a small sample, but it's still encouraging.
The listed odds imply that the Predators win this game 51.1% of the time, meaning it's essentially a coin flip. I think that notion underrates the Predators a little bit, especially at home. I'd play the Predators at -120 or better.
Around the League
The Montreal Canadiens (+110) are definitely on my radar against the Washington Capitals. The Habs have consistently ranked among the best 5-on-5 teams in the NHL all season and the Caps leave a little bit to be desired in that same area.
That doesn't change the fact that Washington is one of the league's best teams and is a worthy road favorite, but I think the Habs are underrated because of their record.
I'm expecting the market to move towards Washington since the price looks pretty cheap for the NHL's No. 1 overall team, and I'll wait it out to see if Montreal gets to +115 or above.
I also played the New Jersey Devils (+110) as road underdogs against the Ottawa Senators (-130) in a game only a bettor could love. Both the Devils and Senators have struggled at 5-on-5 lately, but I think the Devs are the better team, overall. This one is essentially a toss up, so I am happy to take the +110 on Jersey.
Speaking of ugly games, I also backed the underdog Anaheim Ducks (+125) on the road against hapless San Jose Sharks (-145). The number is just too wide between two very bad teams. The Sharks get a bump for home-ice advantage, but the Ducks have a big edge in goal and there's not much between these two squads at 5-on-5. Any number above +120 is in range on Anaheim.
How would you rate this article?