Monday NHL Betting Odds & Picks: Islanders-Rangers, Hurricanes-Capitals Highlight Slate (Jan. 13, 2020)
Credit:
Elsa/Getty Images. Pictured: Anders Lee, Jordan Eberle
The NHL season is a slog. A marathon. A long tango.
It's important to remember that when reacting to the results of one or two or even five games.
That being said, Monday night's schedule is full of intriguing matchups, including the Battle for New York between the Islanders and Rangers.
Islanders vs. Rangers Betting Odds
Islanders odds: -130
Rangers odds: +110
Over/Under: 6
Time: 7 p.m. ET
A quick housekeeping note: The writer of this column is a diehard New York Islanders fan and nothing would ruin his life quite like a Rangers Stanley Cup. That being said, he has no problem betting against the Islanders.
The Islanders and Rangers play very different styles of hockey. The Islanders lack scoring talent and depth up front, but their focus on defensive structure and suppressing quality scoring chances has led to some surprisingly strong results in a season-and-a-half under Barry Trotz.
The Rangers have plenty of high-end talent, led by Artemi Panarin up front, but their back-and-forth style leaves them exposed defensively.
Both teams comes into this game in good form. Over the last month, the Islanders have the 10th-best expected goals rate (52.1%) while the Rangers sit 12th (51.6%). The way they have achieved those results couldn't be more different.
---
In New Jersey? Bet now at PointsBet for access to their NHL promotion, which stipulates that if your NHL bet ever gets a two-goal lead in a game, you win even if it ends up actually losing (promotion good for up to $100).

---
The Islanders are allowing just 2.14 expected goals against per 60 minutes at 5-on-5 in their last 13 games, a stretch includes games against Colorado, Toronto, Nashville, Boston, Chicago and Washington.
The Islanders have a simple gameplan — make life difficult on the opposing offense and turn mistakes into scoring chances. It may not be the prettiest hockey, but the Islanders have no choice given their roster makeup.
The Rangers are averaging 3.24 goals for per 60 minutes (fourth-most in the NHL) on 2.7 xGF/60 at 5-on-5. The other side of the coin is that the Rangers are allowing 3.55 goals against per hour over the last month.
That is certainly troubling, but their xGA/60 is a full goal (2.53) under that mark, so some regression at both ends of the ice seems to be a good bet.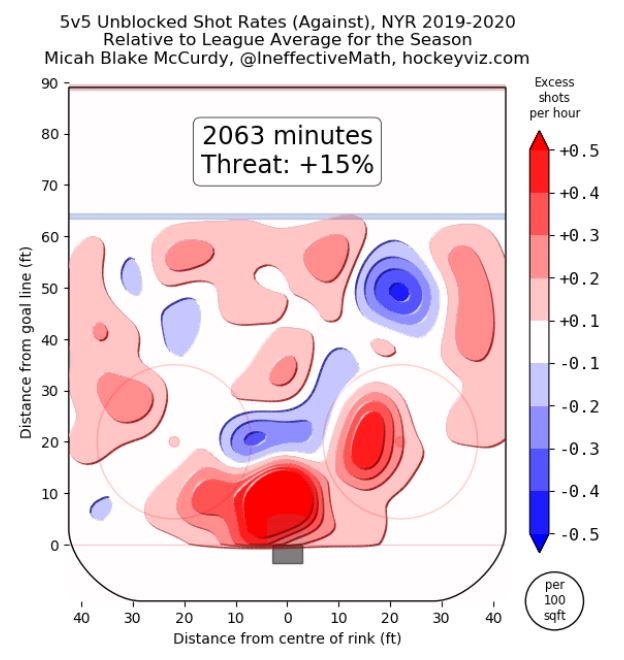 The Blueshirts dare teams to try and outscore them while the Islanders do the exact opposite, so this game will likely come down to whoever can dictate the flow. If the Rangers can goad the Islanders into a run-and-gun contest, the Blueshirts are more likely to win. If the Isles can keep things predictable, they will probably get the two points.
The listed odds give the Islanders a 55% chance of winning on Monday night. That seems about right, though I expect some money to come in on the Rangers. The Islanders continue to be a tough team for models to read and that often leads to money coming in against them.
I'm guessing we'll see that happen tonight and if the Isles get below -120, I'll hop on.
Around the League
The Carolina Hurricanes (+120) boast a strong overall statistical profile, but they have shown some warts over the last month. On the season, Carolina's expected goals rate is 53.5% but that number has dipped to 50.3% over the last month.
The Hurricanes are still humming offensively, but their defense has been porous over their last 13 games, allowing 2.95 xGA/60. That is a problem for any team, but an even bigger problem for one that doesn't have great goaltending.
That being said, I think the Canes have value against the Washington Capitals (-140) on Monday night. The Caps are always going to outscore their underlying metrics, but they grade out just OK at 5-on-5 with a 50.6% expected goals rate. So as long as Carolina keeps this game at 5-on-5, they should have a good shot. Long story short, I think Carolina has better than a 43.8% chance of winning on Monday.
I also find it interesting that the Hurricanes have longer odds against Washington than the Philadelphia Flyers (+115) have against the Boston Bruins (-135). The Flyers have turned their slightly above average 5-on-5 metrics into slightly above average results this season.
At the current number, I have no interest in this game but it does give context to Caps vs. Canes as I think the gap between Carolina and Washington is a lot shorter than the one between Boston and Philadelphia.
How would you rate this article?