Friday NHL Betting Odds & Picks: How To Bet Red Wings vs. Rangers, Flyers vs. Penguins, More (Jan. 31, 2020)
Credit:
Jared Silber/NHLI via Getty Images. Pictured: Igor Shesterkin
The NHL bye week is a good thing. It gives players, coaches and team personnel a break in a grueling 82-game season. The break also eases the burden on fans and bettors, as the grind slows down and gives our brains and hearts a rest.
All of that is well and good, but undoubtedly, the best part of the break is that the Detroit Red Wings haven't played for eight days.
The Red Wings could end up being the worst team the league has seen in this era. The NHL eliminated ties in 2005-06 and since then, no team has finished with fewer than 48 points. Detroit is on pace for 45 points.
I've lost a lot of money betting on the Wings this season, likely because I have a lot of trouble quantifying just how remarkably bad they are, but there are some reasons to be a tad optimistic about Detroit's chances against the New York Rangers on Friday night.
No, really.
---
In New Jersey? Bet now at PointsBet for access to their NHL promotion, which stipulates that if your NHL bet ever gets a two-goal lead in a game, you win even if it ends up actually losing (promotion good for up to $100).

---
Detroit Red Wings vs. New York Rangers
Red Wings odds: +170
Rangers odds: -215
Over/Under: 6
Time: 7 p.m. ET
There's no getting around the fact that the Detroit Red Wings are the worst team the NHL has seen in quite some time. Not only are they 15 points behind the 30th-best team in the league (Los Angeles), the Wings are 43 goals behind the second-worst goal differential team in the circuit at -90.
This all makes sense considering Detroit allows more goals per 60 minutes at 5-on-5 (3.13) than any other team and it also ranks last in goals scored per hour at 5-on-5 (1.71).
If that doesn't make you want to bet on this horrible team, I don't know what will.
In reality, this bet comes down to price and matchup.
The Rangers also have struggled to control play at 5-on-5 this season. The Blueshirts have the 29th-best expected goals rate (46.3%) and allow more expected goals against per hour (2.82) than any team in the league.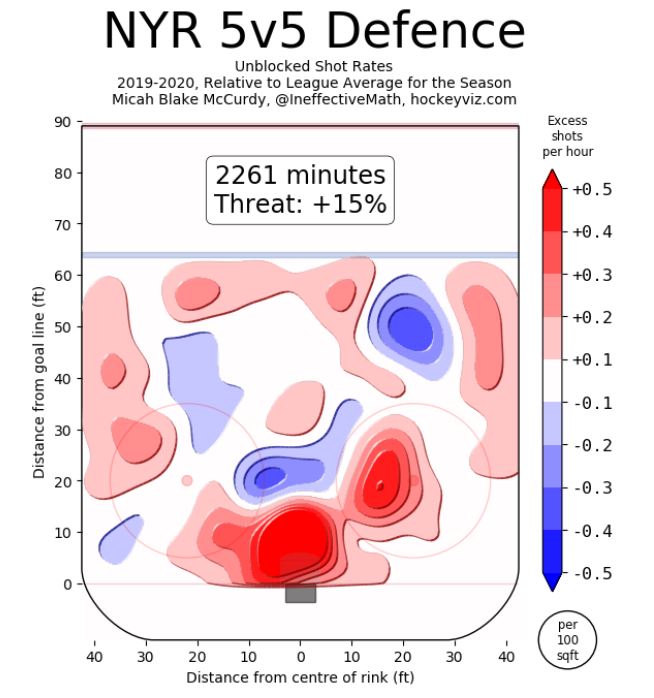 New York has improved in both those facets over its past 10 games, but the Blueshirts still leave something to be desired defensively.
Offense is certainly no problem for the talented-but-flawed Rangers. Artemi Panarin is likely to return to a team that is very comfortable playing in back-and-forth affairs.
The Rangers' pace and willingness to try and outscore teams is what I think opens up the doors up enough for the Red Wings to have some value at a big number tonight. Detroit certainly isn't likely to win, but the Red Wings should have chances to score against this laissez faire defense. If Detroit can win the goaltending battle and make good on the scoring chances it creates, then suddenly this becomes a game.
Additionally, the fact that both teams have been off for at least eight days adds a little more volatility to this game. That is good for the underdog.
The listed odds suggest that Detroit wins this contest 35.2% of the time, which is a tad short in this game environment. It's likely that the price on the Wings keeps climbing, so you can probably wait out for better odds, but in the end, this is a classic hold-your-nose bet, but I think there's value on the Wings at +170 or better.
Around the League
The Pittsburgh Penguins (-170) have re-established themselves as a heavyweight this season thanks to their terrific defense. They are rightfully decent favorites against the Philadelphia Flyers (+145) on Friday night. These odds look spot-on at the moment, but if the Flyers get to +155 — which I think is unlikely — I'll take a chance on the underdogs in the Battle for Pennsylvania.
[Bet Pens-Flyers now at FanDuel. PA, NJ IN and WV only.]
I played the Vegas Golden Knights (+125) on the road against the Carolina Hurricanes (-145). The Knights and Hurricanes both boast terrific 5-on-5 numbers, but the Hurricanes have struggled in that area in the past few weeks. Vegas has taken some money and is at +120 or shorter at most shops, but if you can find a +125, that's in range.
I also played the Edmonton Oilers (+115) as home underdogs against the St. Louis Blues (-135). Edmonton's 5-on-5 play has improved since the holidays and I think this game should be priced as a coin flip, so I'll happily take the +115.
How would you rate this article?