Wednesday NHL Betting Odds & Picks: How To Bet Stars vs. Maple Leafs, Flames vs. Oilers, More (Jan. 29, 2020)
Credit:
Patrick McDermott/NHLI via Getty Images.
Very few teams in the NHL this season have taken a straightforward path to get to where they are in the standings today. An 82-game regular season will naturally provide ups and downs thanks to injuries, slumps and luck, but what happened in Dallas is out of the norm even by NHL standards.
After taking St. Louis to double-overtime in Game 7 of the Western Conference Semifinals, expectations were high in Dallas coming into 2019-20. The wind was quickly taken out of the Stars' sails thanks to a 1-7-1 start that landed head coach Jim Montgomery on the hot seat. The Stars eventually found their form and ripped off a 17-4-2 run in their next 23 games to assert themselves in the Western Conference.
And then Montgomery was fired for "unprofessional conduct" on Dec. 10, 2019.
Dallas has remained pretty much consistent throughout the turmoil, going 11-6-1 under interim head coach Rick Bowness and continuing to succeed thanks to its terrific defense. The Stars' shot rate has dipped under Bowness, but as Micah Blake McCurdy explained, there doesn't seem to be much reason to be alarmed about anything other than, perhaps, the way Bowness divvies up minutes.
These are the still the same Stars under Bowness. They will go as far as their defense and goaltending takes them. So far, so good as Dallas has allowed the fewest goals in the NHL (120) this season. They take on the league's most potent offense on Wednesday night.
---
In New Jersey? Bet now at PointsBet for access to their NHL promotion, which stipulates that if your NHL bet ever gets a two-goal lead in a game, you win even if it ends up actually losing (promotion good for up to $100).

---
Toronto Maple Leafs at Dallas Stars
Maple Leafs odds: +100
Stars odds: -120
Over/Under: 6
Time: 7:30 p.m. ET
The Dallas Stars have no problem sacrificing offense for defense. With their best-in-class goaltending tandem, the Stars bet on themselves to come out ahead in low-event games. Games involving the Stars average just 5.02 total goals, which is the fewest in the NHL.
The Toronto Maple Leafs make the opposite bet. The Leafs have no problem taking risks defensively in favor of offense, which is why there's an average of 6.86 goals per game, second most in the league.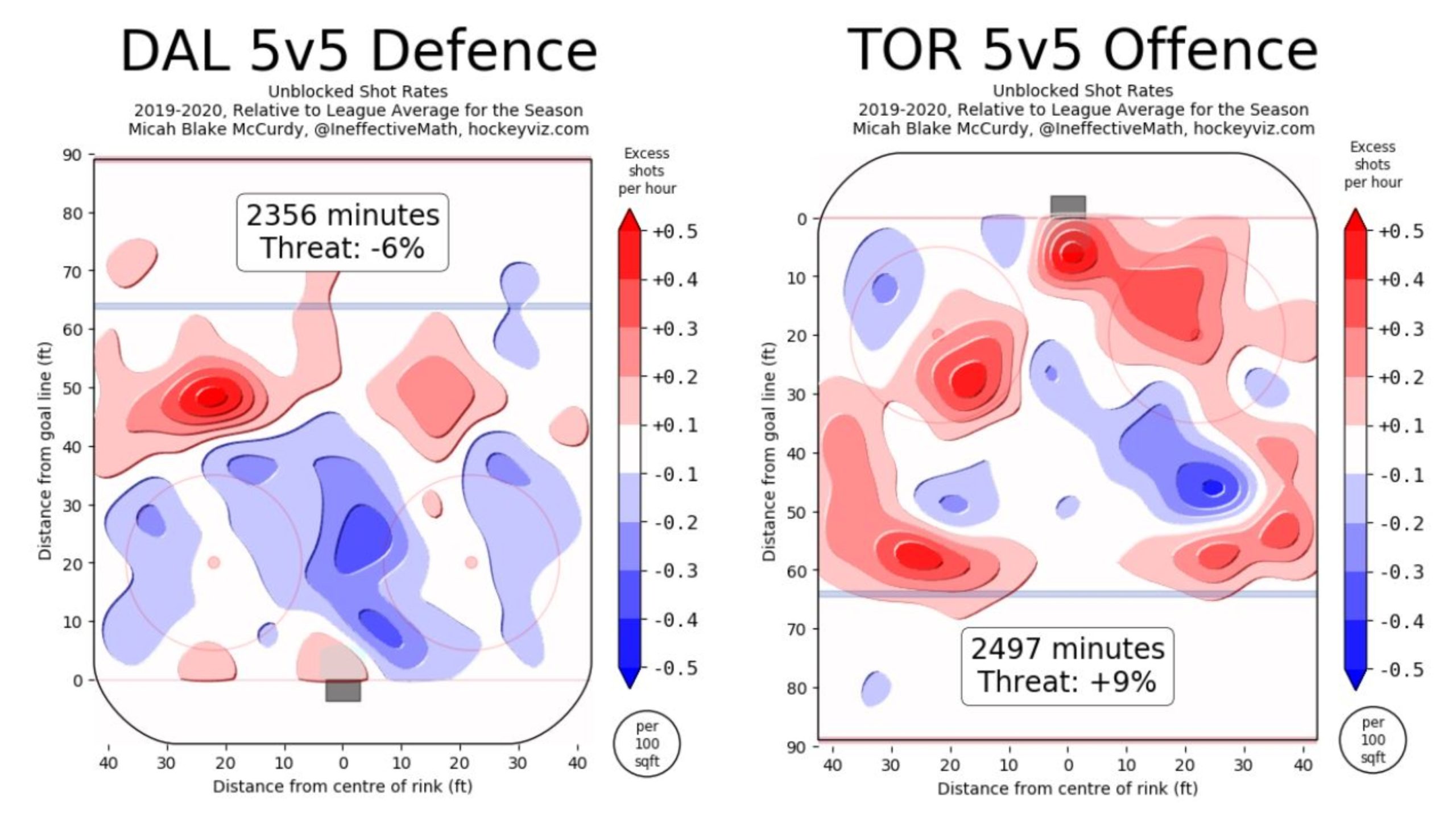 There's plenty to dig into on both sides of the ice, but the long and short of this matchup is these are two top-level teams that, despite philosophical differences, are pretty damn close to one another in the NHL's power struggle.
Instead of nitpicking, I think the best way to look at this game is to ask yourself which team would be favored if this game was played in a vacuum?
The listed odds give the Stars an implied probability of 52.2%, which means that when you adjust for home-ice advantage (4.9% in the NHL), you'd get the Leafs — without top-pair defenseman Morgan Rielly — as approximately -125 favorites on neutral ice.
You could make the argument that Toronto should be favored in a vacuum, the Leafs are very good, but I'd give Dallas the edge, and thus see value on the Stars as short home favorites on Wednesday night.
Around the League
The Edmonton Oilers (-125) and Calgary Flames (+105) will meet for the first time since the Matthew Tkachuk-Zack Kassian incident.
This will be Kassian's first game back from his suspension and the atmosphere figures to be raucous, but the odds don't leave much wiggle room right now. The Oilers started the season unsustainably hot thanks to individual efforts from their stars, namely Connor McDavid and Leon Draisatl, but over the past few weeks Edmonton's overall game has improved, as well.
The Oilers have an expected goals rate over 50% and have earned 57.2% of the goal share in their last eight games, which is a big deal when you also have the league's best player.
Calgary is also trending in the right direction since the holidays and the Flames are due for some positive regression, so there's very little separating these two bitter rivals. The listed odds seem appropriate, but if you are a hockey fan and want action on what figures to be a wild game, I'm closer to Calgary and will look to play them at +110, but I'm not sure if the number will get there.
Unfortunately, I also see value in fading the league's best team, the Tampa Bay Lightning (-220) against the last-place Los Angeles Kings (+175). The Bolts are an absolute behometh, but the Kings are able to hold their own at 5-on-5, so I have no issue taking a stab on them at these odds. It won't be much fun, though.
How would you rate this article?