Tuesday NHL Betting Odds and Picks: Please, Not the Red Wings (Jan. 7, 2020)
Credit:
Bill Smith, Getty Images. Pictured: Jimmy Howard
At the end of the college football season, a few of our analysts and editors put out our first annual "Do Not Bet List."
The point of the exercise was to highlight teams that were so unquantifiably bad, that they broke models.
Stuckey and Collin Wilson's numbers would almost always show value on teams like Rutgers, Akron and UMass, but they learned over time that their projections just couldn't catch up with the ineptitude these teams displayed on any given Saturday.
As soon as we started talking about that list, I wondered if a similar one would be beneficial for hockey, especially since my betting strategy in the NHL usually leads to backing underdogs. I didn't think it a "DNB List" would translate to hockey — the gap in talent between good and bad teams in the NHL is just a blip compared to what it is in college football — but now I'm starting to think I was wrong about that.
And it's all the Detroit Red Wings' fault.
Tuesday NHL Odds and Picks
---
In New Jersey? Bet now at PointsBet for access to their NHL promotion, which stipulates that if your NHL bet ever gets a two-goal lead in a game, you win even if it ends up actually losing (promotion good for up to $100).

---
Canadiens at Red Wings Odds
Canadiens odds: -165
Red Wings odds: +140
Over/Under: 5.5
Time: 7:30 p.m. ET
The Montreal Canadiens are on the road. They are playing on the second night of a back-to-back. They are missing three top-six forwards. They are still -165 favorites with an implied probability of 59.9%.
According to their expected goals, the Canadiens deserve a better record. Montreal has the eighth-best expected goals rate (xG%) in the league and is generating the third-most (2.63) xGs and fifth-most high-danger scoring chances (11.8) per 60 minutes at 5-on-5. Quite simply, Montreal is one of the best teams in the league at generating opportunities.
The opposite is true of the Red Wings, who score a league-worst 1.65 goals per 60 minutes at 5-on-5. You could say the Wings are a little snakebitten, any team this bad will suffer from poor puck luck, but Detroit's severe lack of talent makes living up to their putrid 2.06 expected goals nearly impossible. Scoring goals is an absolute chore for the Red Wings.

The silver lining for Detroit is that its defense isn't that awful. The Red Wings do allow the fifth-most expected goals per 60 minutes but they rank 13th in preventing high-danger scoring chances. Those aren't world-beating numbers, but for a team this bad you'll take what you can get.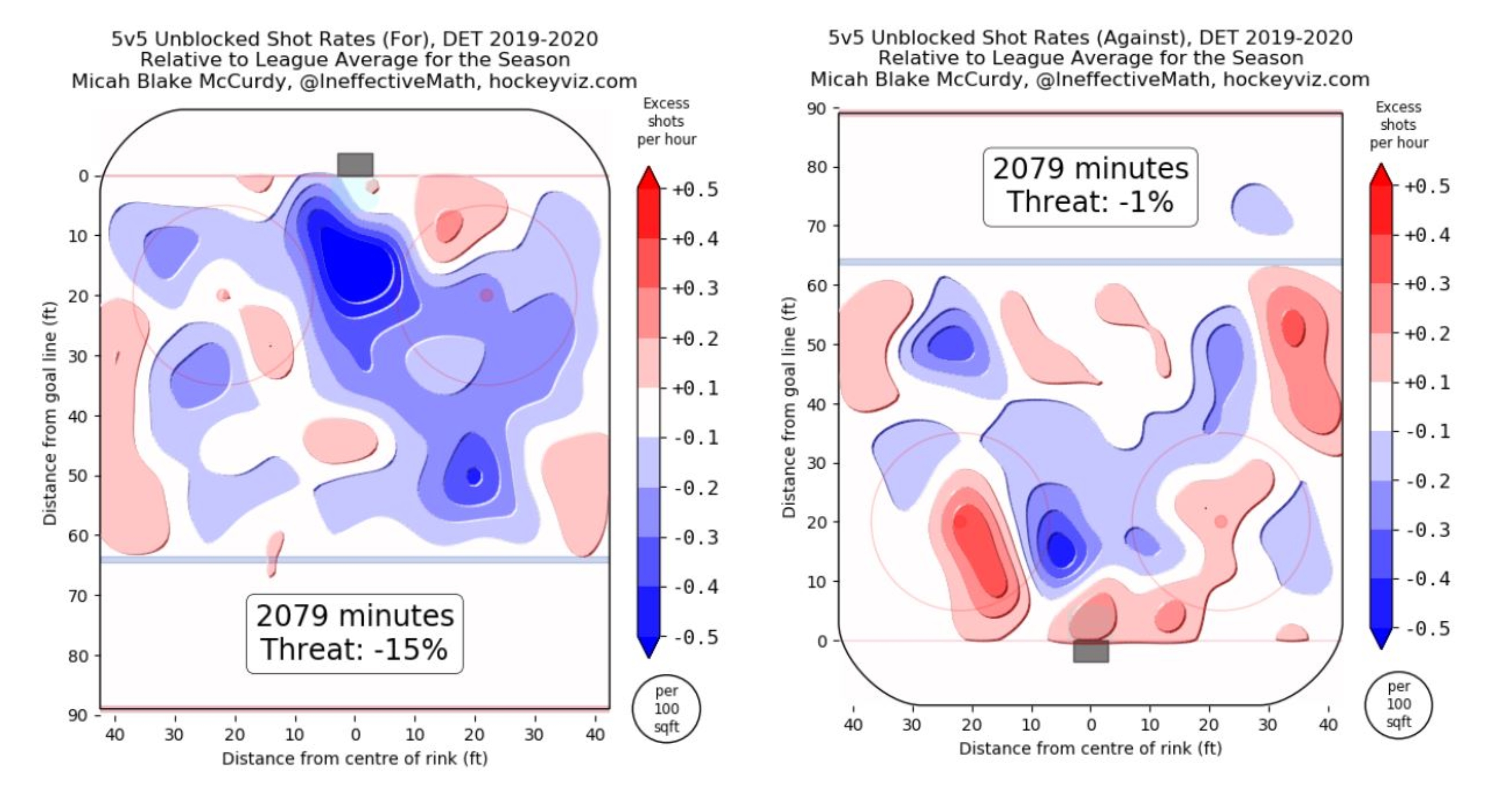 There's no way to dress it up. The Red Wings are one of the worst teams we've seen in a generation. They are on pace for 44 points and could threaten the 1999-00 Atlanta Thrashers' record for fewest points (39) since the NHL started to reward teams for losing in overtime.
That being said, the Detroit Red Wings are not unbettable. In fact, I think they are worth a bet against the Canadiens on Tuesday night at anything better than +135. What a dumb sport.
---
In New Jersey? Bet now at PointsBet for access to their NHL promotion, which stipulates that if your NHL bet ever gets a two-goal lead in a game, you win even if it ends up actually losing (promotion good for up to $100).

---
Around the League
There are 12 games on the NHL slate on Tuesday night and there are quite a few interesting underdogs.
The Ottawa Senators (+245) are the biggest pooch on the card against the Washington Capitals (-320). There is certainly a big talent-gap between these two teams, but the Senators and Capitals have almost identical expected goal rates on the season.
It's a bet you lose more often than not, but the odds are just too wide on the more-than-capable Senators. Ottawa has taken some money, but I still think they're worth a shot if this line gets back to +240.
The New York Rangers (+130) catch the Colorado Avalanche (-150) on the second night of a back-to-back in what should be an exciting contest on NBCSN. The Rangers play very little defense, so no lead is safe, but they also generate plenty of offense, so they are never really out of games.
Colorado has plenty of star power and score more goals per 60 minutes (5-on-5) than anybody else, but their predictive metrics don't leap off the page at you. The Avs have so much high-end scoring talent, so they're always a good candidate to beat their underlying numbers, but if they don't get production from their stars, they can be had on any given night.
New York has been bet down to +130 at most sportsbooks, but if you can get the Rangers at +140 or better they look like a fine bet.
The San Jose Sharks (+170) burned me in unforgettable fashion against the Capitals on Sunday, but I'm going back for more suffering on Tuesday night against the St. Louis Blues (-200).
St. Louis has been playing terrific hockey as of late with a 53.8% expected goals rate in its last 13 games, but the Sharks are showing signs of breaking out of their first-half malaise with a 53.9% expected goals rate over their last five games.
Finally, I don't want to stand in the way of the Tampa Bay Lightning (-225), but I suspect the number on the Vancouver Canucks (+180) will likely hit a price that is too high to ignore. Tampa Bay is absolutely cruising since Thanksgiving and leads the NHL in xG% over the last month, but anything north of +200 on the Canucks is worth a shot. Update: It looks like the +200 won't come, so I'm playing Vancouver at +180.
How would you rate this article?