NHL Betting Picks and Props: How to Play the Over/Under in Islanders vs. Lightning
Credit:
Bruce Bennett/Getty Images. Pictured: Nikita Kucherov, Jean-Gabriel Pageau
Here is one stat you need to know about the Tampa Bay Lightning-New York Islanders series: Every game Brayden Point has played, the Bolts have won. Simply put, Point is so freaking good he irons out the team's wrinkles.
Game 5 reinforced that Tampa Bay is wobbly without its star center. Bereft of scoring outside of a quick counterattack off the long change, New York yanked out a victory thanks to a Kevin Shattenkirk turnover in the second overtime.
Lightning coach Jon Cooper has been cryptic when asked about Point's status for Game 6. I get that Cooper has a job to do but throw us a bone! Ultimately, I think Point plays and the Lightning win 3-1. My betting recommendations have been determined accordingly.
Under 5 (+105)
The secret is out. Without Point on the ice, Nikita Kucherov can't get separation. Without Point, the Islanders were able to keep tighter gaps and halt the momentum of Kucherov and his linemates, forcing the Lightning to forecheck and cycle.
The most consequential example is from the first period when a quick regroup by the Lightning saw Carter Verhaeghe challenged by Ryan Pulock as Verhaeghe received a pass just inside the blue line. Verhaeghe whisked the puck deep for his forward linemate, but Tyler Johnson was promptly driven into the boards by Devon Toews.
When Kucherov tried to squirm into the backdoor, Brock Nelson dismantled the pass and was tripped up in the process, drawing an offensive-zone penalty on Kucherov.
The Lightning's attempt to gain ice off the rush was denied, and the ensuing cycle was squelched. The resulting power-play strike by Pulock would be the Islanders' only regulation-time goal.
In Game 5, the Islanders and Lightning both tried to one-up each other as to who had the most suffocating neutral-zone play. The shots per 60 minutes for the Islanders were 16.54. The Lightning bested them at 22.55.
Kucherov played with different linemates sporadically, but the majority of the time – 18:03 at 5-on-5 to be exact – he skated with Anthony Cirelli and Ondrej Palat. Their numbers were uneven, finishing with four shots on goal while allowing five. In fairness, that shot count masks the fact that they had a 61.97% expected goals, but for the first line it was a wanting performance.
In contrast, when Point has played with Kucherov and Palat, the Islanders have been reduced to rubble. The Lightning generated 20 shots while conceding eight. They had five goals while allowing zero. They had a 67.86% expected goals.
Brayden Point is logistics personified. He is a reliable carrier who can steward the puck through the neutral zone and push the defense back, opening up lanes for his teammates. That said, Point and Kucherov are clearly hampered due to injuries, so we are seeing a compromised version of them. An offensive explosion like we saw in Game 1 seems unlikely with Tampa Bay sapped by injuries and an emboldened Islanders squad.
Even with the Lightning's serious offensive issues, the Islanders are in a more dire situation when it comes to scoring. In Game 5, the Islanders finished with less than five high-danger chances per hour. In the series, their rate is 9.46 per 60, but that meager total is four less than Tampa Bay's and does not instill confidence that they will put two more goals by Andrei Vasilevskiy in Game 6.
In Tuesday's game, it took the Islanders five periods and a Kevin Shattenkirk whiff to finally notch a 5-on-5 goal. It would be nice if the line were set at 5.5 goals, but t plus-money, the under is still a nice value.
[Bet Islanders vs. Lightning at DraftKings and get a $1,000 sign-up bonus.]
Over 2.5 for the Lightning (-159)
As stated above, the Kucherov-led first line has problems. But problems are relative when they occur to the indisputably better team. The Lightning have won the expected goals battle in every contest of this series. In every single game at 5-on-5, they've had more shots and high-danger chances.
Even without Point, we should expect the Lightning to create more chances. Since the start of the first round, the Lightning have scored two goals or less only five times. In those first four instances, the Lightning notched three or more goals in the subsequent game.
If Point doesn't play, the Lightning hitting the over is tied to the Yanni Gourde line's success. For the Gourde trio, the playoffs have been one of peaks and valleys. The first thirteen games were unadulterated bliss. The Gourde line outshot its foes by 29 and had an expected goals of 68.43%. It posted seven goals and allowed two.
Then came the crash. In the Islanders series, Yanni Gourde, Blake Coleman, and Barclay Goodrow have been outshot by five. They are being pinned in their zone and the shot attempts reflect that. Their expected goals is 32.92%. Cooper has looked to match them up with the New York's first two forward lines to mixed success.
The Gourde line has held the Mathew Barzal line goalless, but it is getting waxed in the expected goals struggle. Its expected goals are much better against the Brock Nelson line, but the Gourde line has surrendered two goals.
Game 5 saw a surge by Gourde's line. Coleman created a goal for Victor Hedman, thanks to a savvy shot off Semyon Varlamov's far pad. Among lines that played more than five minutes at 5-on-5, the Coleman line was the best in expected goals.
For the Lightning to squeak past New York, they will need the third line to submit a repeat performance.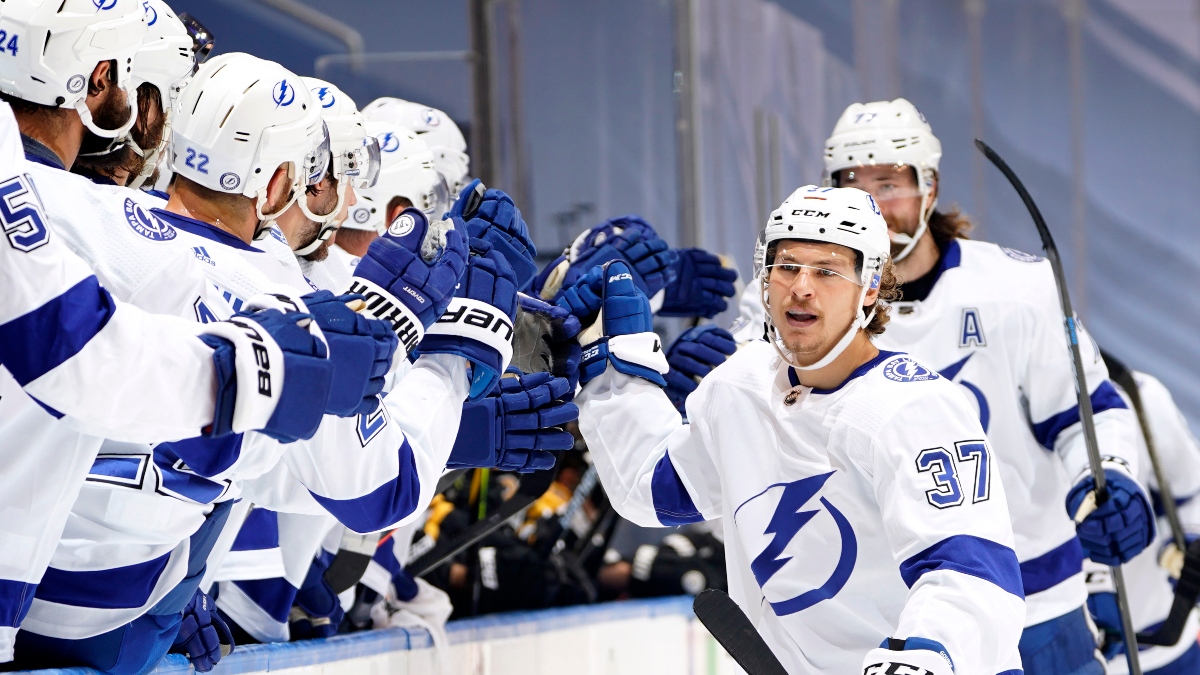 The Lightning scoring depth looks alarmingly hollow since the second line has been like a black screen on a Zoom call. Its forwards are purportedly present, but signs of life are missing.
If offense off the rush is eroded, the Lightning need to find more effective ways of attacking on the cycle. The Islanders layered well in Game 5, effectively dismissing Lightning shots that were right in front of them. Tampa Bay should try playmaking from behind the net and attacking from off the goal line. The Lightning can also succeed by compelling the Islanders to box them out and make quick reads around the low slot.
[Bet Isles vs. Lightning at DraftKings and get a $1,000 sign-up bonus.]
Under 1.5 for the Islanders (+195)
Heading into Game 5, the Islanders struggled with their breakout and with creating sustained offense. By activating their defensemen, they at least temporarily solved the former problem.
But even with the Islanders' defensemen becoming more assertive with carrying the puck and jumping into the offense, their numbers were dreadful in Game 5. The usual top-six forwards combined for four 5-on-5 shots and zero high-danger chances. And that is in nearly 23 minutes of ice time. Gulp! The best offensive moments for Mathew Barzal and Anders Lee came when Cal Clutterbuck played third wheel on their line.
The Lightning's defensive duo of Erik Cernak and Mikhail Sergachev continues to be a thorn in the Islanders' side. In 16:27 of 5-on-5, they had a 63.59% expected goals. The Lightning doubled the Islanders in high-danger chances.
Cooper used those two against Barzal in Game 5, and there is no reason to expect anything different in Game 6. Despite Cooper's elusive statements, I think Point plays in Game 6, and if he does, Tampa Bay will be able to control the puck in a more pronounced way. Couple that with New York having to beat Vasilevskiy and I think under 1.5 goals for +195 is a great value on DraftKings.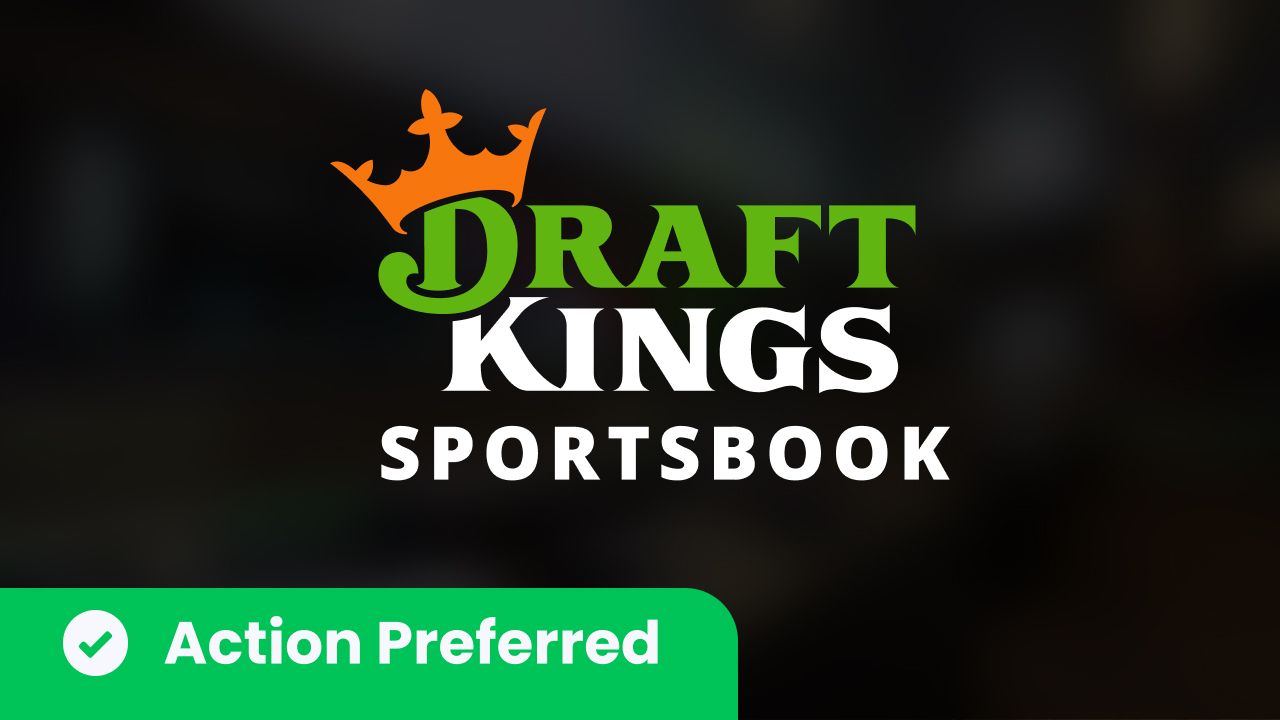 Bonus = 20% of first deposit match
Action's Preferred Sportsbook
How would you rate this article?