NHL Betting Picks: Our Favorite Stanley Cup Bets, Conn Smythe Sleepers and Qualifying Round Picks
Credit:
Al Powers/NHLI via Getty Images. Pictured: Mark Stone
Hockey bettors, start your engines.
The NHL is set to resume on Saturday with a five-game schedule spanning from noon ET until late into the night. And that's just Day 1. The games will come fast and furious over the next fortnight so to get you ready for August Madness our hockey analysts have picked out their favorite bets for:
Stanley Cup Champion
Conn Smythe Winner (Playoff MVP)
Qualifying Round Series Winner
Keep in mind, these aren't our picks to win, but the bets we think have the most value in each of those markets.
Stanley Cup Futures
Michael Leboff
Minnesota Wild +4500 (FanDuel)
I like a couple of longshots in this tournament but the more I think about it, the more I like the Minnesota's chances to make a run. I think the Wild should be favored in its best-of-5 series and they are so good defensively that they will give any of the big dogs a scare in a best-of-7. Minnesota specializes in turning games into coin flips thanks to a defense that finished second in expected goals allowed during the regular season.
---
Expected goals (also known as xG) is a predictive statistic that gives an indication of whether results are based on sustainable factors like a steady creation of scoring chances, or whether it is down to aspects such as shooting luck or outstanding goaltending.
Simply put, an expected goals rate (xGF%) above 50% is considered good because it means a team is creating the majority of the scoring chances. Anything below 50% is usually a sign that a team is struggling to control play.
xG numbers cited from Evolving Hockey.
---
Minnesota wasn't a one-trick pony, either. The Wild finished fifth in the NHL in goals scored per hour and second in shooting percentage so they can finish.
The Wild boast a stupendous defense and a strong offense, so why are they 45-1? Goaltending.
Even though Alex Stalock and Devan Dubnyk formed the league's worst partnership in 2019/20 and have shown no signs of turning a corner, the Wild's defense makes their job so easy that it isn't out of the realm of possibilities that one of them can improve enough to give Minnesota a fighting chance.
All the Wild need is for one of Stalock or Dubnyk to provide league-average goaltending and they are live.
[Bet the Minnesota Wild at FanDuel. NJ, PA, CO, IN and WV only.]
Sam Hitchcock
Pittsburgh Penguins +1600 (PointsBet)
How many teams could actually win the Stanley Cup? Count me as a skeptic when people say every franchise has a chance. I would strike down 17, maybe 18, teams as being either "unlikely" or having "no chance" to raise the Cup.
That winnows the field down to six or seven squads and, unfortunately, they all have among the lowest odds. But in the knot of Cup-caliber teams, the Pittsburgh Penguins have the highest odds at +1600 at PointsBet.
What makes the Penguins a tantalizing pick starts with team defense. Pittsburgh posted a top-five Expected Goals Against Rate per 60 minutes (xGA/60) and High-Danger Chances Against per hour.
In the playoffs, coaches lean on their best players more, and the top pairing of Kris Letang and Brian Dumoulin is sure to vacuum up lots of minutes for Penguins coach Mike Sullivan. During the regular season, the duo posted a 52.64 Expected Goals Percentage.
That is especially impressive because it came against opponents' top lines and with the pair starting in the offensive zone more infrequently than their colleagues.
One stipulation with picking the Penguins is that the bettor needs to hope Tristan Jarry will supplant Matt Murray as starting goaltender. It appears Sullivan will give Murray first dibs, and that is frightening considering Murray finished the regular season with an atrocious -13.98 Goals Saved Above Expected (GSAx).
---
Goals Saved Above Expectation (GSAx) is an advanced statistic that measures a goaltender's performance against the quality of scoring chances he faced. It is a better catch-all metric compared to save percentage because every SV% counts every saved shot and goal the same, while GSAx weights shots by the quality of the scoring chance.
GSAx numbers cited from Evolving Hockey.
---
Compare that to Jarry's .99 GSAx and a better goaltending option is on the bench. A bet on Pittsburgh must come with the wish that the Penguins systematically destroy the Canadiens in the qualifying round and Murray loses his job to Jarry.
Assessing the Penguins' offensive numbers using the regular-seasons stats is a bit unfair since Sidney Crosby and Jake Guentzel played less than 42 games. Evgeni Malkin participated in 55 contests. It is like judging "Sunday Afternoon on the Island of La Grande Jatte" by only viewing the woman with the parasol. We are looking at an incomplete picture.
A few things that we do know is how dominant certain pairings at forward are for Pittsburgh. When Crosby and Guentzel are together they have an expected goals  rate of 55.34%. When Malkin plays with Bryan Rust, they have a 57.72% expected goals rate.
Critically, the core of this team is impregnable, but important decisions, like whether Jarry will be given the chance to buoy them past menacing adversaries, are still to be made.
[Bet Pittsburgh now at PointsBet. NJ and IN only.]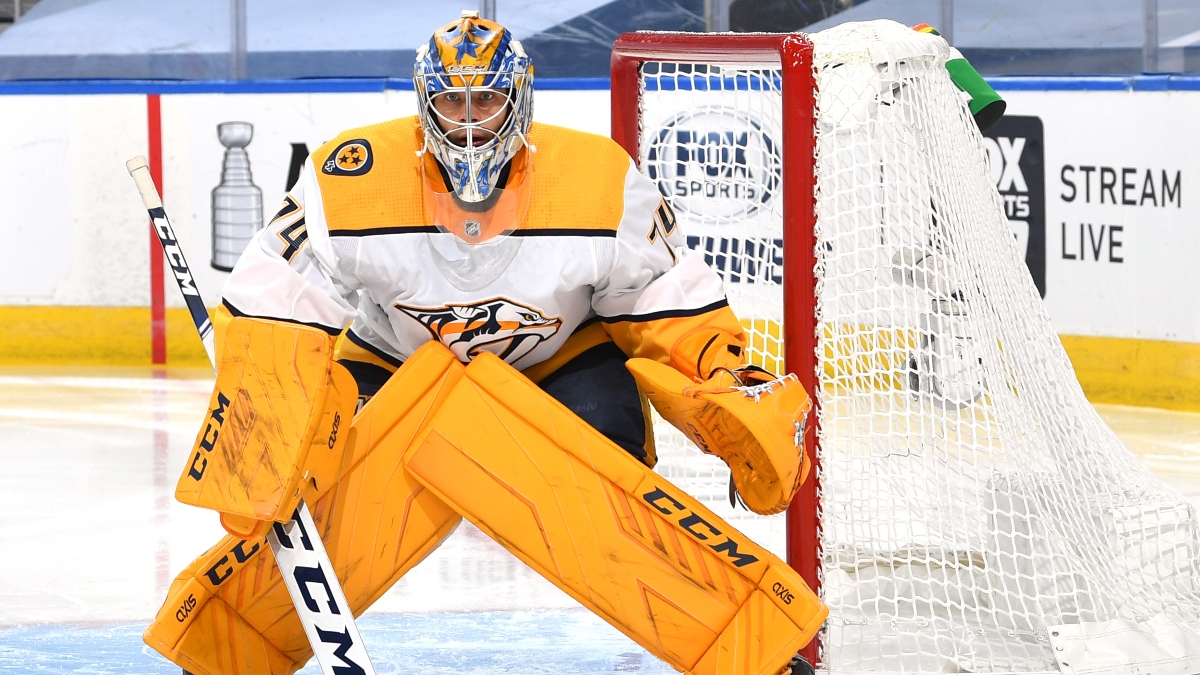 Pete Truszkowski
Nashville Predators +4000 (FanDuel)
There might be other teams who provide similar value, but I'm gonna go with a team who I can actually picture making a run. Sorry Montreal and Minnesota. I'll take a shot on the Nashville Predators who are going off at 40-1 in plenty of spots, including FanDuel.
First of all, I think the fact that there was a break and a mini-camp benefits the Predators because they made a coaching change mid-season. It allows John Hynes time to get his system tuned up and to instill some things that are harder to implement during the grind of a regular season.
It's true that Nashville's underlying metrics took a hit when the team swapped Peter Laviolette out for Hynes, but the Preds posted a better points percentage under their new boss.
Nashville was underwhelming overall this season, but the Preds still were a top-10 team in Corsi For % and they finished the regular season with an expected goals rate above 50%.
---
Corsi For % is an advanced statistic that measures how many shot attempts a team takes and allows in a given game or season. Anything above 50% is considered a good CF% because it means a team is taking more shot attempts, on average, than its opponents.
---
Nashville had a largely mediocre season this year. Despite this, they were a top-10 team in Corsi-For %, according to Natural Stat Trick. In addition, they were above 50% in expected-goals and finished seventh in the league in GF/60 (Goals For per 60 minutes) at 5-on-5. Their offense wasn't the issue.
Nashville's biggest flaw, surprisingly, was in goal. Pekka Rinne has been one of the NHL's most reliable goaltenders in the league over the past few years but he struggled to a -21.37 GSAx in the regular season.
Thankfully, Juuse Saros took over the crease for Nashville as the season went on and posted a league-high +13.19 GSAx since New Year's Day. This likely explains why the Predators' point percentage got better as the season went along.
At 40-1, the line implies Nashville has only a 2.4% chance of winning the Stanley Cup. I have them closer to 3.3% and would play them at 30-1 or higher.
[Bet the Nashville Predators at FanDuel. NJ, PA, CO, IN and WV only.]
Steve Petrella
Dallas Stars (+1600)
I've taken some fliers on the Hurricanes and Wild as well, but there's one team I think should be grouped with the Blues/Avs/Knights.
The Dallas Stars, the only other group that doesn't have to play a qualifying series in the West. This team took the Blues to overtime in Game 7 of the second round last year, and returns largely the same group. They also finished the regular season fifth in expected goal share at even strength (Natural Stat Trick).
The Stars have three elite defensemen that most people don't know enough about, a goalie in Ben Bishop who ranks fifth all time in save percentage and has been terrific in two seasons in Dallas, and a very capable backup who won't miss a beat if Bishop goes down (he's been known to do that, after all).
Dallas doesn't quite have the offensive depth of Vegas or St. Louis, but the Stars do have elite scoring at the top and capable special teams.
I think they should be priced in the 12-1 range, so I'd grab 16-1 at FanDuel and play it down to 15-1.
[Bet the Dallas Stars at FanDuel. NJ, PA, CO, IN and WV only.]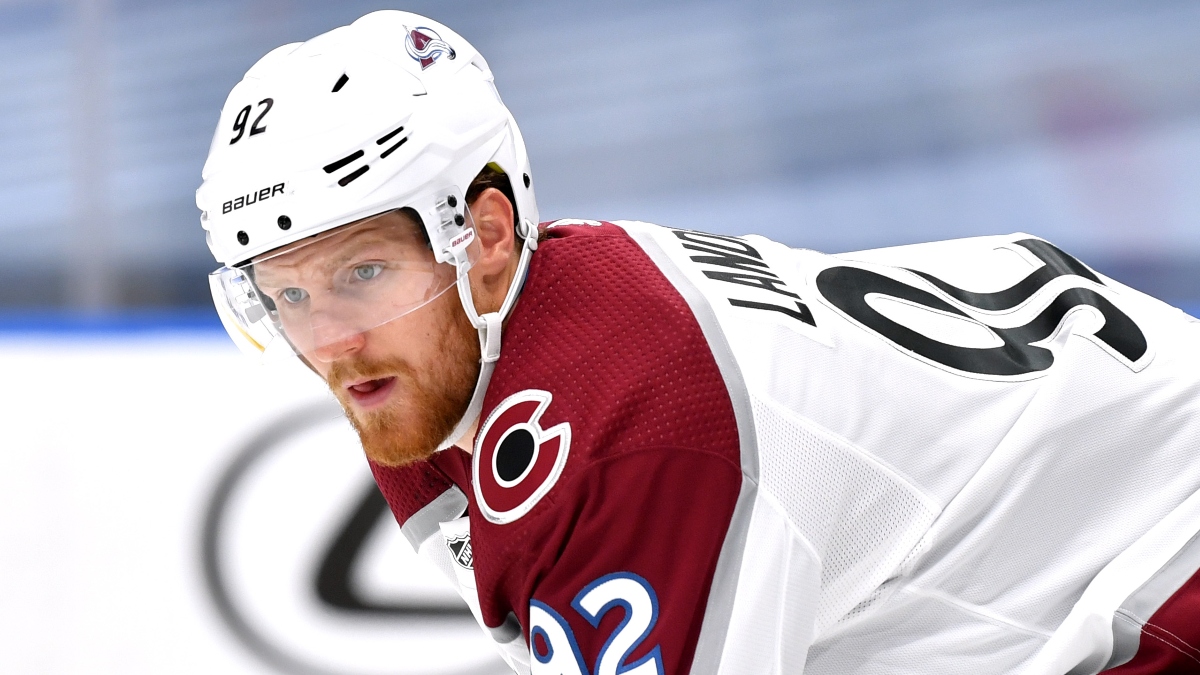 Conn Smythe Picks
Michael Leboff
Kevin Fiala, Minnesota Wild +12500
I made three Conn Smythe bets. Two of them, Brad Marchand (33-1) and Mark Stone (40-1), I'd consider "safe" and one of them (this one), I'd consider fun.
I've already made my case for the Wild above, so now let me make my case for their most exciting forward, Kevin Fiala.
Because of his relative anonymity and the Wild's long odds to win the Cup, Fiala is not likely to win this award. But I can't help but be drawn to Fiala at these odds.
If the Wild do go on a run, I'd expect Fiala to play a key role. The 23-year-old led Minnesota in points, finished second in goals and his underlying metrics were also strong as Evolving Hockey ranked him second on Minnesota in Expected Goals Above Replacement (xGAR, which measures how many goals a player is worth to his team compared to a replacement-level player) behind defenseman Jared Spurgeon.
Obviously a nearly impossible amount of things need to go right for Fiala to be in the Conn Smythe conversation, but betting is supposed to be fun, right?
[Bet now at BetMGM. CO, NJ, IN and WV only.]
Steve Petrella
Mark Stone, Vegas Golden Knights +4000 
What do we know about the Conn Smythe?
It goes to a player on the winning team
It goes to elite, brand-name players
It's gone to forwards about half the time
11 skaters have won since the lockout; seven have been elite two-way players
| Position | Wins | Percentage |
| --- | --- | --- |
| C | 17 | 34.7% |
| RW | 7 | 14.3% |
| LW | 2 | 4% |
| D | 10 | 20% |
| G | 13 | 27% |
| Total | 49 | |
In the last 40 years, I'd argue that only twice did a non-elite player or non-scorching-hot goalie win — Justin Williams in 2014 (and he's captain clutch, after all), and Claude Lemeiux in 1995.
All the elite centers are priced too low for my liking. I thought about Avs defenseman Cale Makar at 100-1, but he's still not 100% healthy. And I wouldn't blame anyone for picking off rogue numbers on Andrei Vasilevskiy (60-1) and Carter Hart (65-1) at DraftKings, two goaltenders on teams that have a real chance to win the Cup.
But I'll go with Stone at 40-1 at BetMGM. A lot of models make Vegas the Cup favorite, and he honestly doesn't face much internal competition as a Marchand, Kucherov or MacKinnon.
The Knights don't have a brand-name defenseman to steal votes, their top center William Karlsson isn't a household name either, and Stone will be playing in every key situation, a huge key to winning this award. If Marc-Andre Fleury gets red-hot and wins it, so be it, but he's not even the best goalie on his team.
He's sixth in the NHL in expected goals above replacement (per Evolving Hockey) over the last four seasons, and can score in bunches. He's sacrificed a little defense for offense since getting to Vegas, but the hockey community at large still thinks he's an elite two-way player, and it's so hard to quantify defense with the eye test that it won't affect him much anyway. That perception will exist when it comes time to vote for the Conn Smythe.
The Knights are so good thanks to the sum of their parts, but Stone is the obvious standout on both ends of the ice. A lot of the other Stanley Cup contenders — Boston, Tampa, St. Louis, Philly — have a bunch of names who can win it, and it's too hard to pick from.
So I'll go with the best player on the Cup favorite at a better price than his contemporaries.
[Bet now at BetMGM. CO, NJ, IN and WV only.]
Sam Hitchcock
Gabriel Landeskog, Colorado Avalanche (+5500)
I love betting on the captain of the Avalanche to win the MVP of the playoffs for several reasons. First, unlike the odds for Philadelphia's Sean Couturier or Edmonton's Connor McDavid, which are far lower, Colorado could plausibly win the Stanley Cup.
Should the Avalanche win it, the likely Conn Smythe candidates are Nathan MacKinnon, Mikko Rantanen, Cale Makar, and Landeskog.
To start the round robin, MacKinnon is playing with Mikko Rantanen and Andre Burakovsky. This is inauspicious for MacKinnon's scoring output. MacKinnon will be assuming the defensive duties Gabriel Landeskog usually undertook, sapping MacKinnon's ability to lead the transition.
This could lead to big offensive numbers for Rantanen, but there are health concerns with the dynamic right wing. Rantanen only played 42 games this season because of two injuries, at first to his lower body and then his upper body. If Rantanen has to miss time in the playoffs, that probably submarines his chances.
Makar is incredible, but he also missed time, in training camp, and he is a rookie and a defenseman. Two defensemen have won the Conn Smythe since the NHL lockout. It rarely happens.
Which leaves Landeskog, a dominant presence who was over a point per game in 2018-19 and had a strong 2019-20 campaign, leading the Avs in high-danger chances per hour at 5-on-5 and finishing behind only Valeri Nichushkin in expected goals percentage.
For better or worse, NHL awards are about narrative. Landeskog fits neatly into the exceptional, two-way archetype, a mold that rewarded Ryan O'Reilly with the Conn Smythe Trophy last year and Justin Williams in 2013-14. At +5500, this pick has great value.
Pete Truszkowski
John Tavares, Toronto Maple Leafs (+7500)
As Steve pointed out above, this award goes to a forward on the winning team more often than not and being "clutch" is a huge deal.
We know Toronto has the talent to win the Stanley Cup. The Leafs had the fourth-lowest odds at BetMGM in September and there were plenty of people  who were buying the hype.
The question is whether or not the Leafs have the defensive ability to win a Stanley Cup and it's also impossible to know what style of hockey we're going to see in these playoffs.
Usually, after a long layoff and fresh out of training camp, you get sloppy, high-scoring hockey. October traditionally is the highest scoring month in the league every season.
Everyone knows that when the playoffs come around, whistles are swallowed, teams do everything to prevent mistakes, and coaches have perfected their defensive system.
If we get early season, wide-open hockey, there is no team that benefits more than the Maple Leafs. They have an incredible offense, scoring 3.39 goals per game which is third-best in the league.
Personally, I think the lack of crowd as well as the four and a half months without hockey will make mistakes more common, intensity a tad lower, and increase scoring compared to normal playoffs.
Now, we know these awards about narratives and if the Leafs get through the tournament the media will be in a tizzy. Tavares is a hometown kid, this is his first year as captain and he was brought in to Toronto to be the final piece of the team that was supposed to break a 53-year drought.
Tavares has had clutch moments in his playoff career. He didn't play in a huge amount of series with the Islanders, but when the team was there, he seemed to score a lot of their big goals. He tied the game in the final minute of Game 6 against Florida in 2016. He then scored in double overtime to give the Islanders their first series win in 23 years. He scored other game-winning goals over the course of his scattered playoff series.
He's a great player with a nose for the net, so it makes sense that he would be in the right place at the right time.
I think the Leafs have a chance and at 75-1, I am taking a shot on their captain to complete his dream (and break the soul of Islanders fans everywhere).
[Bet now at BetMGM. CO, NJ, IN and WV only.]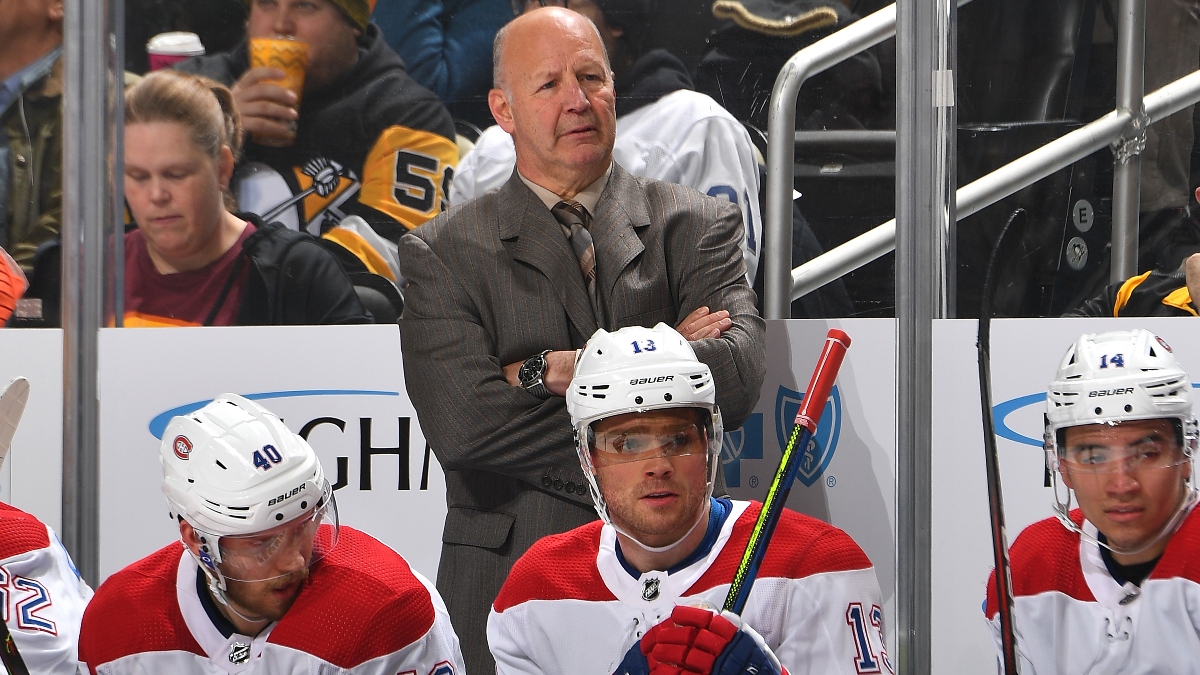 Qualifying Round Series Bets
Michael Leboff
Montreal Canadiens (+195) over Pittsburgh Penguins
There are a lot of people validly pointing out that it's hard to wrap your head around any team being listed this high considering the circumstances we're in. While I agree with that notion, I also am a believer in the Canadiens.
That's because Montreal's underlying metrics, specifically its 54.14% expected goals rate (5-on-5), are right up there with the league's elite teams. Only Vegas and Tampa Bay bested that mark in the regular season and only Vegas and Carolina produced more than Montreal's 2.66 expected goals for per 60 minutes.
Additionally, only five teams spent more time with a lead than the Canadiens in 2019-20 and all of those teams finished inside the top four of their respective conference.
The Habs weren't spectacular defensively in the regular season but their 2.26 expected goals against per 60 minutes at 5-on-5 was still in the top third of the circuit. Like their offense, I think the Habs' defense is better than people think and can compete with Pittsburgh's deep forward group.
The Penguins are finally healthy, but this is a very tricky series to navigate and the Canadiens should be able to hang tough. At +195, that's all you're asking.
Steve Petrella
Montreal Canadiens (+195) over Pittsburgh Penguins
I refuse to believe that any team in this tournament of unknowns should be this big an underdog to advance. Especially one who has much better underlying metrics than most people realize.
Montreal finished the season third in expected goals (Evolving Hockey) and second in expected goal differential. So why are the Habs the final team in? They finished 26th in shooting percentage (part lack of skill, part bad luck) and had below average special teams on both sides.
Getting nearly 2-1 is too good to pass up. There are plenty of +190's out there, and I'd play it down to +180.
Pete Truszkowski
Chicago Blackhawks (+156) over Edmonton Oilers
FanDuel is the only place where you can still get better than +155, but +145 is still universally available and I like Chicago at that number, too.
At +145, the implied probability is under 41% and this series is a lot closer to a coin flip in my opinion than many people want to think. I give Edmonton around a 54% chance to win the series; which means I take anything over +125 for Chicago.
The fact of the matter is that both of these teams are below average teams in terms of underlying metrics. Edmonton was the 21st-best team in terms of expected goals, while Chicago was even worse at 26th.
In terms of shot attempts, Chicago was 22nd-best and Edmonton was 27th-best. In terms of rate of high-danger chances, Edmonton ranked 20th and Chicago was 29th. Both these teams are poor defensive teams. Chicago gives up the most expected goals/60 in hockey. Edmonton is a bottom-10 team in that metric.
In terms of actual production, Chicago scored 50% of the goals in their games at 5-on-5. Edmonton could not even break even in that same category, scoring just 47.32% of the goals when they were at even strength.
Goaltending is where this series favors Chicago. The Blackhawks probably wouldn't have traded Robin Lehner at the deadline if they knew that a global pandemic was coming and they'd have the opportunity to potentially make the playoffs.
Even without Lehner, Corey Crawford had a great season and is a much better option than either of Edmonton's options. Crawford is the fourth-best goalie in goals saved above expectations according to Evolving Hockey.
Note: Crawford just recovered from a battle with the Coronavirus, but he has traveled to Edmonton and pitched a shutout in Chicago's warm-up game, so he should be good to go. If for some reason he doesn't play, Chicago is no longer appealing at all.
Edmonton has split games between Mikko Koskinen and Mike Smith throughout the season. Koskinen has been the better option. He has allowed about 5 goals less than expectation, while Smith has allowed 6.5 more than expectation. Neither goalie compares favorably to Crawford, but if Smith gets the call for the Oilers, I'd feel even better about this wager.
So how exactly did Edmonton achieve so much success this season? They have Connor McDavid and Leon Draisaitl, for one. But they also had the best power play in the league, and the second-best penalty kill in the league. Their power play goals scored/penalty goals allowed ratio is the best any NHL team has had in over a decade. Chicago did have a top-10 penalty kill, so the hope is that they can slow the Oilers power play down.
[Bet now at FanDuel. NJ, PA, CO, IN and WV only.]
Sam Hitchcock
Columbus Blue Jackets (+148) over Toronto Maple Leafs
Despite gobs of skill at the forward position, the Toronto Maple Leafs had an underwhelming regular season. Toronto's parts did not make a whole, which is why the universally available +140 is such a tasty option with the Columbus Blue Jackets. They are the NHL's overachievers.
Despite losing a Hart Trophy nominee and a two-time Vezina Trophy winner before the start of the 2019-20 season, the Blue Jackets had an identical record to the Leafs. How, you ask? Because, even without a player who exceeded 50 points, the Blue Jackets minimized mistakes and strung together victories with strong defense.
The Blue Jackets finished behind only Minnesota and Boston in Expected Goals Against per 60 minutes and only Minnesota allowed fewer high-danger scoring chances per hour.
Columbus coach John Tortorella is still deciding who to start at goaltender: Elvis Merzlikins or Joonas Korpisalo.
Fortunately for those betting on a Leafs' collapse, Toronto goaltender Frederik Andersen had a worse Goals Saved Above Expected (GSAx) than either Columbus option. Having said that, if Merzlikins plays the majority of the time, the Blue Jackets could have a significant edge.
During the first 23 games of the season under coach Mike Babcock, the Leafs ranked just outside the top-five worst in Goals Against per 60 minutes at 5-on-5. Toronto's mighty offense produced at an expected goals' clip that was behind the Anaheim Ducks and matched the Chicago Blackhawks. The sky was gray.
Then Babcock was canned and Sheldon Keefe took over and the Toronto offense transformed. Toronto boasted the second-best Expected Goals Rate over the ensuing four months.
But their pesky defense never crystalized. Their Goals Against per 60 minutes (GA/60) improved by a small degree – from 2.84 to 2.68 – while the xGA and high-danger chances got worse. Scream it from the rooftops: The Leafs' road to a Cup could only be paved by outscoring their opponents.
This feels like a straight-to-video sequel, only with the Maple Leafs as the new foil in lieu of the Lightning. Like last April, the Blue Jackets face a transition-heavy offensive juggernaut.
Again, Columbus will clog the neutral zone and take away the Leafs' high-end forwards' speed. If Toronto falls behind, Columbus will exercise a vise-grip with an indomitable defensive structure that will erode Toronto's scoring chances.
I don't think the Leafs have the patience and versatility to best the Blue Jackets.
How would you rate this article?