Monday NHL Betting Odds & Picks: Hurricanes-Maple Leafs, Avalanche-Knights and More
Credit:
Stephen R. Sylvanie, USA Today Sports. Pictured: Shea Theodore
The NHL will head into its annual holiday break on Tuesday, but before we celebrate with our loves ones, we get to sweat out a 13-game slate that takes us from 2 p.m ET past midnight. Talk about a beautiful way to spend a Festivus.
Let's dive into the action.
---
Odds as of Monday morning and via FanDuel, where Action Network users get a risk-free bet up to $500.
---
Carolina Hurricanes (-105) at Toronto Maple Leafs (-115) | Over/Under: 6
2 p.m. ET
The Maple Leafs have found their game under head coach Sheldon Keefe, winning 10 of 14 games since the 39-year-old took over behind the bench for Mike Babcock.
Fourteen games is still a very small sample, but everything seems to be clicking for Keefe's Leafs. The Leafs have earned 55.9% of the expected goals in Keefe's first 14 games and their offense is finally starting to look like we all expected it would this season. Toronto leads the NHL with a 2.92 expected goals for per 60 minutes (5-on-5) since Nov. 21.
While the Buds seem to be playing a more complete game since the changing of the guard, there still seem to be some kinks to work out on defense as the Leafs are allowing the seventh-most high-danger scoring chances per 60 minutes over the last 30 days.
Toronto is always comfortable relying on its elite talent to outscore its opposition, and that will work against weaker opposition, but the Hurricanes are not a team you want to invite to a track meet. The Canes lead the NHL in expected goals rate (55.1%) and high-danger scoring chances for per 60 minutes (12.2).
The Hurricanes offense is terrific, but they also boast a sturdy defense that does a great job of limiting quality scoring chances.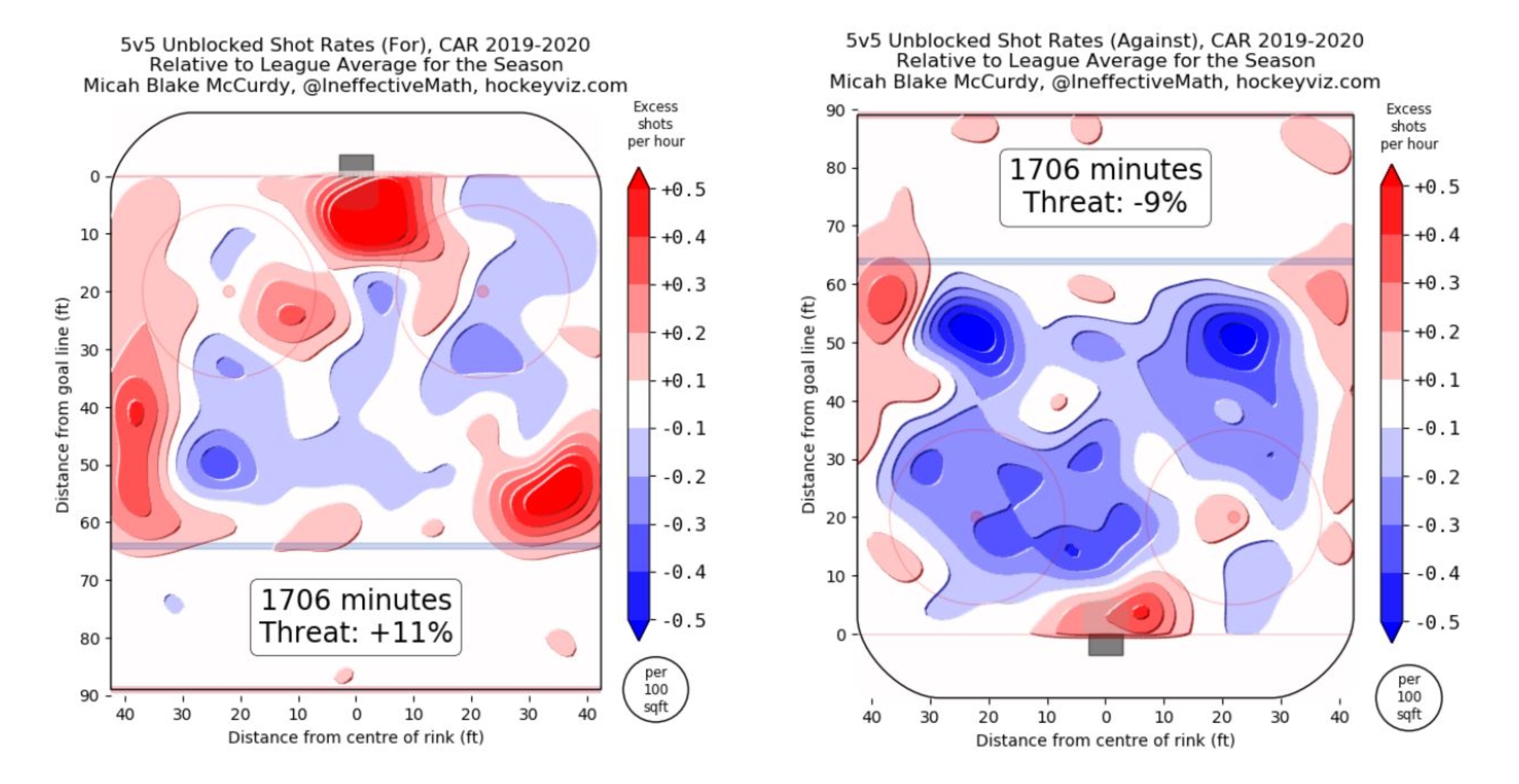 There aren't many teams that can match Toronto's firepower, but Carolina is one of them. Not only that, but the Hurricanes' defense is good enough to make life tough on the Buds' stable of talented goal-scorers.
The Leafs have home-ice advantage, but Carolina has a bit of a schedule advantage with Toronto playing its third game in four nights. The listed odds imply that the Maple Leafs would be a slight favorite over the Hurricanes on neutral ice, which I think flatters Toronto.
Things are going well for the Leafs, but +110 or better is a good number for Carolina.
Columbus Blue Jackets (+155) at New York Islanders (-180) | Over/Under: 5.5
If you wanted to — if you really wanted to — you could make an argument that the Columbus Blue Jackets have been one of the NHL's pleasant surprises this season.
That's weird to say about a team that is seven points out of a playoff spot, but the truth is that Columbus is playing as well as any team in the league over the past few weeks. Since Nov. 21, a span of 16 games, the Blue Jackets have controlled a ridiculous 58.9% of the expected goals, the best mark in the league over the last month.
It's no secret how the Blue Jackets try to play. Given their lack of scoring punch and shaky goaltending, Columbus sells out to suppress scoring chances against.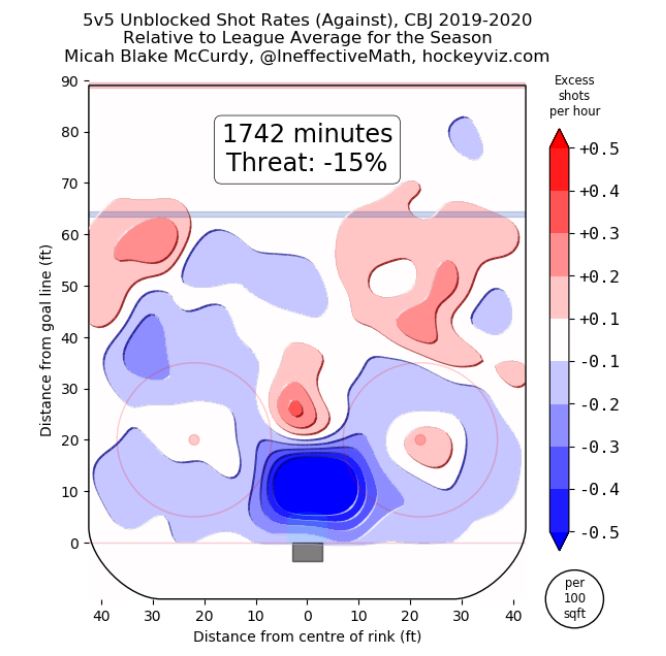 The New York Islanders also play a well-structured game, but the Isles have earned just 47.1% of the expected goals at 5-on-5 in their last 15 games. The Islanders are very good at turning games into coin flips and grinding out results, but the Blue Jackets are happy in that type of environment, as well.
If you look at the records, this line makes sense. The Islanders have seven more wins and 11 more points than Columbus does, so why wouldn't the Isles be chalky on home ice? In reality, there's not all that much separating these two teams right now, especially with the Islanders dealing with some injuries.
The Blue Jackets are severely lacking scoring talent and missing a bunch of key players, but this still projects to be a low-event game and that should provide some value on the underdog at Nassau Coliseum.
Considering how well they play at 5-on-5, there's always a reason to back the Jackets at these kind of prices, even if they are dealing with a litany of injuries.
Colorado Avalanche (-110) at Vegas Golden Knights (-110) | Over/Under: 6
On the surface, it finally looks like the Golden Knights are putting things together, but the truth is that Vegas has been playing terrific hockey all season long. The results just haven't been there.
The Knights should be scoring a lot more at 5-on-5. They are generating 2.75 expected goals per 60 minutes but only scoring 2.35 goals per hour at even strength. Vegas is only scoring on 7.2% of its shots at 5-on-5 despite creating the second-most high-danger scoring chances per 60 minutes this season.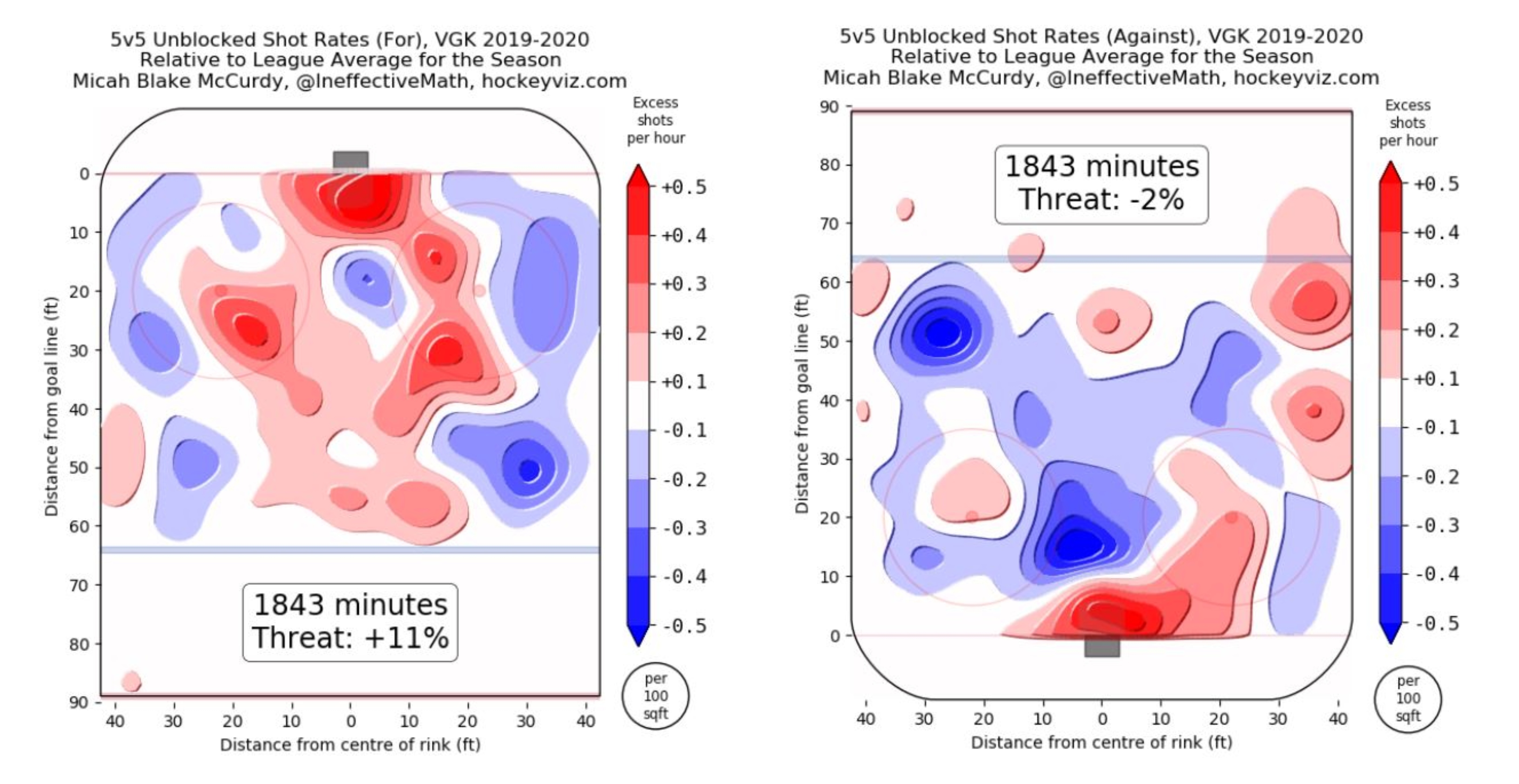 Colorado has established itself as one of the big fish in the Western Conference, but there isn't that much separating these two teams. Vegas has the better 5-on-5 numbers, but Colorado has as much high-end talent as any team in the NHL.
Vegas is playing for the second night in a row, but this is Colorado's fourth game in six nights, so I'm not concerned about the schedule spot for the Knights.
The listed odds would make Colorado around a -130 favorite on neutral ice, which is probably a little too high. The Avs are great, but the Knights are right there with them. I'm looking to play Vegas at -115 or better.
Other Plays
I'm also looking to play the Montreal Canadiens against the Winnipeg Jets. The Jets are out-performing their underlying metrics by quite a bit thanks to some terrific goaltending and hot shooting. The Habs, on the other hand, are getting the short end of the stick.
Over the past month, Montreal has a +0.5 expected goals differential (per 60) but a -0.5 goal differential. The Habs are between +105 and +115 around the market. Make sure to try and get the best price, but anything at +110 or better is in range. Update: With Laurent Brossoit announced as the starter for the Winnipeg Jets, I think the Canadiens have value down to -105.
The Ottawa Senators continue to impress this season. The Sens are 15-18-4, but their expected goals is above 50% on the season and over the past month Ottawa has the 10th best xG%.
The Senators are home underdogs against the Buffalo Sabres on Monday, which would make sense if you just at the records, but these teams are a lot closer than they appear in the standings. I'd play Ottawa at even money or better.
The St. Louis Blues have 18 more points than the Los Angeles Kings, but it's the Kings that own the better statistical profile. Los Angeles ranks seventh in the NHL with a 52.9% expected goals rate, fifth in high-danger chance percentage and sixth in shot share. If the Kings had more scoring punch and better goaltending, they would be in the mix in the Western Conference.
As for the Blues, they are succeeding thanks to some stellar goaltending. St. Louis has won five in a row and is 7-3 in its last 10 games, but the Blues are still struggling at 5-on-5. I'll take a shot on Los Angeles as a home underdog against the defending champs.
How would you rate this article?