Flames vs. Senators NHL Odds & Picks: This Favorite Is Worth the Price (Monday, March 22)
Credit:
Brett Holmes/Icon Sportswire via Getty Images
The Senators are fun and carefree, but the Flames' playoff ambitions should steer bettors toward them.
At a stiff price, Sam Hitchcock explains why Calgary is the play on Monday night.
Flames vs. Senators Odds
Flames Odds
-162
Senators Odds
+139
Over/Under
6.5
Time
Monday, 7 p.m. ET
TV
TSN5
Odds as of Sunday evening and via DraftKings
On Monday, two teams at different points in their life cycles converge. The Calgary Flames had their mid-life crisis, and a coaching change from Geoff Ward to Darryl Sutter communicated the obvious: Things needed to improve or else. The Ottawa Senators, meanwhile, are a team with nothing to lose. They started out as a punching bag, getting pummeled by their North Division peers. But that has changed, and now they pack a peskiness that makes them a viable competitor in every game, goaltending permitting.
Moneylines for favorites right now range from "aggravating but acceptable" to "gag-worthy." Calgary at -162 on DraftKings falls under the former — a pricey but necessary choice. Let's dig into why.
Calgary Flames
A favorite conceit of Rod Serling's Twilight Zone is, "Be careful what you wish for."
The Ward-coached Calgary Flames were unmoored, plagued by inconsistency. He was replaced with Sutter so that structure would be inculcated. A half-dozen games into the Sutter experiment, and we can comfortably make several assertions.
The Flames are certainly forechecking more. The star players' minutes are down as ice time is more balanced. And, maybe most prominently, the Flames are allowing 25.7 shots per 60 minutes at 5-on-5. But although the Flames' split their series with the Maple Leafs, it revealed what Calgary looks like when the Sutter style of play founders.
Toronto finished the two-game series with 64.35 expected goals percentage. Calgary posted a woeful 29.63 high-danger chances percentage. Many teams are determined to direct-pass the puck out of the defensive zone at all costs, but a Sutter-coached Flames squad that puts such value on the forecheck feels no such compunction about chucking the puck from its end. Possession can be worried about later.
Unfortunately, that mentality cost Calgary against the Maple Leafs.
Toronto had great success on its neutral-zone regroups and counterattacks against Calgary, and when Brett Ritchie chipped the puck out of the defensive zone in Game 1, it led to a Jason Spezza goal. In Game 2, we saw Zach Hyman convert off Ritchie punting the puck from the defensive zone.
Truthfully, the defensive and neutral zones were calamitous for Calgary for much of both games, as the Flames struggled to exit their zone and box out the Toronto skaters around the crease. While falling into neither of the aforementioned buckets, the Alexander Kerfoot goal in Game 1 can be classified under forgettable defensive moments as Rasmus Andersson submitted possibly the worst gap of any defender on a depth forward this season — at least in any game I have watched.
More than likely, the Maple Leafs could just be a bad matchup for the Flames. Calgary's offense is predicated on forcing turnovers off the forecheck and cycling, and Toronto parried that scheme well. The Ottawa Senators will be more accommodating. In the month of March, only Anaheim, Los Angeles and Arizona have allowed more high-danger chances per hour.
The Senators can get reckless with the puck and loose in their defensive coverage, which is concerning because they are now claiming goaltenders off waivers because they are in such desperate need of help between the pipes with their first three (!) goaltenders injured.
If your memory of Anton Forsberg — Ottawa's prospective starting goaltender for Monday — is a little fuzzy, you can be forgiven because his last NHL appearance was in March of 2020. That's right: Forsberg hasn't played a single NHL game since the COVID pause. In his three games in 2019-20 for Carolina, he finished with a -1.57 Goals Saved Above Expected (GSAx).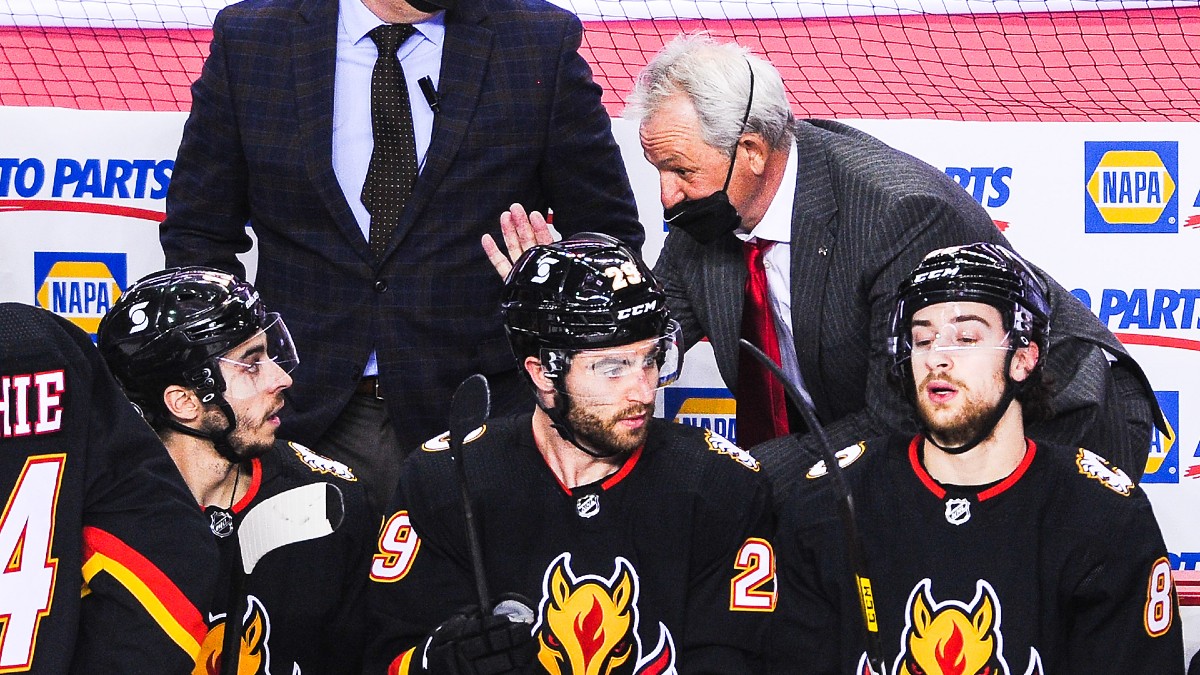 Sutter can fix the Flames' breakout and defensive coverage woes, but on the offensive end, he needs to immediately stop playing Brett Ritchie on the first line — Sutter is old school and wants to have a grinder with the finesse players, but the experiment has been a failure.
Over the six games since Sutter arrived, Ritchie, Sean Monahan and Johnny Gaudreau have played 65:55 together at 5-on-5 and the results are dreadful. They're allowing more shots (three) than they are producing (zero) and opponents have generated four more high-danger chances than they have.
Gaudreau and Monahan are both floundering offensively, although their struggles predate Sutter, and Ottawa is a perfect opponent to get them to rekindle their scoring at 5-on-5. With a new wing, that possibility could be realized.
---
Expected goals (also known as xG) is a predictive statistic that gives an indication of whether results are based on sustainable factors like a steady creation of scoring chances, or whether it is down to aspects such as shooting luck or outstanding goaltending.
Simply put, an expected goals rate (xGF%) above 50% is considered good because it means a team is creating the majority of the scoring chances. Anything below 50% is usually a sign that a team is struggling to control play.
xG numbers cited from Evolving Hockey.
---
Ottawa Senators
A lot of anger from the old and crusty toward the young stems from envy. The frolicking exuberance of the Senators' inexperienced, nascent core is infectious. The Senators have a poor record, but they can zip the puck around and maintain a tempo that is admirable. Over the horizon, one discerns hope.
Still, as of late March 2021, the Senators are highly flawed. They have the worst goal differential in the NHL, and they currently have rookie Josh Norris and depth forward Chris Tierney as their No. 1 and 2 center. Thomas Chabot and Nikita Zaitsev are their top defensive pairing, and in the month of March, their expected goals against per hour is 2.63, which is outrageously poor.
This matchup pits the wonderfully eccentric Tkachuk brothers against each other. Ottawa forward Brady Tkachuk is the gem of his squad, leading the NHL in shots and individual expected goals. But the Flames have two highly capable defensive pairs to utilize against him.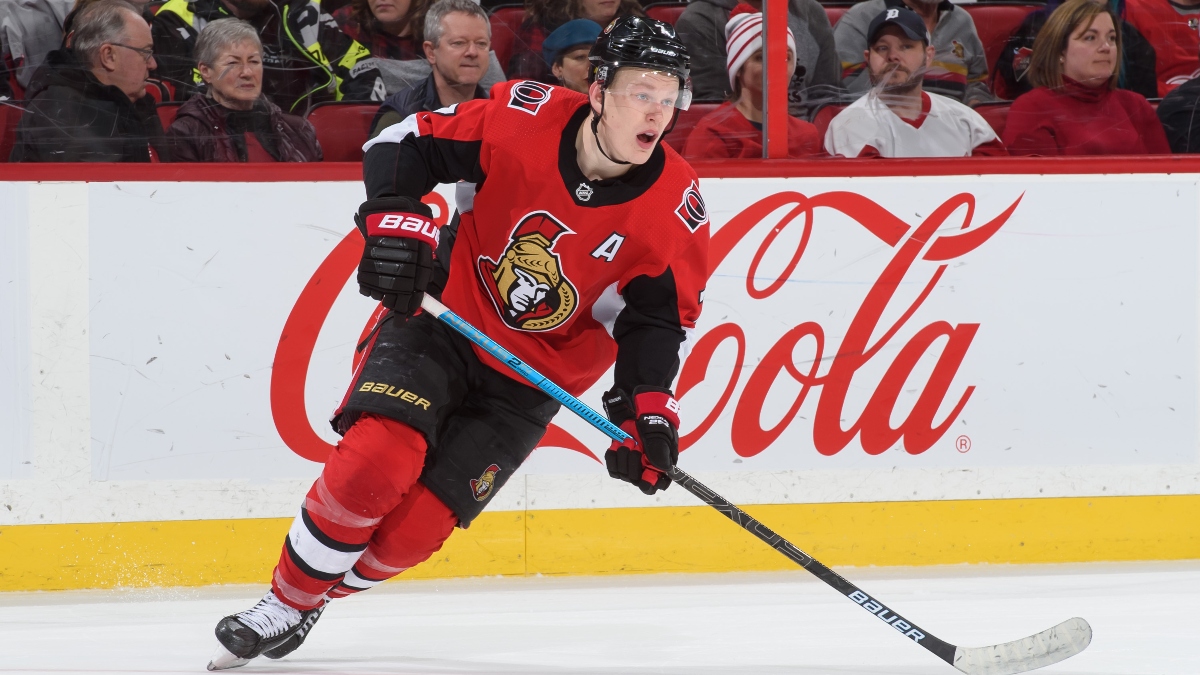 The Flames' Chris Tanev and Noah Hanifin pairing has had notable success against Brady Tkachuk in its five meetings against him. When Tkachuk has been with Connor Brown, the Senators haven't scored a goal against that pairing and only mustered two high-danger chances. Ottawa has last change, so they can try to move Tkachuk away from that pairing. But he hasn't dominated against any prospective Calgary pairing.
It is likely the Flames will try to employ the Maple Leafs' tactic of trying to play at a breakneck speed with the hope of spending as little time in their own end as possible. Sutter has been adamant that he wants his stars and team to play faster, but I think the slower this game is, the better it is for the Flames.
---
Betting Analysis & Pick
As much as I appreciate the joie de vivre of Ottawa's young nucleus, Calgary is vying for a postseason berth in a highly competitive division. With Ottawa's goaltending situation as dire as it is, and Calgary's depth a significant advantage, I advocate the favorite at -162 on DraftKings with their postseason hopes in the balance.
Pick: Flames (-162)
How would you rate this article?
This site contains commercial content. We may be compensated for the links provided on this page. The content on this page is for informational purposes only. Action Network makes no representation or warranty as to the accuracy of the information given or the outcome of any game or event.