Locky's Stanley Cup Playoff Round 1 Preview: Using Predictive Trends to Find Value
Credit:
James Guillory, USA Today Sports.
If this were one of my multitudes of first-period posts from the last few months, I'd open with "Good morning!" and then we'd chit-chat a bit.
But no time to chat now. This is a very exciting time, and there's a lot to get to, because the Stanley Cup Playoffs start Wednesday night.
I don't have anything to offer you in the way of player analysis, narratives about each team, what I'm hearing from coaching staffs or in the media, or even the X's and O's of what each team will do to succeed.
I don't know any of that. I haven't watched a hockey game this year. Not one. But that didn't stop me from winning crazy sums of money betting first periods, did it?
So I'd at least consider the possibility, if I were you, that by not watching, your brain is immune to the biases that can affect the super-fan, who consumes media and game content on a daily basis. Mainstream TV and print media thrives on narrative, of convincing you something is afoot when really it may just be randomness masquerading as a compelling story.
"This team is clutch."
"These guys are chokers."
"This is a must-win, do-or-die situation."
"I trust them because they've been here before."
"This is the start of something for this team, they're turning it around."
Mostly all nonsense. For me, these are pretty much just games between "Team A" and "Team B." Their name is irrelevant. For the most part, so is their history outside of this season. So what does some research and a spreadsheet tell us about the first-round match-ups and where value may lie?
Eastern Conference
Tampa Bay (-380) vs Columbus (+315)
Here's a price that can't stop going up, and why should it stop? There have been 40 first-round playoff series since the NHL realigned it's whole structure in 2014-15, and there isn't really a "comp" for this series.
Not only do the Bolts have the best goal differential (+103) since the playoff format changed, but this is also the biggest disparity between goal differentials (77) and points (30) in that span.
Just from those raw statistics, we've never seen a mismatch on this level.
SRS, a metric used on sites like Hockey Reference to rate teams factoring in strength-of-schedule, establishes a rating of 0 as average. It's another metric that's just supposed to tell you how good a team is. No team in the last six seasons has had a rating above 1.0 (Washington was a 0.99 a couple seasons ago). Tampa is a 1.21. This is unprecedented.
In match-ups where there is this big of an advantage, the length of the series is actually not really predictable (at least I can't find a way to predict it), only that it most likely will not go seven games.
Ten teams in this post-realignment era have been -200 or more in a first-round series; all 10 have won, and none have gone the distance. Teams with an SRS margin better than 0.5 vs. their opponent in this era are 5-0, and none have gone to Game 7. Teams with a goal difference of 50 or better are 5-0, and none went to a Game 7. You get the idea.
All series outcomes have a non-zero chance, because that's kind of just the nature of professional sports, but the likelihood of anything but Tampa in 4-5-6 is microscopic.
They are as close to a lock as you get in the sport, even if there can really be no lock.
Bet : Tampa -380; use Tampa's series ML in parlays with other series prices.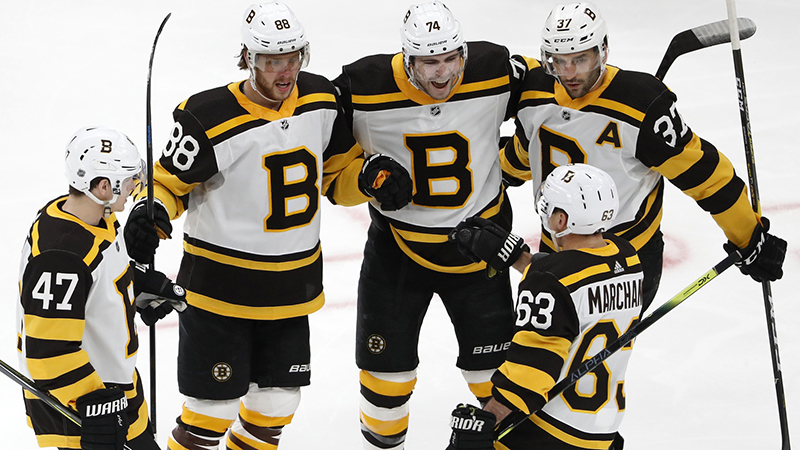 Boston (-160) vs Toronto (+140)
Again, I don't watch games, but this appears to be a situation where people are afraid to bet Toronto, because from what I understand the Leafs let people down on a regular basis. These teams played last year and Toronto lost in Game 7. That's probably something people are remembering.
The ratings of the teams in virtually all statistics are incredibly similar. They had very similar regular seasons. In a lot of more specific statistical areas Boston has an advantage but it's minuscule. When adding home-ice advantage, that's how you arrive at a number in this area.
Of all the road teams (five of which are underdogs) in this round, Toronto has the best SRS rating (0.42, which is excellent), but it is also playing one of the very few possible opponents with a better statistical profile.
It's bad luck for them, and it doesn't seem to create any edge that makes me want to bet this series. Toronto or pass for me, and I think I'll just pass.
Bet: None (Pass)
Washington (-155) vs Carolina (+135)
There are advantages for Carolina in this series, and the fact that the Capitals won last year so improbably may be factoring into why they are getting credit here. It's the "they've been here before" thing.
Carolina has an advantage in both Corsi-differential and expected-goals differential over Washington. In the post-realignment era, teams owning both advantages are 12-5 in the first round. Teams with an expected-goal-margin advantage of 0.25 or greater are 12-6 in the first round. Carolina qualifies.
The problem with Washington is that their opponent last year in the first round, Columbus, owned all of these advantages against them, and even won the first two games of the series in Washington (which I'm sure confirmed for a lot of people that Columbus was indeed the better team).
And then everything flipped, and sometimes sports are crazy. This year, at a minimum, the margins between the teams are very small. I think the underdog is worth a bet here vs. an overvalued champion.
Bet: Carolina +135
Pittsburgh (-145) vs NY Islanders (+125)
This is another situation where a team's reputation is causing people to drive up their price. These are the most closely-matched pair of teams in the entire first round. Their goal differentials are literally the same. Their SRS ratings are both 0.38.
Pittsburgh has an expected-goal-difference advantage of 0.1. But as a road team, the Penguins are somehow favored, and it must just be purely based on history.
Well, the good news is, I don't really care what they've done the last few years in the playoffs, since I can't quantify that or use it in a meaningful way. And I only really care about their profile this year, vs. the profile of their opponent.
I think -110 each way would have been totally fair, but this is not. It doesn't mean the Islanders are going to win, just that I'd love plus-money on either side in this series, and if it's the home team, even better.
Bet: New York +125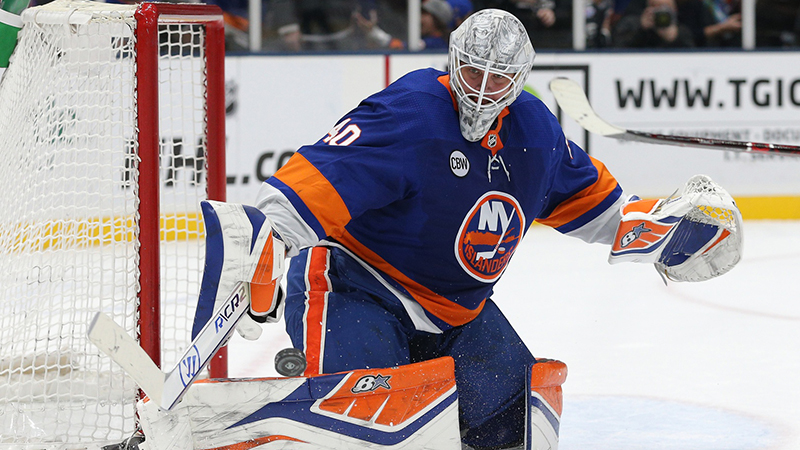 Western Conference
Nashville (-180) vs Dallas (+158)
I'm not sure based on profile that Dallas is a good team…at all. They seem to play low-scoring, small-margin games, and I'm not particularly confident that will translate well here.
Over the last five postseasons teams that accumulated 95 or fewer points (like Dallas) in the regular season are 1-10 in Round 1.
The Stars also boast a goal differential of +8, the lowest in this postseason. Teams with a single-digit (or negative) goal differential are 2-9 in the first round.
Dallas is also the lowest-rated team in terms of SRS (0.09). Again, I'm not sure the Stars are any good, and I'm getting just -180 on a team with home ice and a lot of statistical advantages against them. I will take that.
Bet: Nashville -180
Winnipeg (+100) vs St. Louis (-120)
Our second home underdog of these playoffs (a rarity when it occurs), but I think it's justified here. These teams had extremely similar seasons (both earned 99 points, very similar goal differentials), but St. Louis owns an advantage in both Corsi margin and expected-goal margin (and remember, that's a good thing, 12-5 last 5 postseasons).
The Blues also have a large expected-goal margin advantage (0.51, second-best in this postseason), and THAT is generally a predictor of playoff series success.
I wish Winnipeg was getting a little more credit for being the home team, but even at -120, I like a bet on St. Louis here.
Bet: St. Louis -120
Calgary (-200) vs. Colorado (+170)
Read everything I wrote for the Tampa series above, and note that Tampa is approaching -400. Calgary owns almost all the same advantages, just not QUITE on the scale of Tampa.
The Flames earned 17 more points in the regular season than the Avalanche. They also had a goal-differential advantage of 48 vs. Colorado, and have Corsi/Expected Goal margin advantages. They are at home. They have an SRS advantage of 0.53. It is wild to me that the price is this small. I love Calgary.
It's possible the reason for Colorado's small price is that they played really well to close the season, but performance in the final 10 games, and performance in the second half of the season, do not correlate to postseason success.
Last year, Vegas was 5-3-2 in their final 10 games and made the Cup Final. If you had bet according to the "hot" team last season, you'd have bet against Tampa and, in the first round in general, lost your shirt. Don't be fooled by the hot team.
Bet: Calgary -200
San Jose (-110) vs. Vegas (-110)
We end with a mess of a series. Two evenly-matched teams (duh I guess?) and Vegas is being given a little credit against the home ice of the Sharks. Why? Vegas owns Corsi and expected-goal margin advantages, although neither are particularly large.
Vegas (along with Dallas and Colorado) also qualified with fewer than 95 points, and in general those teams do extremely poorly. A battle of trends! I have no idea what's going to happen here, and neither outcome would be particularly surprising.
Bet: Pass
How would you rate this article?