NHL Trade Deadline Analysis: Vegas, Columbus Become Legitimate Contenders
Credit:
Marc DesRosiers, USA TODAY Sports. Pictured: Mark Stone, Matt Duchene
The Vegas Golden Knights and Columbus Blue Jackets greatly improved their teams at the NHL Trade Deadline.
The Lightning stood pat but remain the clear favorites to win the Stanley Cup.
Other teams like the San Jose Sharks, Washington Capitals, Nashville Predators and Winnipeg Jets bolstered their rosters at the Deadline.
The NHL Trade Deadline has passed and most of the big names on the market ended up moving.
Mark Stone (Ottawa to Vegas), Matt Duchene (Ottawa to Columbus), Kevin Hayes (New York Rangers to Winnipeg) and Wayne Simmonds (Philadelphia to Nashville) all were dealt to contenders, shifting the landscape of the race for the Stanley Cup.
Odds Movement
Despite big names swapping jerseys, there was actually very little odds movement after the dust settled on Deadline Day. The Blue Jackets were the only team to see a considerable jump thanks to their moves.
Even though they didn't make a move at the deadline, the Tampa Bay Lightning are still the clear favorites for the Stanley Cup. That is not expected to change from now until the spring.
A few teams should see their odds move, one way or another, in the coming weeks so let's see if we can make sense of what's happened and what we can expect.
Odds courtesy of the Westgate SuperBook. Pre-deadline odds current as of Feb. 21.
New York Islanders
Pre-deadline odds: 20-1
Post-deadline odds: 20-1
Acquisitions: None
Record: 36-18-7, 79 points (first in Metropolitan Division)
The Isles surprisingly stood pat at the deadline despite having cap space and a clear need for more scoring.
New York is almost certainly going to make the postseason but the Isles have a legitimate chance to win their first division title since 1988 this season so you have to wonder why they didn't make a move to better their chances at winning the Metro.
The Islanders will get Andrew Ladd and Thomas Hickey back from injured reserve this week and they do have depth in the AHL, but oddsmakers remain cautious about the Islanders.
At 20-1 the Isles are below Pittsburgh and Washington on the board despite being ahead of both of them in the standings.
Washington Capitals
Pre-deadline odds: 14-1
Post-deadline odds: 14-1
Acquisitions: Carl Hagelin, Nick Jensen
Record: 35-21-7, 77 points (second in Metropolitan)
The defending champions didn't make any flashy moves, but they did improve their depth over the deadline period by trading for Carl Hagelin and Nick Jensen.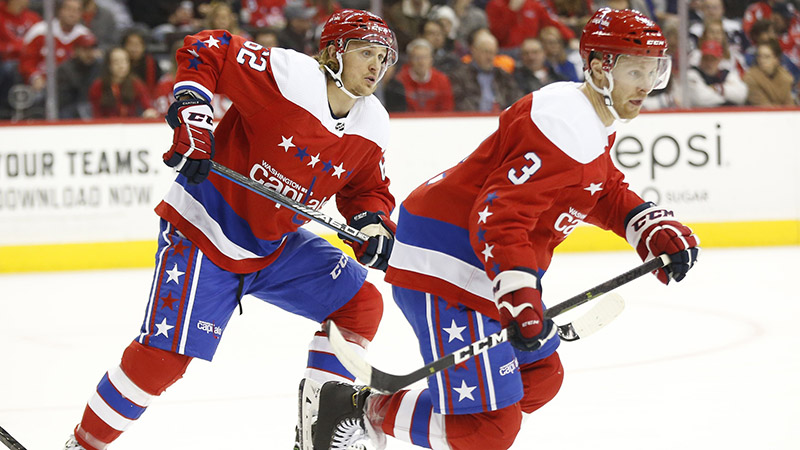 Neither Hagelin, a speedy forward who does his best work on the penalty kill, nor Jensen, a solid No. 5 defenseman, will move the needle but they are both the kind of deadline deals that end up being important for a stretch run.
The Caps' odds already flattered them, they are not nearly as goods as their price suggests, so it's not surprising that two moves that improved their depth didn't cause a stir.
Columbus Blue Jackets
Pre-deadline odds: 30-1
Post-deadline odds: 25-1
Acquisitions: Matt Duchene, Ryan Dzingel, Keith Kinkaid, Adam McQuaid
Record: 35-23-3, 73 points (Third in Metropolitan)
Of all the teams in the Eastern Conference, the Blue Jackets improved the most.
The Blue Jackets made four separate deals in the deadline period, acquiring top-six forwards Matt Duchene and Ryan Dzingel as well as bottom-pair defenseman Adam McQuaid and backup goaltender Keith Kinkaid.
Duchene is the headliner of that group and on his own he makes the Jackets a better team, but the group provides depth to a team that already has high-end talent all over the ice.
Even though the Jackets made waves with their acquisitions, the most important part of the deadline is that Columbus resisted the temptation to part ways with superstar winger Artemi Panarin or goaltender Sergei Bobrovsky, both free agents this summer.
It is clear that the Jackets are going for broke this season and are now have a legitimate chance to make a run to the Eastern Conference Finals.
Columbus' Stanley Cup odds adjusted from 30-1 (3.23%) to 25-1 (3.85%) after the deadline and, considering where Washington (14-1), Pittsburgh (14-1) and the Islanders (20-1) stand in the market, you can make a case that 25-1 is good value as the Blue Jackets are the best team of that bunch.
Carolina Hurricanes
Pre-deadline odds: 40-1
Post-deadline odds: 40-1
Acquisitions: None
Record: 33-23-6, 72 points (second Wild-Card spot)
Six weeks ago it looked like Carolina was destined to be a seller and would be busy finding a suitor for Micheal Ferland among other players.
A hot stretch over the winter changed all of that and the Hurricanes were happy to stand pat and hold on to Ferland, Dougie Hamilton, Justin Faulk and Brett Pesce.
Carolina's second-half resurgence makes them an intriguing team this spring and the Hurricanes will definitely be a favorite among neutral fans.
Pittsburgh Penguins
Pre-deadline odds: 14-1
Post-deadline odds: 14-1
Acquisitions: Erik Gudbranson, Chris Wideman
Record:32-22-8, 72 points (Tied with Carolina for second Wild-Card spot)
The Pittsburgh Penguins are in uncharted waters right now and didn't do much to get better at the deadline. In fact, there is a good argument to be made that the Penguins made themselves worse by trading for Erik Gudbranson, who grades out as one of the worst defensemen in the NHL.
Pittsburgh's hands were tied a little bit because of injuries on its blueline, but Gudbranson isn't the answer, especially for a team searching for consistent goaltending.
At this point I wouldn't be shocked if Pittsburgh struggles to stay in the playoff picture and I can only see their odds going one way between now and the end of the season.
Tampa Bay Lightning
Pre-deadline odds: 7-2
Post-deadline odds: 7-2
Acquisitions: None
Record: 47-11-4, 98 points (First in Atlantic)
The Lightning remain the clear Stanley Cup favorite even though they didn't improve their roster at the deadline.
One thing to consider is that Tampa did not upgrade their backup goaltender and should Andrei Vasilevskiy go down the team will need Louis Domingue, one of the worst goaltenders in the NHL, to man the ship.
That is nitpicking, though, and Tampa remains the best team in the league by some margin.
Boston Bruins
Pre-deadline odds: 10-1
Post-deadline odds: 10-1
Acquisitions: Marcus Johansson, Charlie Coyle
Record: 36-17-9, 81 points (second in Atlantic Division)
The Bruins were in on the big names like Mark Stone and Kevin Hayes but settled for a couple of middle-six forwards in Marcus Johansson and Charlie Coyle.
Both Coyle and Johansson are effective players and will help alleviate some of the pressure while David Pastrnak is out.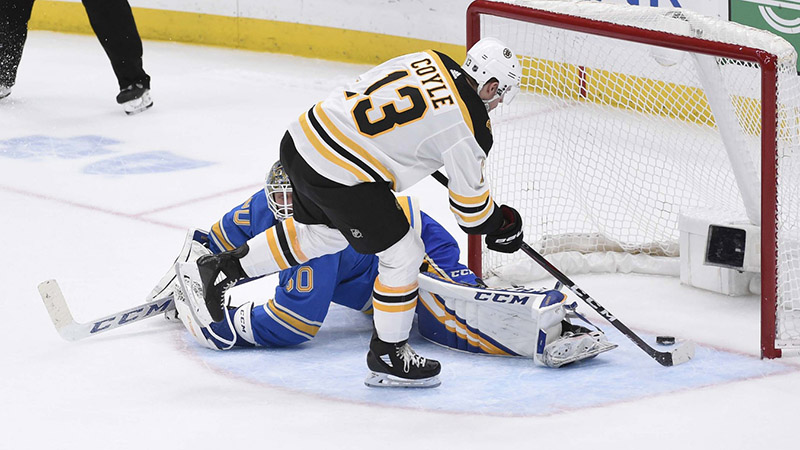 The B's were already a Cup contender heading into the deadline and even though they improved their roster, their odds remained unchanged thanks to the tough road ahead of them in the postseason.
Toronto Maple Leafs
Pre-deadline odds: 8-1
Post-deadline odds: 8-1
Acquisitions: Nic Petan
Record: 37-20-4, 78 points (third in Atlantic)
The Leafs made their big move a few weeks ago by acquiring defenseman Jake Muzzin from the Los Angeles Kings.
At this point we know who the Leafs are — an offensive dynamo with flaws on defense but a game-stealing goaltender. Toronto wasn't going to give themselves a face-lift during the deadline and now have the next six weeks to get ready for an inevitable first-round series against Boston.
Montreal Canadiens
Pre-deadline odds: 50-1
Post-deadline odds: 60-1
Acquisitions: Jordan Weal
Record: 33-22-7, 73 points (first Wild-Card spot)
The surprising Habs were rumored to be in on the Matt Duchene sweepstakes but balked at the cost of a possible extension. After Duchene moved to Columbus, Montreal made a minor move by acquiring defensive-forward Jordan Weal from Arizona.
There's not much else to add other than it would be very surprising to see the Canadiens find a way out of the first two rounds.
---
Winnipeg Jets
Pre-deadline odds: 8-1
Post-deadline odds: 10-1
Acquisitions: Kevin Hayes, Matt Hendricks, Nathan Beaulieu, Bogdan Kiselevich
Record: 37-21-4, 78 points (first in Central)
The Jets landed one of the big fish on Monday morning, trading a first-round pick and a prospect to the Rangers for Kevin Hayes.
Hayes is a sizey center with a great scoring touch and gives the Jets a terrific spine. Winnipeg, despite its impressive record, have looked vulnerable over the past couple of months and the addition of the 6-foot-5 Hayes gives Winnipeg even more scoring depth and will allow Paul Maurice to roll four lines throughout the postseason.
Winnipeg also made deals for defensive-forward Matt Hendricks (who was on the team last season) and depth defensemen Nathan Beaulieu and Bogdan Kiselevich. None of those three are anything to write home about but give the Jets a little more injury insurance.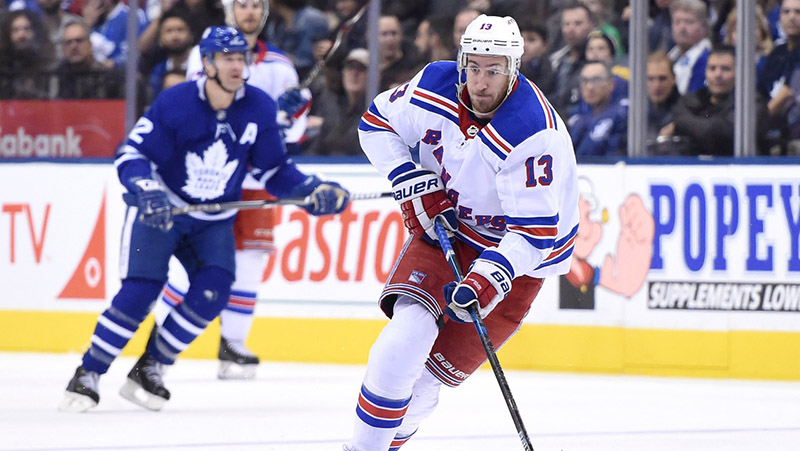 Hayes does improve the Jets a bit, but buyer beware with this team. They aren't receiving the type of goaltending they did last season and there are some considerable flaws with Winnipeg's game this season.
Nashville Predators
Pre-deadline odds: 12-1
Post-deadline odds: 12-1
Acquisitions: Wayne Simmonds, Mikael Granlund
Record: 36-23-5, 77 points (Second in Central Division)
Coming into the season it looked like Winnipeg and St. Louis would slug it out for the division. For the first 50 games of the season that was the case, but then St. Louis got hot and now we've got ourselves a three-horse race for the Central.
Like the Jets, the Predators beefed up on Deadline Day by acquiring power forward Wayne Simmonds from the Flyers. At this point in his career Simmonds isn't going to turn heads but he's an effective power play presence and is a bear to play against.
The Predators also swapped Kevin Fiala for Mikael Granlund in a "hockey trade" that saw two very similar players swap jerseys.
St. Louis Blues
Pre-deadline odds: 12-1
Post-deadline odds: 12-1
Acquisitions: Michael Del Zotto
Record: 33-23-6, 72 points (Third in Central Division)
Don't look now but the Blues are probably the best team, on paper, in this division.
Whether or not they can make up the six-point gap to win the division and avoid playing either Nashville or Winnipeg in Round 1 will go a long way in determining how far the Blues can go.
St. Louis made a very minor tweak, acquiring journeyman defenseman Michael Del Zotto to provide a little cover on the blueline, but they will get better in the coming days when Brayden Schenn and David Perron return to the lineup.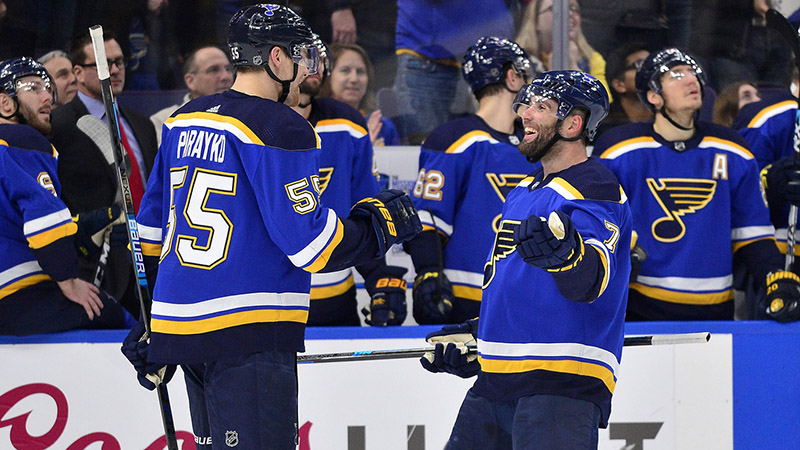 Perhaps the Blues could have been in the market for another goalie. Jordan Binnington, as impressive as he's been, is still a rookie and could fall off and that would leave the team in the care of the inconsistent Jake Allen.
Either way, watch out for St. Louis this spring.
Dallas Stars
Pre-deadline odds: 80-1
Post-deadline odds: 80-1
Acquisitions: Mats Zuccarello, Ben Lovejoy
Record: 31-26-5, 67 points (First Wild-Card Spot)
The Stars' big move was trading for Mats Zuccarello from the New York Rangers. Zuccarello is a nifty scoring winger with a little punch to his game but unfortunately he will be out of service for the next four weeks thanks to a broken arm.
It was tough luck for the Stars as they are going to be fighting Minnesota, Arizona, Colorado, Vancouver and Chicago for the final two playoff berths.
Calgary Flames
Pre-deadline odds: 8-1
Post-deadline odds: 8-1
Acquisitions: Oscar Fantenberg
Record: 39-16-7, 85 points (first in Pacific)
It's a tough day for anyone holding a Calgary futures ticket.
The Flames came into the deadline with a couple of flaws, most notably in goal. An upgrade in net could have gone a long way in easing the anxiety at the Saddledome but the Flames struck out on Deadline Day, failing to upgrade their team in any considerable way.
That isn't even the worst news.
Not only did the Flames do next to nothing (Oscar Fantenberg is not very good), their main rivals in the Pacific Division improved and in Vegas' case the improvement was immense.
Calgary is still a contender in the West, but its job got a lot harder today.
San Jose Sharks
Pre-deadline odds: 7-1
Post-deadline odds: 7-1
Acquisitions: Gustav Nyquist
Record:37-18-8, 82 points (second in the Pacific Division)
The Sharks were pretty much set heading into the frenzy and still found a way to improve by adding Gustav Nyquist to an already deep group of forwards.
Nyquist can play the wing on any line and at the very least, will provide some offensive flair to the bottom of the Sharks' roster.
Like with a lot of contenders San Jose's biggest concern is in goal. Martin Jones has struggled this season and Aaron Dell hasn't found his game, either, so you do wonder if the Sharks should have thrown another netminder onto the squad.
Priority No. 1 for San Jose will be to win the division and avoid a first-round showdown with the Knights.
Vegas Golden Knights
Pre-deadline odds: 12-1
Post-deadline odds: 12-1
Acquisitions: Mark Stone
Record: 32-26-5, 69 points (Third in Pacific Division)
The Golden Knights pulled off a seismic win on Monday by acquiring Mark Stone, one of the best forwards in the NHL, from Ottawa. Not only did the Knights acquire Stone's services for the stretch, but they also signed him to an 8-year contract extension.
He's just one player but it's hard to overstate the impact Stone could have for the Knights. He can score, set up his teammates, drive play and is responsible in his own zone. With Stone in the fold the Golden Knights are contenders to play their way into a second Stanley Cup Final in as many seasons.
The bad news is that Vegas is almost certainly locked into the No. 3 spot in the Pacific Division and will play either San Jose or Calgary in the first round. Stone's arrival does give them a much better chance in a best-of-7 against either one of those teams, but that's still a tall ask of any team.
The Golden Knights' number was already a little short before the deadline but I can only see their odds going one way from this point on.