Norway the Nation to Beat at the 2018 Winter Olympic Games
When you think of athletic powerhouses around the world, you think USA, Germany, Russia.
You likely don't think of Norway, the Scandinavian nation who is set to open up a can of whoop-ass in Pyeongchang.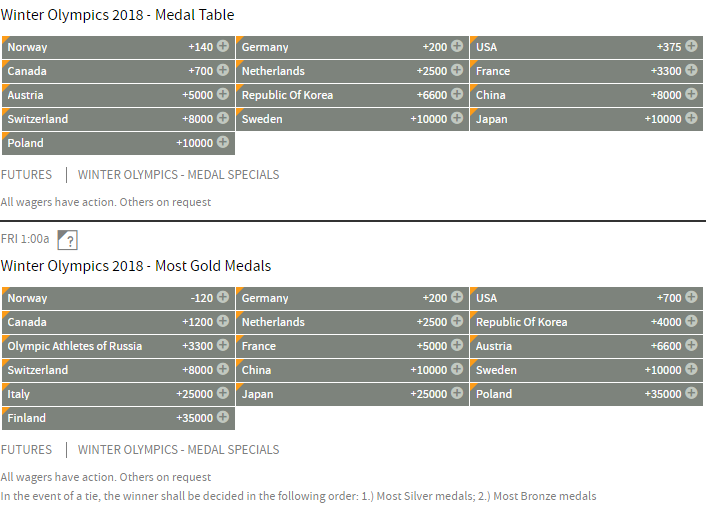 Either some seriously sharp Olympic bettors have been piling on Norway or Bovada just eventually realized that their odds were way off when they made odds for all of the individual events. We've seen some solid movement over the past couple of months, as Norway has gone from +300 to +140 for total medals and +185 to -120 for gold medals.
There are currently odds for all but one of the 102 events listed on Bovada and I decided to go through and count how many people with top 3 odds in each event are from Norway, Germany, and USA. You should probably bet on Norway at +140…
Norway: 47
Germany: 30
USA: 29
For comparison's sake, Russia had 29 medals to take the crown in 2014, USA had 37 for tops in 2010, and Germany had 29 in 2006. Norway hasn't taken this title since 1994.
Now, counting the people with top 3 odds doesn't mean that Norway is going to get 18 more medals than USA. Also consider the fact that Team USA's odds are likely shaded. I'm no doctor…or scientist…or census person, but I would imagine Bovada has more Americans on their site than Norsemen.
As for the gold medals, Norway is probably still a solid bet even at -120. They have 22 favorites, including eight events with an odds-on favorite. Germany has 13 favorites with six odds-on, and the USA is favored in 12 events, but only three of which have an odds-on favorite. In case you're curious, those three events are women's hockey, Mikaela Shiffrin in women's ski slalom, and Lindsay Vonn in women's downhill skiing.
The Olympics are just a few days away and coming your way soon will be the super-duper mega Olympic guide, with odds, picks, and results for EVERY event.
How would you rate this article?