A Serious Betting Breakdown of Olympic Ski Cross
Any sport that can have a race end like this has my attention.
Ski cross is like a combination of sledding, rollerball, NASCAR, and motocross. Just a bunch of good stuff wrapped into one sport. While typical downhill ski events are all individually timed, this actually puts several skiers onto the track at once. As you can see, it can get a little bonkers.
The sport also hasn't come without controversy. The 2014 Games were just the second time ski cross was included in the Olympics and on the men's side, there was a bit of a scandal…
"Both Canada and Slovenia both appealed separately to the Court of Arbitration for Sport that the three French athletes in the Big Final had their pants illegally changed by their coach." – Wikipedia
Gotta hate when that happens. Personally, if my coach legally changes my pants, I'm fine with it. Don't want to cross over to that illegal area, though.
He must have put on their big boy pants because France swept the men's medals back in Sochi.
While the defending gold medalist is towards the top of the odds list, the normal-panted Frenchmen have some competition in Pyeongchang.
Men's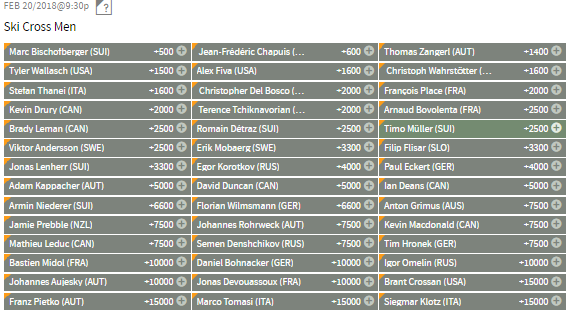 Marc with a "c" Bischofberger of Switzerland is the favorite at +500. Though Bischofberger doesn't have a Wikipedia page in English (which is concerning), I've gathered that he is at the top of the ski cross world cup leaderboard. However, in my book: no English Wikipedia page, no bet. Not famous enough for me, pal.
The reigning champ, Jean-Frederic Chapuis, is next at +600. One would imagine he will have a tougher time post-pantsgate. This is looking like a nice opportunity to take one of the longer shots in a sport that does not have a clear-cut favorite.
My money is on Paul Eckert…alright, I lied about the no Wikipedia, no bet thing. Eckert is coming off a big win in Nakiska at the most recent World Cup event and has some great value at 40/1. He also loves that Korean snow, as he took down the silver in a World Cup event in Korea back in 2016.
While a longshot is the way to go in my mind for the men, the women's field is a different story.
Women's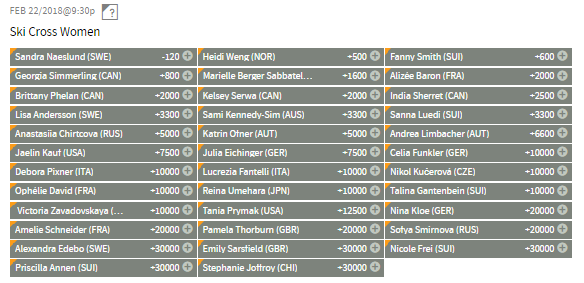 Sandra "Dee" Naeslund is the odds-on favorite on the women's side of the action and for good reason. The 21-year-old Swedish Fish has won each of the past four events she's competed in, which is something unheard of on the men's side. She also just took down the 2017 World Championships. Though this sport can be unpredictable, she's a pretty safe bet at -120.
If you don't want to plop down a buck twenty on the dollar for an individual Olympic event, go with Fanny Smith. Not only does she have a great name, she's basically Naeslund's arch-nemesis on the FIS Ski-Cross circuit. The Swiss and the Swedes aren't exactly rival countries, but I feel like there's definitely some bad blood between these two ski-crossers.
Still plenty of more Olympic odds yet to be released. Snowboarding, short tracking speed skating, figure skating, skeleton, luge, bobsled, etc. We're just scratching the surface.
How would you rate this article?