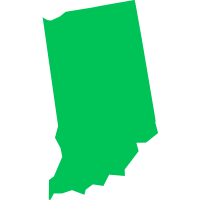 Indiana Sports Betting
Can you bet online? Yes
Can you bet in person? Yes
Indiana's sports betting bill was signed into law on May 8, and officially went live on Sept. 1. Mobile betting launched in the state on Oct. 3. By the end of 2019, FanDuel, DraftKings and BetRivers were all operating mobile apps within the state. In the first two full months after launching mobile betting, Indiana averaged a handle of $154.6 million per month.
Welcome to the club, Indiana. Online and retail sports betting are now legal in your state.
Governor Eric Holcomb signed a bill on May 8, 2019, that allowed sports betting in Indiana. On Oct. 3, online wagering began with DraftKings and BetRivers.
Here's what you need to know about Indiana sports betting.
Indiana Table of Contents
Click the links to jump to each section.
Indiana Online Sports Betting Sites & Apps
Indiana online sports betting is live with more than five sites and apps operating as of spring 2020.
Use the links below to sign up.
Each online operator needs to partner with an existing casino to enter the Indiana market.
Click to return to table of contents.
---
Indiana Sports Betting Rules
Here are a few rules to know about Indiana sports betting.
Indiana has online betting and deposits. You never need to step into a casino to bet.
No betting on Esports or amateur sports involving athletes under 18. Betting on college sports in the state is allowed.
Some restrictions on live betting at the discretion of the Indiana Gaming Commission.
On the operator side, online sportsbooks must pay a 9.5% tax rate and partner with an existing land-based casino.
Click to return to table of contents.
---
Indiana Sports Betting Frequently Asked Questions
You're all set up with your sportsbook, and you've got some basic rules down. So what else do you need to know before thinking about which teams and games you want to bet on? Here are some of the most frequently asked questions we get from readers.
Is sports betting legal in Indiana?
Sports betting is legal and live in Indiana.
Where can I bet on sports in Indiana?
Anywhere inside the state, really. Using the online sportsbooks above, players can bet anywhere using their phones or computers. You can also go to a physical sportsbook at one of the casinos or racetracks that is offering sports betting.
What if I'm from Indiana, but outside the state currently?
Sorry, no luck. You must be inside state borders to bet online at Indiana sportsbooks. They use geo-fencing technology to determine your location.
What if I don't live in Indiana, but am in the state?
Then you can bet. Indiana is the only state in its area offering full-scale online sports betting, so it's attracting bettors from nearby Chicago, Cincinnati, Louisville, Michigan and more.
You can still withdraw money when you're not in Indiana. So if you hopped over the border to bet, you don't need to go back to collect your winnings.
Can I deposit online?
You can deposit at sportsbooks online, which is a huge value add for consumers. It's one of the main factors that separates states like Indiana and New Jersey from others like Iowa and Rhode Island, where you need to deposit in person.
What sports can I bet on?
Pretty much everything, at least compared to other legal U.S. markets.
The Indiana Gaming Commission, which oversees sports betting in the state, published a list of every approved sport.
How old do I have to be to bet on sports in Indiana?

The minimum age to bet on sports in Indiana is 21.
Click to return to table of contents.
---
How to Place Your First Sports Bet in Indiana
Wondering how to make your first sports bet in Indiana?
Here's how, in four easy steps.
1. Pick a Sportsbook (or Sportsbooks)
It's useful to have accounts at multiple sportsbooks so you can shop for the best lines.
But let's start with FanDuel. You can get a $500 risk-free bet if you sign up here.
2. Sign Up
Follow the prompts and create an account with FanDuel. They may ask for your social security number or driver's license to verify your identity and age.
3. Deposit
The best part about legal online sports betting is how easy depositing has become. No more shady MoneyGrams or cryptocurrency deposits.
Use one of the following options:
Link your bank account
Credit/debit card
PayPal
Prepaid cards
4. Place Your First Bet
FanDuel should take you right to its sportsbook homepage after your deposit. Now, you're free to bet on anything you'd like.
If you're new to sports betting, check out our 11 tips to get started.
Click to return to table of contents.
---
List of Indiana Casinos/Sportsbooks
Indiana has no shortage of casinos, and many have partnered with online sportsbooks to offer a comprehensive sports betting experience.
In addition to these casinos, Caesars also has three off-track-betting shops (OTB's) that offer sports betting in Indianapolis, New Haven and Clarksville. They're more like sports bars than casinos.
Ameristar East
Sportsbook: DraftKings
City: East Chicago
Phone: (219) 378-3000
Belterra
Sportsbook: FanDuel
City: Florence
Phone: (812) 427-7777
Blue Chip
Sportsbook: FanDuel
City: Michigan City
Phone: (219) 879-7711
Four Winds South Bend
Sportsbook: None
City: South Bend
Phone: (866) 494-6371
French Lick Resort Casino
Sportsbook: Rush Street (SugarHouse)
City: French Lick
Phone: (812) 936-9300
Hollywood Casino Lawrenceburg
Sportsbook: Kambi
City: Lawrenceburg
Phone: (888) 274-6797
Hoosier Park
Sportsbook: Caesars
City: Anderson
Phone: (800) 526-7223
Caesars Southern Indiana
Sportsbook: Caesars
City: Elizabeth
Phone: (866) 676-7463
Horseshoe Casino
Sportsbook: Caesars
City: Hammond
Phone: (219) 473-7000
Indiana Grand Casino
Sportsbook: Caesars
City: Shelbyville
Phone: (877) 386-4463
Majestic Star
Sportsbook: USA Sports Gaming (BetIndiana)
City: Gary
Phone: (888) 225-8259
Rising Star Casino Resort
Sportsbook: BetAmerica
City: Rising Sun
Phone: (800) 472-6311
Tropicana Evansville
Sportsbook: William Hill
City: Evansville
Phone: (812) 433-4000
Where Else Is Sports Betting Legal?
Since the U.S. Supreme Court overturned the federal ban on sports betting in May 2018, multiple states have launched robust mobile betting operations. To get a complete rundown on where legal betting stands in your state, check out our complete guide here, but the other states competing with Indiana for mobile betting are New Jersey, Pennsylvania, Colorado and West Virginia.
Nevada (Live)
Delaware (Live)
New Jersey (Live)
Mississippi (Live)
West Virginia (Live)
Pennsylvania (Live)
Rhode Island (Live)
Arkansas (Live)
New York (Live)
New Mexico (Live, limited)
Illinois (Live)
Indiana (Live)
Iowa (Live)
Colorado (Live)
Montana (Passed)
New Hampshire (Passed)
Tennessee (Passed)
North Carolina (Passed)
Washington (Passed)