Watch "I'll Take That Bet" – Episode 18: World Cup Final, MLB Home Run Derby, NFL Props, Boxing, More
Episode 18 of our sports betting show "I'll Take That Bet" is live discussing topics like World Cup Final between France and Croatia, the MLB Home Run Derby, the Manny Pacquiao-Lucas Matthysse fight Saturday night and much more.
Watch the full episode on ESPN+ here.
If you missed the last episode, here's the gist of the show: Two analysts — in today's case, Chad Millman and Chris Raybon — draft their favorite picks of the day from a board of 10 bets, plus a bonus side action bet. These are real wagers you can make across the gambling universe.
Here's today's board: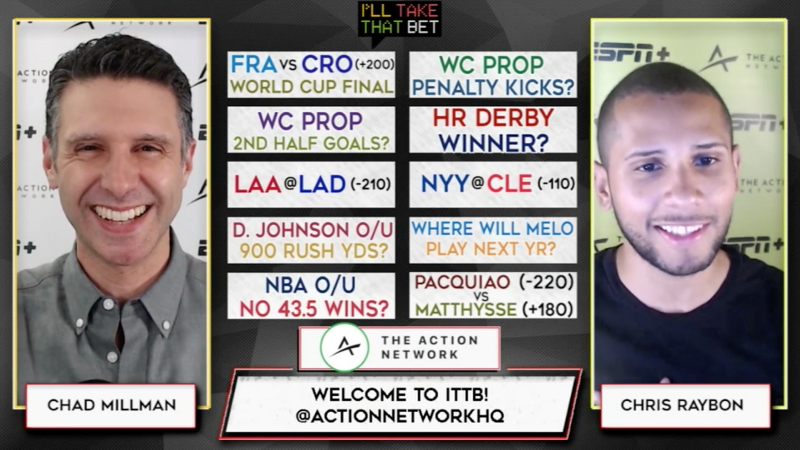 Here's how the picks played out in today's show. You can watch the full episode exclusively on ESPN+. You'll want to stick around to the end for Chad and Chris' side bet on the World Cup Final.
PICK NO. 1 (RAYBON): France and Croatia will go to Penalty Kicks in 2018 FIFA World Cup Final (+450)
PICK NO. 2 (MILLMAN): France to win 2018 FIFA World Cup (-250)
PICK NO. 3 (RAYBON): Both France and Croatia to score goals in the second half in 2018 FIFA World Cup Final (+400)
PICK NO. 4 (MILLMAN): Max Muncy to win 2018 MLB Home Run Derby (+650)
PICK NO. 5 (RAYBON): David Johnson to rush for more than 900 yards in 2018 (-150)
PICK NO. 6 (MILLMAN): Cleveland Indians over New York Yankees (-110)
PICK NO. 7 (RAYBON): New Orleans Pelicans to win under 43.5 games in 2018-19 (+110)
PICK NO. 8 (MILLMAN): Lucas Matthysse over Manny Pacquiao (+180)
PICK NO. 9 (RAYBON): Carmelo Anthony to play for Miami Heat in 2018-19 (+150)
PICK NO. 10 (MILLMAN): Los Angeles Dodgers and Los Angeles Angels under 7.5 runs (-110)