Watch "I'll Take That Bet" – Episode 21: NBA Win Totals and Props, British Open, Tiger vs. Phil, Yankees/Mets, More
Episode 21 of our sports betting show "I'll Take That Bet" is live discussing topics like the British Open, NBA win totals, Rookie of the Year, Tiger Woods vs. Phil Mickelson $10 million head-to-head matchup, Yankees-Mets showdown and much more.
Watch the full episode on ESPN+ here.
If you missed the last episode, here's the gist of the show: Two analysts — in today's case, Jason Sobel and Matt Moore — draft their favorite picks of the day from a board of 10 bets, plus a bonus side action bet. These are real wagers you can make across the gambling universe.
Here's Friday's board: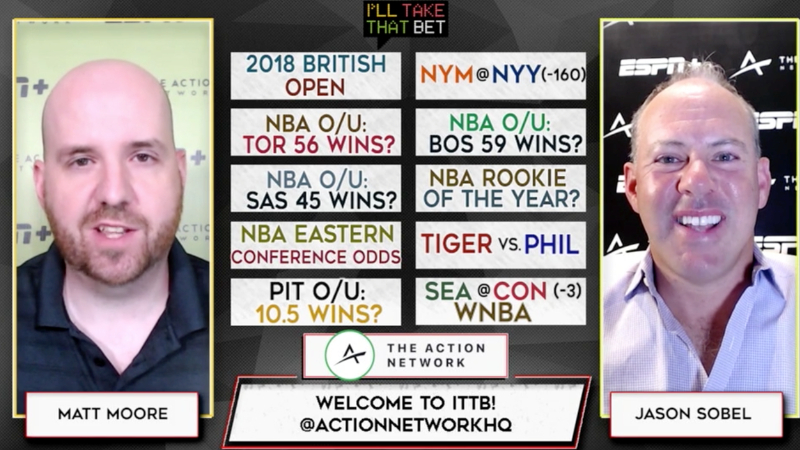 Here's how the picks played out in today's show. You can watch the full episode exclusively on ESPN+. You'll want to stick around to the end for Jason and Matt's side bet on where Carmelo Anthony will sign in free agency.
PICK NO. 1 (SOBEL): Rory McIlroy to win 2018 British Open (+700)
PICK NO. 2 (MOORE): Boston Celtics to win over 59 games in 2018-19 (-125)
PICK NO. 3 (SOBEL): Toronto Raptors to win under 56 games in 2018-19 (-110)
PICK NO. 4 (MOORE): Kevin Knox to win NBA Rookie of the Year in 2018-19 (+700)
PICK NO. 5 (SOBEL): New York Yankees over New York Mets (-160)
PICK NO. 6 (MOORE): Pittsburgh Steelers to win over 10.5 games in 2018 (+105)
PICK NO. 7 (SOBEL): Phil Mickelson over Tiger Woods in head-to-head $10 million showdown (+105)
PICK NO. 8 (MOORE): Seattle Storm (+3) over Connecticut Sun (-110)
PICK NO. 9 (SOBEL): San Antonio Spurs to win over 45 games in 2018-19 (-110)
PICK NO. 10 (MOORE): Milwaukee Bucks to win NBA Eastern Conference in 2018-19 (+1500)