Watch "I'll Take That Bet" – Episode 24: NFC North and AFC South NFL Win Totals
Episode 24 of our sports betting show "I'll Take That Bet" is live discussing the NFC North and AFC South NFL win totals and props previewing the 2018 regular season.
Watch the full episode on ESPN+ here.
If you missed the last episode, here's the gist of the show: Two analysts — in today's case, Chad Millman and Chris Raybon — draft their favorite picks of the day from a board of 10 bets, plus a bonus side action bet. These are real wagers you can make across the gambling universe.
Here's Friday's board: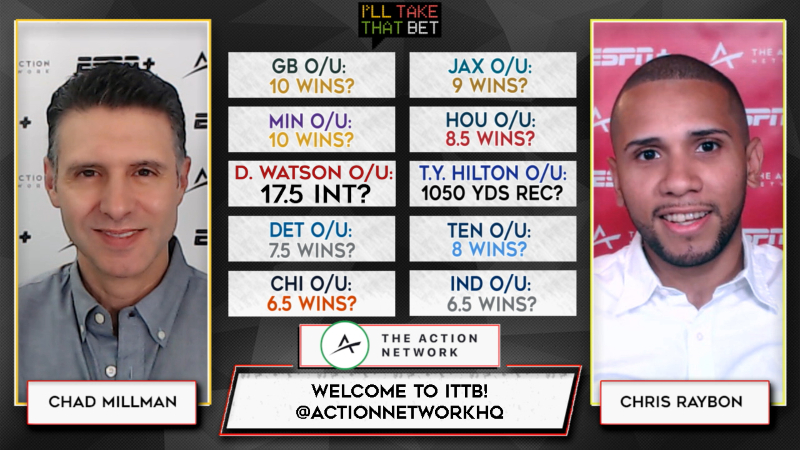 Here's how the picks played out in today's show. You can watch the full episode exclusively on ESPN+. You'll want to stick around to the end for Chad and Chris' side bet on the Jacksonville Jaguars 2018 season win total.
PICK NO. 1 (RAYBON): Houston Texans to win more than 8.5 games in 2018 (-150)
PICK NO. 2 (MILLMAN): Jacksonville Jaguars to win fewer than 9 games in 2018 (+105)
PICK NO. 3 (RAYBON): Detroit Lions to win fewer than 7.5 games in 2018 (+110)
PICK NO. 4 (MILLMAN): Green Bay Packers to win more than 10 games in 2018 (+120)
PICK NO. 5 (RAYBON): Indianapolis Colts to win fewer than 6.5 games in 2018 (+110)
PICK NO. 6 (MILLMAN): Chicago Bears to win more than 6.5 games in 2018 (-150)
PICK NO. 7 (RAYBON): TY Hilton to accumulate more than 1,050.5 receiving yards in 2018 (-110)
PICK NO. 8 (MILLMAN): Deshaun Watson to throw fewer than 17.5 interceptions in 2018 (-110)
PICK NO. 9 (RAYBON): Tennessee Titans to win more than 8 games in 2018 (-110)
PICK NO. 10 (MILLMAN): Minnesota Vikings to win more than 10 games in 2018 (-110)