Watch "I'll Take That Bet" – Episode 44: NFL Week 2, Ravens-Bengals Thursday Night Football, LSU-Auburn, Much More
Episode 44 of our sports betting show "I'll Take That Bet" is live discussing NFL Week 2, the Cincinnati Bengals and Baltimore Ravens Thursday Night Football game, LSU-Auburn and so much more.
Watch the full episode on ESPN+ here.
If you missed the last episode, here's the gist of the show: Two analysts — in today's case, Matt Moore and Chris Raybon — draft their favorite picks of the day from a board of 10 bets, plus a bonus side action bet. These are real wagers you can make across the gambling universe.
Here's tonight's board: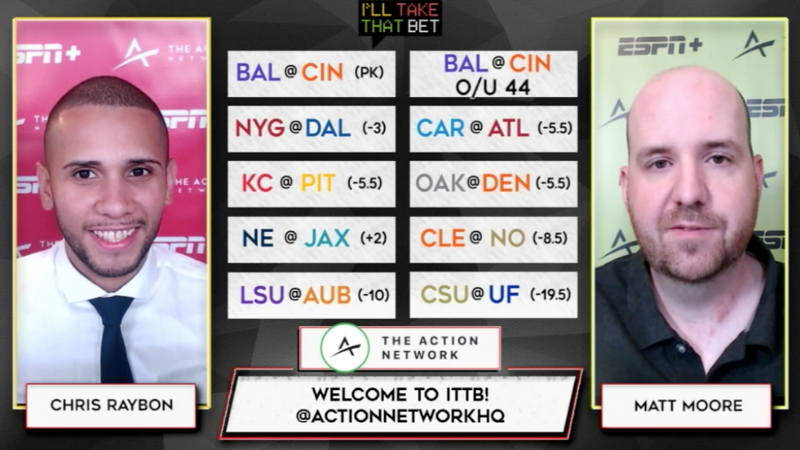 Here's how the picks played out in today's show. You can watch the full episode exclusively on ESPN+ . You'll want to stick around to the end for Matt and Chris' take on the value of Aaron Rodgers to the Green Bay Packers and the point spread vs. Minnesota Vikings.
PICK NO. 1 (MOORE): Cincinnati Bengals (PK) over Baltimore Ravens (-110)
PICK NO. 2 (RAYBON): Cincinnati Bengals/Baltimore Ravens Under 44 (-110)
PICK NO. 3 (MOORE): New England Patriots (-2) over Jacksonville Jaguars (-110)
PICK NO. 4 (RAYBON): New York Giants (+3) over Dallas Cowboys (-110)
PICK NO. 5 (MOORE): Denver Broncos (-5.5) over Oakland Raiders (-110)
PICK NO. 6 (RAYBON): Kansas City Chiefs (+5.5) over Pittsburgh Steelers (-110)
PICK NO. 7 (MOORE): Colorado State Rams (+19.5) over Florida Gators (-110)
PICK NO. 8 (RAYBON): Cleveland Browns (+8.5) over New Orleans Saints (-110)
PICK NO. 9 (MOORE): LSU Tigers (+10) over Auburn Tigers (-110)
PICK NO. 10 (RAYBON): Carolina Panthers (+5.5) over Atlanta Falcons (-110)