Watch 'I'll Take That Bet' — Episode 110: NFL Conference Championships, Next Team Props, Kyler Murray
Episode 110 of our sports betting show "I'll Take That Bet" is live, covering every angle of the NFL Conference Championships, breaking down "next team" props for football's hottest commodities, talking Kyler Murray, and so much more!
Watch the full episode on ESPN+ here.
If you missed the last episode, here's the gist of the show: Two analysts — in today's case, Geoff Schwartz and Chris Raybon — draft their favorite picks of the day from a board of 10 bets. These are real wagers you can make across the gambling universe.
Here's Monday's board: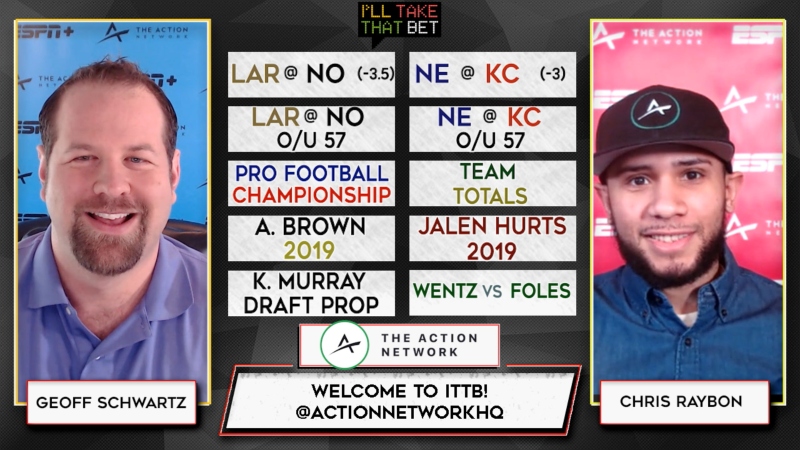 Here's how the picks played out in the show. You can watch the full episode exclusively on ESPN+.
PICK NO. 1 (CHRIS): Los Angeles Rams (+3.5) over New Orleans Saints (-110)
PICK NO. 2 (GEOFF): Under 57 between Los Angeles Rams and New Orleans Saints (-110)
PICK NO. 3 (CHRIS): Over 57 points between New England Patriots and Kansas City Chiefs (-110)
PICK NO. 4 (GEOFF): Kansas City Chiefs (-3) over New England Patriots (-110)
PICK NO. 5 (CHRIS): Exact Super Bowl matchup between Kansas City Chiefs and Los Angeles Rams (+325)
PICK NO. 6 (GEOFF): Kansas City Chiefs team total Over 30.5 versus New England Patriots (-105)
PICK NO. 7 (CHRIS): Antonio Brown to play next for San Francisco 49ers (+700)
PICK NO. 8 (GEOFF): Carson Wentz to be the starting quarterback of the Philadelphia Eagles in Week 1, 2019 (-500)
PICK NO. 9 (CHRIS): Oklahoma quarterback Kyler Murray to be drafted Under 19.5 (-120)
PICK NO. 10 (GEOFF): Jalen Hurts to play next for The Field (+400)