Watch 'I'll Take That Bet' — Episode 123: NBA Action, All Star Draft Bets, Kevin Durant's Next Team
Episode 123 of our sports betting show "I'll Take That Bet" is live, breaking down NBA games and future bets, betting on the NBA All Star Draft, talking destinations for Kevin Durant, and so much more!
Watch the full episode on ESPN+ here.
If you missed the last episode, here's the gist of the show: Two analysts — in today's case, Blackjack Fletcher and Rob Perez  — draft their favorite picks of the day from a board of 10 bets. These are real wagers you can make across the gambling universe.
Here's Wednesday's board: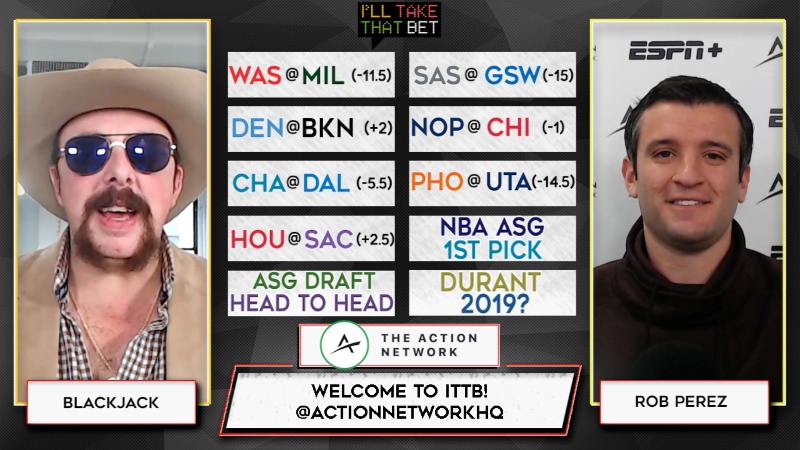 Here's how the picks played out in the show. You can watch the full episode exclusively on ESPN+.
PICK NO. 1 (ROB): Los Angeles Lakers forward LeBron James to draft Boston Celtics guard Kyrie Irving first in the 2019 NBA All Star Draft (+550)
PICK NO. 2 (BLACKJACK): San Antonio Spurs (+15) over Golden State Warriors (-110)
PICK NO. 3 (ROB): Los Angeles Lakers forward LeBron James to draft New Orleans Pelicans center Anthony Davis in the 2019 NBA All Star Draft (-260)
PICK NO. 4 (BLACKJACK): Denver Nuggets (-2) over Brooklyn Nets (-110)
PICK NO. 5 (ROB): Golden State Warriors forward Kevin Durant to sign with the New York Knicks (+250)
PICK NO. 6 (BLACKJACK): Milwaukee Bucks (-11.5) over Washington Wizards (-110)
PICK NO. 7 (ROB): Over 233.5 points between Houston Rockets and Sacramento Kings (-110)
PICK NO. 8 (BLACKJACK): Phoenix Suns (+14.5) over Utah Jazz (-110)
PICK NO. 9 (ROB): Charlotte Hornets (+5.5) over Dallas Mavericks (-110)
PICK NO. 10 (BLACKJACK): New Orleans Pelicans (+1) over Chicago Bulls (-110)