Watch 'I'll Take That Bet' — Episode 125: Tuesday Night NBA, College Basketball, NHL on ESPN+
Episode 125 of our sports betting show "I'll Take That Bet" is live, breaking down Tuesday night's slate of NBA games, hitting on the evening in college basketball, talking Flames vs. Lightning on ESPN+, and so much more!
Watch the full episode on ESPN+ here.
If you missed the last episode, here's the gist of the show: Two analysts — in today's case, Blackjack Fletcher and Chris Raybon  — draft their favorite picks of the day from a board of 10 bets. These are real wagers you can make across the gambling universe.
Here's Tuesday's board: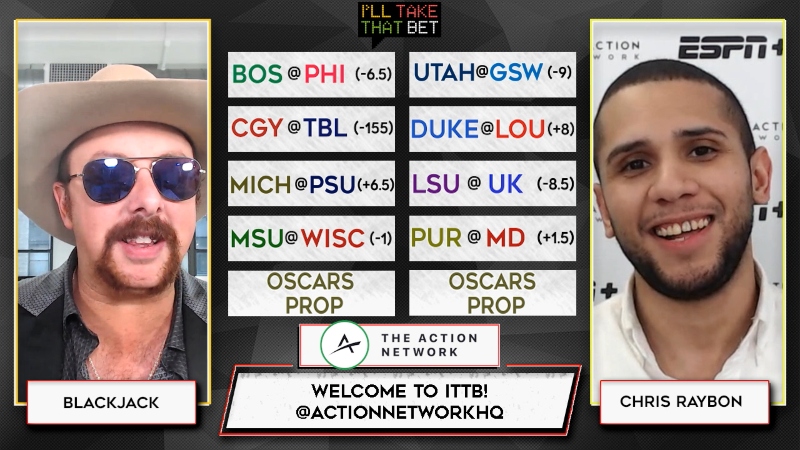 Here's how the picks played out in the show. You'll want to stick around to the end to hear Blackjack and Raybon debate where Rob Gronkowski finds gainful employment next. You can watch the full episode exclusively on ESPN+.
PICK NO. 1 (CHRIS): Philadelphia 76ers (-6.5) over Boston Celtics (-110)
PICK NO. 2 (BLACKJACK): Louisiana State Tigers (+8.5) over Kentucky Wildcats (-110)
PICK NO. 3 (CHRIS): Utah Jazz (+9) over Golden State Warriors (-110)
PICK NO. 4 (BLACKJACK): Purdue Boilermakers (-1.5) over Maryland Terrapins (-110)
PICK NO. 5 (CHRIS): Rami Malek wins the Oscar for Best Actor (-350)
PICK NO. 6 (BLACKJACK): Calgary Flames moneyline over Tampa Bay Lightning (+135)
PICK NO. 7 (CHRIS): Regina King wins the Oscar for Best Supporting Actress (-300)
PICK NO. 8 (BLACKJACK): Michigan Wolverines (-6.5) over Penn State Nittany Lions (-110)
PICK NO. 9 (CHRIS): Duke Blue Devils (-8) over Louisville Cardinals (-110)
PICK NO. 10 (BLACKJACK): Wisconsin Badgers (-1) over Michigan State Spartans (-110)