Watch 'I'll Take That Bet' — Episode 127: NBA, Conference Champion Futures, All Star Weekend Props
Episode 127 of our sports betting show "I'll Take That Bet" is live, breaking down tonight's slate of NBA games, betting on conference championship futures, hitting on All Star Weekend props, and so much more!
Watch the full episode on ESPN+ here.
If you missed the last episode, here's the gist of the show: Two analysts — in today's case, Blackjack Fletcher and Geoff Schwartz  — draft their favorite picks of the day from a board of 10 bets. These are real wagers you can make across the gambling universe.
Here's Thursday's board: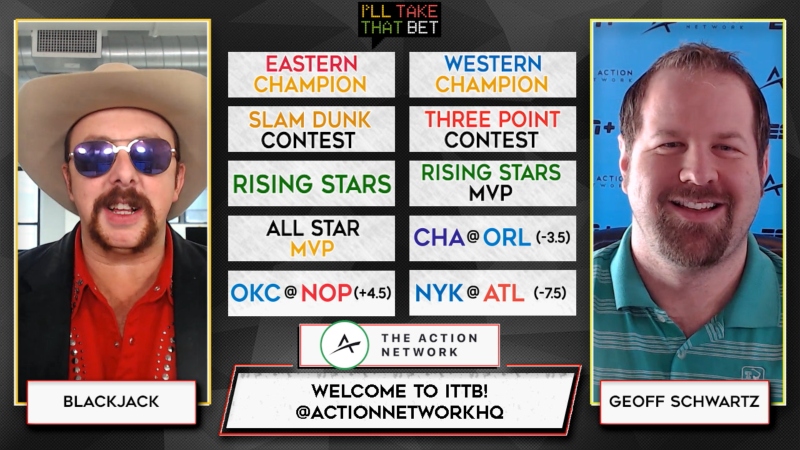 Here's how the picks played out in the show. You'll want to stick around to the end to hear Blackjack and Geoff debate if LeBron James will be hit with a tampering fine over All Star Weekend. You can watch the full episode exclusively on ESPN+.
PICK NO. 1 (GEOFF): Los Angeles Lakers forward LeBron James to win All Star Game MVP (+400)
PICK NO. 2 (BLACKJACK): Oklahoma City Thunder (-4.5) over New Orleans Pelicans (-110)
PICK NO. 3 (GEOFF): Golden State Warriors to win the Western Conference (-350)
PICK NO. 4 (BLACKJACK): Charlotte Hornets (+3.5) over Orlando Magic (-110)
PICK NO. 5 (GEOFF): Portland Trail Blazers guard Seth Curry to win 3 Point Shooting Contest (+600)
PICK NO. 6 (BLACKJACK): Atlanta Hawks (-7.5) over New York Knicks (-110)
PICK NO. 7 (GEOFF): Atlanta Hawks forward John Collins to win Dunk Contest (+200)
PICK NO. 8 (BLACKJACK): Dallas Mavericks forward Luka Doncic to win Rising Stars Challenge MVP (+400)
PICK NO. 9 (GEOFF): Boston Celtics to win the Eastern Conference (+450)
PICK NO. 10 (BLACKJACK): Team USA moneyline over Team World in the Rising Stars Challenge (-120)