Watch 'I'll Take That Bet' — Episode 131: Thursday Night Hoops, NBA MVP, Lakers Playoff Odds
Episode 131 of our sports betting show "I'll Take That Bet" is live, breaking down the night in the NBA, making cases for the NBA MVP Award, talking about the Lakers playoff chances, and so much more!
Watch the full episode on ESPN+ here.
If you missed the last episode, here's the gist of the show: Two analysts — in today's case, Matt Moore and Evan Abrams  — draft their favorite picks of the day from a board of 10 bets. These are real wagers you can make across the gambling universe.
Here's Thursday's board: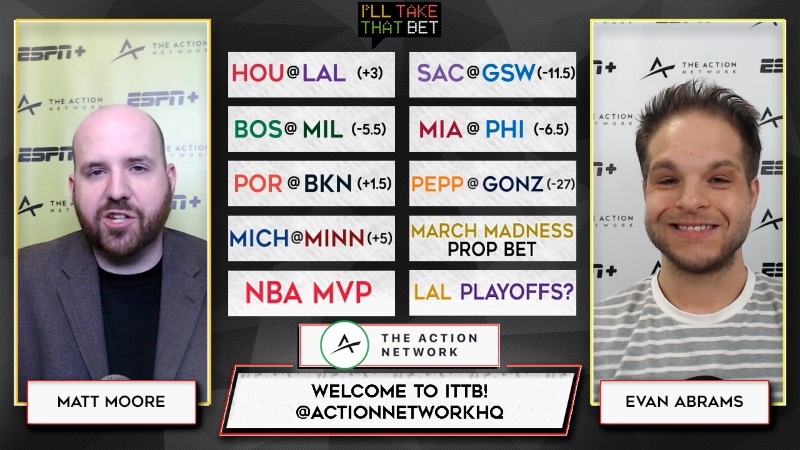 Here's how the picks played out in the show. You'll want to stick around to the end to hear Evan and Matt's takes on who wins the 2020 NBA Rookie of the Year Award. You can watch the full episode exclusively on ESPN+.
PICK NO. 1 (EVAN): Milwaukee Bucks forward Giannis Antetokounmpo wins NBA MVP Award (-110)
PICK NO. 2 (MATT): Houston Rockets (-3) over Los Angeles Lakers (-110)
PICK NO. 3 (EVAN): Los Angeles Lakers to miss the NBA Playoffs (-130)
PICK NO. 4 (MATT): Milwaukee Bucks (-5.5) over Boston Celtics (-110)
PICK NO. 5 (EVAN): A #13 seed will win a game in March Madness (+100)
PICK NO. 6 (MATT): Brooklyn Nets (+2) over Portland Trail Blazers (-110)
PICK NO. 7 (EVAN): Gonzaga Bulldogs (-16) in the first half over Pepperdine Waves (-110)
PICK NO. 8 (MATT): Philadelphia 76ers (-6.5) over Miami Heat (-110)
PICK NO. 9 (EVAN): Michigan Wolverines (-5) over Minnesota Golden Gophers (-110)
PICK NO. 10 (MATT): Sacramento Kings (+11.5) over Golden State Warriors (-110)