Watch 'I'll Take That Bet' — Episode 134: Tuesday Night Basketball, NFL Draft & Combine Props, UFC 235
Episode 134 of our sports betting show "I'll Take That Bet" is live, breaking down the evening in collegiate and professional basketball, betting NFL Combine and Draft props, touching on UFC 235, and so much more!
Watch the full episode on ESPN+ here.
If you missed the last episode, here's the gist of the show: Two analysts — in today's case, Blackjack Fletcher and Dan Rubenstein  — draft their favorite picks of the day from a board of 10 bets. These are real wagers you can make across the gambling universe.
Here's Tuesday's board: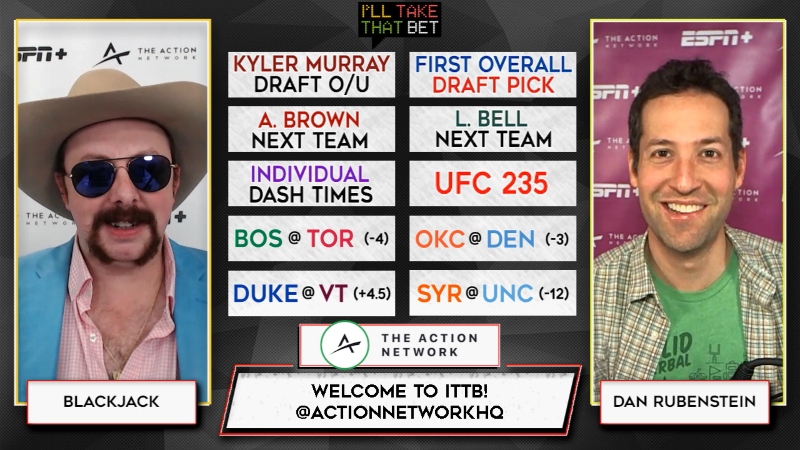 Here's how the picks played out in the show. You'll want to stick around to the end to hear Dan and Blackjack's takes on who will sign Zion Williamson to his first NBA shoe deal. You can watch the full episode exclusively on ESPN+.
PICK NO. 1 (DAN): Former Kentucky Wildcats linebacker Josh Allen to be picked first overall in the 2019 NFL Draft (+1400)
PICK NO. 2 (BLACKJACK): Former Oklahoma Sooners quarterback Kyler Murray draft place Under 9.5 (-200)
PICK NO. 3 (DAN): Former Stanford Cardinal running back Bryce Love 40-yard dash time Under 4.38 seconds (-120)
PICK NO. 4 (BLACKJACK): Former Pittsburgh Steelers running back Le'Veon Bell to play for the New York Jets game 1 of 2019(+395)
PICK NO. 5 (DAN): Pittsburgh Steelers wide receiver Antonio Brown to play for the New York Jets game 1 of 2019 (+432)
PICK NO. 6 (BLACKJACK): Jon Jones moneyline over Anthony Smith in UFC 235 (-835)
PICK NO. 7 (DAN): Toronto Raptors (-4) over Boston Celtics (-110)
PICK NO. 8 (BLACKJACK): Duke Blue Devils (-4.5) over Virginia Tech Hokies (-110)
PICK NO. 9 (DAN): North Carolina Tar Heels (-12) over Syracuse Orange (-110)
PICK NO. 10 (BLACKJACK): Denver Nuggets (-3) over Oklahoma City Thunder (-110)